Biotech Stock Roundup: REGN Q2 Earnings Beat, BLUE, BYSI's Updates & More
The biotech industry was in focus with earnings results from Regeneron REGN. Other pipeline and regulatory updates were in focus as well.
Recap of the Week's Most Important Stories:
Regeneron Beats on Earnings in Q2, Pipeline Update: Regeneron REGN posted strong second-quarter results, beating on both earnings and sales driven by strong growth in Eylea and Dupixent along with a significant contribution from its antibody cocktail for COVID-19. REGEN-COV, its antibody cocktail for COVID-19, generated total sales of $3 billion in the quarter.
Regeneron and partner Sanofi SNY announced that the late-stage study of PD-1 inhibitor Libtayo in combination with platinum-doublet chemotherapy was stopped early after the study achieved its overall survival (OS) primary endpoint in patients with advanced non-small cell lung cancer (NSCLC). Results showed that adding Libtayo to chemotherapy significantly improved OS compared to chemotherapy alone, in the trial that enrolled patients with metastatic or locally advanced disease and tumors with either squamous or non-squamous histology and across all PD-L1 expression levels.
Regeneron currently sports a Zacks Rank #1 (Strong Buy). You can see the complete list of today's Zacks #1 Rank stocks here.
Gilead's Collaboration With Apple Bio: Gilead's GILD Kite entered into a collaboration and license agreement with an early stage biotechnology company Appia Bio, Inc. to research and develop hematopoietic stem cells (HSC)-derived cell therapies directed toward hematological malignancies. Both the companies will develop chimeric antigen receptor (CAR)-engineered invariant natural killer T (CAR-iNKT) cells using Appia Bio's ACUA technology platform for allogeneic cell therapy.
Per the terms of the agreement, Appia Bio will be responsible for preclinical and early clinical research of two HSC-derived CAR-iNKT product candidates engineered with CARs provided by Kite. Appia Bio will receive an upfront payment, an equity investment, and additional milestone payments for a total value of up to $875 million as well as tiered royalties. Kite will be responsible for the development, manufacturing, and commercialization of the product candidates identified through the collaboration.
BeyondSpring Surges on Impressive Data: Shares of global pharmaceutical company, BeyondSpring BYSI, surged significantly after it announced positive top-line data from its DUBLIN-3 registrational trial of lead candidate plinabulin in combination with docetaxel to treat second line and third line NSCLC (EGFR wild type) compared to docetaxel alone. The study met primary endpoint showing statistically significant improvement in OS for the combination versus docetaxel. The study also met key secondary endpoints showing statistically significant improvement for the combination against docetaxel alone in overall response rate (ORR), progression free survival (PFS)5, and 24- and 36-month OS rates, and significant reduction in incidence of Grade 4 neutropenia. The company also stated that pre-NDA meeting will be scheduled with the FDA in 2021 to agree on the contents for the NDA, to support a NSCLC indication NDA submission in the first half of 2022.
bluebird Crashes on Regulatory Update: Shares of bluebird bio, Inc. BLUE plummeted significantly after it announced that the FDA placed a clinical hold on clinical studies of elivaldogene autotemcel (eli-cel, Lenti-D) gene therapy (licensed as Skysona in Europe) for cerebral adrenoleukodystrophy (CALD). The announcement came with the company's second-quarter results. The company received a reported Suspected Unexpected Serious Adverse Reaction (SUSAR) of myelodysplastic syndrome (MDS) that is likely mediated by Lenti-D lentiviral vector (LVV) insertion in a patient who was treated with eli-cel, or Lenti-D drug product for CALD over a year ago in the phase III ALD-104 study. The current evidence suggests that specific design features of Lenti-D LVV likely contributed to this event.
The company also stated that it will scale back its operations for the severe genetic disease business in Europe and focus only on the U.S. market.
Seagen Collaborates With RemeGen: Seagen Inc. SGEN announced a collaboration agreement with a biopharmaceutical company in China, RemeGen Co., Ltd. to develop and commercialize disitamab vedotin, a novel HER2-targeted ADC. Per the terms, Seagen will make a $200 million upfront payment to exclusively license rights to disitamab vedotin for global development and commercialization, outside of RemeGen's territory. RemeGen will retain development and commercialization rights for Asia, excluding Japan and Singapore. Seagen will lead global development and RemeGen will fund and operationalize the portion of global clinical trials attributable to its territory.
Seagen will pay RemeGen up to $2.4 billion in potential total milestone payments based upon the achievement of specified development, regulatory and commercialization goals across multiple indications and products. RemeGen is also entitled to a tiered, high single digit to mid-teen percentage royalty based on net sales of disitamab vedotin in Seagen's territory.
Performance
Medical - Biomedical and Genetics Industry 5YR % Return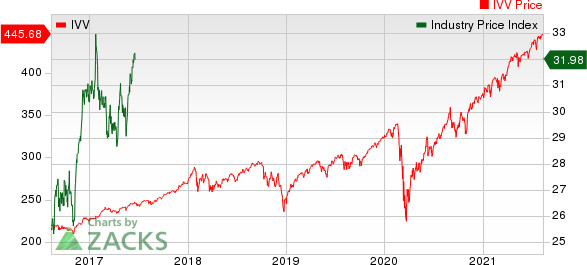 The Nasdaq Biotechnology Index lost 1.80% in the last five trading sessions. Among the biotech giants, Incyte lost 5.74% during the period. Over the past six months, shares of Biogen have surged 21.61%. (See the last biotech stock roundup here: Biotech Stock Roundup: BIIBs Q2 Earnings Update & Other Updates From AMGN, INCY).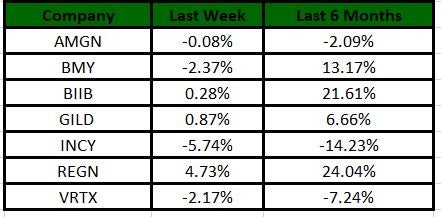 Image Source: Zacks Investment Research
What's Next in Biotech?
Stay tuned for more earnings, pipeline and regulatory updates.



Bitcoin, Like the Internet Itself, Could Change Everything
Blockchain and cryptocurrency has sparked one of the most exciting discussion topics of a generation. Some call it the "Internet of Money" and predict it could change the way money works forever. If true, it could do to banks what Netflix did to Blockbuster and Amazon did to Sears. Experts agree we're still in the early stages of this technology, and as it grows, it will create several investing opportunities.
Zacks' has just revealed 3 companies that can help investors capitalize on the explosive profit potential of Bitcoin and the other cryptocurrencies with significantly less volatility than buying them directly.
See 3 crypto-related stocks now >>
Want the latest recommendations from Zacks Investment Research? Today, you can download 7 Best Stocks for the Next 30 Days.
Click to get this free report
Regeneron Pharmaceuticals, Inc. (REGN): Free Stock Analysis Report
Sanofi (SNY): Free Stock Analysis Report
Gilead Sciences, Inc. (GILD): Free Stock Analysis Report
Seagen Inc. (SGEN): Free Stock Analysis Report
bluebird bio, Inc. (BLUE): Free Stock Analysis Report
BeyondSpring Inc. (BYSI): Free Stock Analysis Report
To read this article on Zacks.com click here.
Zacks Investment Research