Clovis (CLVS) Q3 Earnings & Sales Beat Estimates, Shares Up
Clovis Oncology CLVS incurred adjusted loss of $1.89 per share in the third quarter of 2019, narrower than the Zacks Consensus Estimate of a loss of $1.92 but wider than the year-ago loss of $1.71 per share. Adjusted loss excludes expense related to acquired in-process research and development, and a gain on extinguishment of debt. Including these items, the company had incurred a loss of $1.72 in this quarter.
Net revenues, entirely from Clovis' only marketed drug, Rubraca, were up almost 65% year over year to $37.6 million in the quarter, beating the Zacks Consensus Estimate of $36.31 million. Sales were up 14% sequentially. The company had recorded total revenues of $22.8 million, entirely from Rubraca sales in the United States, in the year-ago quarter.
Shares of Clovis were up almost 20.5% on Nov 7, following the earnings release. However, the stock has plunged 76% so far this year against the industry's increase of 0.2%.

Quarter in Details
Rubraca sales in the United States were up 12% sequentially to $36.5 million during the quarter. Ex-U.S. market sales were $1.1 million in the third quarter compared with $0.3 million the second quarter of 2019. The growth was driven by progress in new patient starts and higher duration of use.
In October, the company launched the drug in England with reimbursement provided through the Cancer Drugs Fund.
In the third quarter, research & development expenses increased 21.9% year over year to $77.9 million, primarily due to increased expenses for clinical studies on Rubraca. Selling, general and administrative (SG&A) expenses declined 1.6% year over year to $41.8 million, reflecting the impact of cost-savings initiatives.
The company expects R&D expenses to decline in 2020 as the largest of the Clovis-sponsored clinical trials near completion and spending related to clinical programs reduce.
Cash used in operating activities in the quarter was $57 million, lower than $72.5 million in the year-ago quarter. The decline was expected as Clovis guided lower cash utilization for operating activities in the second half of 2019 on its second-quarter earnings call.
Clovis ended the quarter with $354.1 million of cash equivalents and available-for-sale securities compared with $315.9 million as of Jun 30, 2018.
The company expects its cash resources to be enough to support its operations into the second half of 2021.
2019 Guidance
Clovis raised the lower end of its full-year guidance for product revenues. The company expects Rubraca to generate sales in the range of $141 million to $147 million, compared with the previously provided range of $137 million to $147 million. The Zacks Consensus Estimate stands at $141.46 million.
Update on Rubraca
Clovis is planning to file a supplemental new drug application (sNDA) later this year, seeking accelerated approval for label expansion of Rubraca in advanced prostate cancer based on data from the TRITON clinical study program. In October, the company presented encouraging initial data from the phase II TRITON2 study evaluating Rubraca in metastatic castration resistant prostate cancer. The company expects to provide updated data from the study to the FDA later this month. A phase III TRITON3 study evaluating Rubraca in prostate cancer patients who have not received chemotherapy is currently enrolling patients.
The company has a collaboration with Bristol-Myers BMY to develop Rubraca and pipeline candidate, lucitanib, in combination with the latter's PD-L1 inhibitor, Opdivo, for several cancer indications. The phase III ATHENA study evaluating Rubraca plus Opdivo as first-line maintenance treatment in advanced ovarian cancer is currently enrolling patients. A phase II study, evaluating the same combination in prostate cancer, is also enrolling patients. Another phase II study to evaluate a combination of Rubraca and Bristol-Myers' Yervoy and Opdivo in patients with advanced gastric cancer is planned for early 2020.
A phase Ib/II SEASTAR study is evaluating a combination of Rubraca and lucitanibfor the treatment of ovarian cancer, and a combination ofRubraca and Immunomedics' IMMU antibody drug conjugate, sacituzumab govitecan, for the treatment of advanced metastatic triple-negative breast cancer in separate cohorts. The company is currently enrolling patients in the study.
An early-stage study has been planned by Bristol-Myers to evaluate multiple combinations of lucitanib with Opdivo in several oncology indications including stage IV non-small cell lung cancer. The study is expected to start by 2019-end.
Clovis has a preclinical research collaboration with Alkermes ALKS to evaluate the latter's ALKS 4230 in combination with lucitanib as well as Rubraca.
Clovis Oncology, Inc. Price, Consensus and EPS Surprise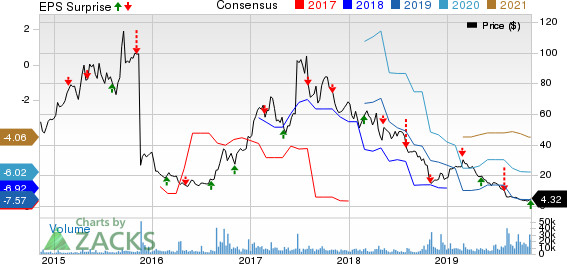 Clovis Oncology, Inc. price-consensus-eps-surprise-chart | Clovis Oncology, Inc. Quote
Zacks Rank
Clovis currently has a Zacks Rank #4 (Sell).
You can see the complete list of today's Zacks #1 Rank (Strong Buy) stocks here.
Today's Best Stocks from Zacks
Would you like to see the updated picks from our best market-beating strategies? From 2017 through 2018, while the S&P 500 gained +15.8%, five of our screens returned +38.0%, +61.3%, +61.6%, +68.1%, and +98.3%.
This outperformance has not just been a recent phenomenon. From 2000 – 2018, while the S&P averaged +4.8% per year, our top strategies averaged up to +56.2% per year.
See their latest picks free >>
Want the latest recommendations from Zacks Investment Research? Today, you can download 7 Best Stocks for the Next 30 Days.
Click to get this free report
Bristol-Myers Squibb Company (BMY): Free Stock Analysis Report
Immunomedics, Inc. (IMMU): Free Stock Analysis Report
Clovis Oncology, Inc. (CLVS): Free Stock Analysis Report
Alkermes plc (ALKS): Free Stock Analysis Report
To read this article on Zacks.com click here.
Zacks Investment Research