Bull of the Day: DexCom, Inc. (DXCM)
DexCom, Inc. DXCM is a medical device/wearables company focused on helping people monitor and manage their diabetes. DexCom's top-line growth has been stellar and its addressable market is massive considering how widespread diabetes is in the U.S. and elsewhere.
DexCom shares got caught up in the post-covid lockdown growth-buying wave that began to unwind last fall. The glucose monitoring company is now trading at far more reasonable levels and DXCM shares have been trending upward since the middle of June.
Now might be time for investors to add DexCom stock at these levels for long-term growth upside.
Connected Health Revolution
DexCom makes continuous glucose monitoring systems designed for people with diabetes. The San Diego, California-based firm allows people with diabetes the chance to place a small sensor just beneath their skin—most often on their abdomens—to help them continuously monitor their glucose levels. DexCom's readings and data come through on companion devices or via an app on compatible smartphones, smartwatches and other devices, including offerings from Apple, Google, and others.
DexCom's systems have become widely popular because they don't require people to prick themselves throughout the day in order to measure their glucose levels. DexCom's internet-connected, data-sharing devices are also helpful because they enable family, friends, and healthcare providers to receive data remotely in order to help the users make the proper medical decisions.
The company's continuous glucose monitoring or CGM systems are part of a connected health revolution that's still in the very early days and might be poised to be the standard form of medical care and treatment in the decades to come. DexCom's CGM monitors systems are more beneficial for patients, caregivers, and healthcare professionals compared to more traditional/old school blood glucose meters that check glucose levels at a single moment in time.


Image Source: Zacks Investment Research
Addressable Market and Growth
The simple facts are on DexCom's side as diabetes becomes far more common in the U.S. Over 37 million Americans or about 1 in 10 have diabetes, while 1 in 3 or nearly 100 million Americans have "prediabetes," according to the CDC's 2021 report. Worse still, diabetes is the 8th leading cause of death in the U.S.
Rising diabetes rates, mostly type-2, is not just a U.S. problem, with roughly 540 million adults, or 1 in 10 people around the world living with diabetes. The International Diabetes Federation predicts that the number could climb to 645 million by 2030 and nearly 800 million by 2045.
One of the nearby charts shows DexCom's strong revenue expansion over the past decade. The firm has averaged 34% sales growth in the past five years to climb from $719 million in 2017 to $2.5 billion in FY21. Zacks estimates call for DXCM to post another 18% revenue growth in FY22 and 21% higher in fiscal 2023 to hit $3.5 billion—this is a case where the percentage change slowdown might cloud the fact that DexCom is set to add another $1 billion to its top line between 2021 and 2023.
DexCom is still firmly investing in its growth. Yet, its adjusted earnings are projected to climb 18% this year and another 40% next year to come in at $1.10 per share. DXCM's upward earnings revisions help it land a Zacks Rank #1 (Strong Buy) right now. And the firm has topped EPS estimates for five years running outside of two recent misses.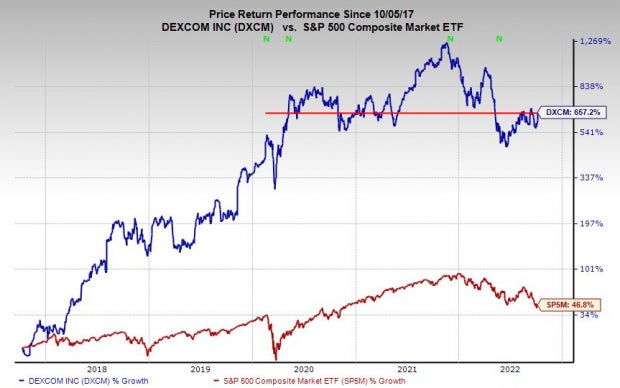 Image Source: Zacks Investment Research
Price Performance and Valuation
DexCom shares have skyrocketed roughly 2,300% in the past 10 years to blow away the S&P 500's 170% and its Zacks Medical Products Market's 25%. This run includes stretches of sideways movement and even drops. DXCM's outperformance has remained during the past five years. As we mentioned at the outset, the stock had tumbled off its November 2021 peaks alongside nearly every growth-focused stock.
DXCM is trading around 45% below its records at around $91 per share and it still has 23% more room to run before it hits its current average Zacks price target. And the stock has already made a bit of a comeback off its mid-June lows, up over 30%.
DexCom is hardly what anyone would call cheap, but Wall Street is buying it for stellar value. DXCM shares have been impacted by rising interest rates, with investors not willing to pay up as much for future earnings with rates off their rock-bottom levels. DXCM has, in turn, been recalibrated. Its forward PEG ratio (P/E ratio divided by its growth rate) is back at 2.6 vs. its recent highs of a whopping 41.9. These levels put the stock not too far off its industry's 2.2 despite its huge outperformance.


Image Source: Zacks Investment Research
Bottom Line
DexCom might not be the safest near-term play amid the uncertainty about the interest rate environment. Still, investors with long-term outlooks might want to consider starting a position in the diabetes-focused connected medical products company for its long-term upside.
DexCom should benefit from the growing prevalence of diabetes and it could possibly expand into new areas of the connected health world given its strong balance sheet and rising cash position. Plus, 12 of the 14 brokerage recommendations Zacks has are "Strong Buys."
Just Released: Free Report Reveals Little-Known Strategies to Help Profit from the $30 Trillion Metaverse Boom
It's undeniable. The metaverse is gaining steam every day. Just follow the money. Google. Microsoft. Adobe. Nike. Facebook even rebranded itself as Meta because Mark Zuckerberg believes the metaverse is the next iteration of the internet. The inevitable result? Many investors will get rich as the metaverse evolves. What do they know that you don't? They're aware of the companies best poised to grow as the metaverse does. And in a new FREE report, Zacks is revealing those stocks to you. This week, you can download, The Metaverse - What is it? And How to Profit with These 5 Pioneering Stocks. It reveals specific stocks set to skyrocket as this emerging technology develops and expands. Don't miss your chance to access it for free with no obligation.
>>Show me how I could profit from the metaverse!
Want the latest recommendations from Zacks Investment Research? Today, you can download 7 Best Stocks for the Next 30 Days.
Click to get this free report
DexCom, Inc. (DXCM): Free Stock Analysis Report
To read this article on Zacks.com click here.
Zacks Investment Research