Should We Be Concerned About Apple In 2020?
A large number of companies will report earnings within the next few weeks, and most are expected to be impacted by the coronavirus pandemic. Analyst estimates, in fact, indicate that our current quarter will likely be the worst since most of the world is in partial or total lockdown. Moreover, it's difficult to hazard a guess as to when the pandemic will peak, meaning we don't know when to come out of lockdown.
This has wreaked havoc on the global economy, with countries all over the world doing their best to get essential goods and services to citizens. Things like iPhones don't fall in that category, so there will obviously be an impact on Apple AAPL. But the question before us today is, how badly will Apple be impacted given that it also sells Macs, iPads, services and other things?
Its manufacturing partners in China are up and running again, and according to a Bloomberg story, Foxconn/Hon Hai Precision expects to be able to ship 5G iPhones in time for its new launch this fall. Apple closed most of its stores in China during the pandemic but reopened them last month. With demand returning, sales should improve in the current quarter.
The cheaper iPhone SE2, slated for a March 2020 launch has been delayed. The phone that some media reports suggest is being assembled in India, was mainly targeted at India and other developing countries.
However, the country went into lockdown in the last week of March, which made the launch date uncertain. The unofficial launch date has therefore shifted to April 15, when the lockdown was earlier expected to be lifted.
But a "super-spreader event" in New Delhi skewed the lockdown schedule and forced the government to invoke the Disaster Management Act. The government asked the states for opinions on a staggered exit and most state heads said today that an extension is required. A government committee has discussed sector-wise lockdown impact and is awaiting an experts' report on virus mutations/climate impact, etc. that could tell us more about how it affects the Indian people. The report is due in 3 days. So we'll know more about the government's stand by the end of the week.
But it isn't all bad news for Apple. The Confederation of All India Traders (CAIT) has called for a boycott of Chinese products by its members. While its meeting will officially be held in August, members are already pressurizing the government to impose customs duty of up to 500% on China-made goods.
Most Indians carry a Samsung phone or one from Xiaomi, vivo, OPPO, and more recently, Realme. These companies are playing in line with Modi's "Make in India" initiative. So while it will be hard to stop them altogether, China is seeing a lot of negative rhetoric among Indians, creating a gap that could be filled by Apple.
Back to the Western World, the story is mostly about services, including cloud services. Unlike Microsoft MSFT and Alphabet GOOGL, Apple has been a consumer-focused brand for a long time.
Its enterprise push came slowly and gradually, through partnerships with companies like International Business Machines IBM. This remains a bit of a grey area, however, because Apple doesn't share too many details. But with work from home becoming the main mode of operation in the foreseeable future, Apple's enterprise partnerships should help it sell Macs/iPads and also iCloud services.
We also need more information on its initiatives/progress in academics because online schooling is also likely to become a larger trend.
As far as services go, Music and Apple Pay should see an uptick and Apple's installed base of a billion+ devices will help.
Overall, while certain questions remain, these are mostly about what it's doing on the growth front now that the iPhone business looks like it's heading for a deeper slowdown. They're not about whether it has growth prospects or not. Also, along the same lines, Apple was already preparing for an iPhone slowdown to become more of a services company. So it should have a better game plan than most other companies.
It also pays a dividend.
Apple is therefore a stock I'd hang on to.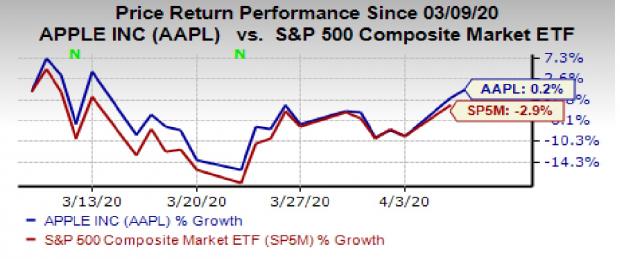 Today's Best Stocks from Zacks
Would you like to see the updated picks from our best market-beating strategies? From 2017 through 2019, while the S&P 500 gained and impressive +53.6%, five of our strategies returned +65.8%, +97.1%, +118.0%, +175.7% and even +186.7%.
This outperformance has not just been a recent phenomenon. From 2000 – 2019, while the S&P averaged +6.0% per year, our top strategies averaged up to +54.7% per year.
See their latest picks free >>
Want the latest recommendations from Zacks Investment Research? Today, you can download 7 Best Stocks for the Next 30 Days.
Click to get this free report
Microsoft Corporation (MSFT): Free Stock Analysis Report
International Business Machines Corporation (IBM): Free Stock Analysis Report
Apple Inc. (AAPL): Free Stock Analysis Report
Alphabet Inc. (GOOGL): Free Stock Analysis Report
To read this article on Zacks.com click here.
Zacks Investment Research