CVB Financial (CVBF)-Suncrest Merger Gets Regulatory Approvals
CVB Financial Corp. CVBF, the holding company for Citizens Business Bank, announced that Citizens has received regulatory approvals from the Federal Deposit Insurance Corporation and the California Department of Financial Protection and Innovation to complete its previously-announced merger agreement with Suncrest Bank. The stock-and-cash deal worth $204 million, announced this July, is expected to close on or about Jan 7, 2022, subject to the satisfaction of all remaining closing conditions.

The president and CEO of CVB Financial and Citizens, David A. Brager, stated, "We are pleased to have obtained all required regulatory approvals or non-objections for our anticipated merger with Suncrest Bank. This acquisition is an exciting opportunity for Citizens Business Bank to expand our presence northward to the Sacramento area and to bolster our already strong position in the important Central Valley region of California."

Ciaran H. McMullan, the president and CEO of Suncrest Bank, commented, "We believe the anticipated merger of Suncrest Bank and Citizens Business Bank is a tremendous opportunity for our customers and employees, and our shareholders voted overwhelmingly in favor of the merger at our special shareholders meeting on October 27, 2021. Citizens Business Bank's ability to offer a wider range of products and higher credit capacity along with a proven commitment to excellent service fits very well with the community banking model of Suncrest Bank."
Terms of the Merger and Financial Impact
On Jul 27, in an effort to expand its presence, CVB Financial announced an agreement and plan of reorganization and merger, according to which Suncrest bank would merge with and into Citizens. The acquisition would be the second-largest in CVB Financial's history.

It was decided that once the merger would be closed, each shareholder of Suncrest Bank would receive 0.6970 shares of CVB Financial's common stock and $2.69 per share in cash.

Accordingly, CVB Financial will be paying approximately 8.5 million shares of its common stock and $39 million in cash (subject to purchase price adjustment provisions and other terms outlined in the agreement).

Suncrest Bank shareholders will hold approximately 6% of CVB Financial's outstanding common stock following the merger.

At the time of the deal announcement, CVB Financial expected the transaction to result in earnings per share accretion of 3.5% in 2023 (excluding one-time transaction costs and assuming full realization of cost savings).

Also, the merger was anticipated to be 0.8% dilutive to tangible book value per share, with an earn-back period of less than 1.75 years and an internal rate of return of 20%.

Notably, Suncrest Bank is headquartered in Visalia, CA. It has seven branches and two loan production offices throughout California's Central Valley.

Over the past year, shares of CVB Financial have gained 3.3% compared with 72.4% growth recorded by the industry.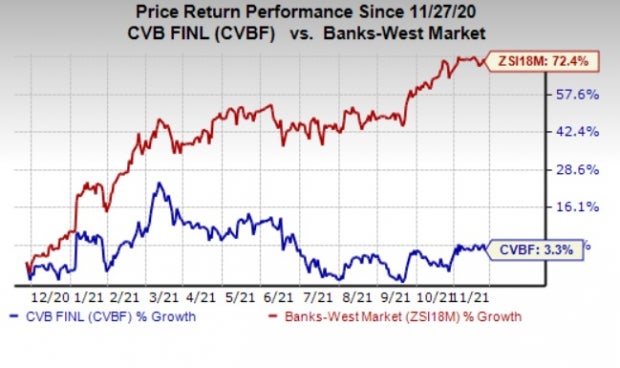 Image Source: Zacks Investment Research
Currently, CVB Financial carries a Zacks Rank #3 (Hold). You can see the complete list of today's Zacks #1 Rank (Strong Buy) stocks here.
Inorganic Growth Efforts by Other Firms
Several companies from the finance sector are undertaking consolidation efforts to counter the low-interest-rate environment along with the heightened costs of investments in technology.

Recently, Citizens Financial Group, Inc. CFG completed its previously announced merger with JMP Group LLC. Citizens Financial announced the all-cash deal in September in a bid to augment its capital market capabilities.

The buyout is expected to foster growth, diversify Citizens Financial's capital market platform and provide greater scale in key verticals like healthcare, technology, financials and real estate.

Likewise, in an effort to broaden its capabilities for institutional investors and investment management clients, SEI Investments Company SEIC acquired a global portfolio intelligence platform company, Novus Partners.

SEI Investments' chairman and CEO, Alfred P. West, Jr., stated, "The financial services landscape is ever-evolving. Our markets continue to face an unprecedented pace of change, and we continuously seek opportunities to stay ahead of and manage this change. By making strategic investments in our solutions and workforce, we drive growth and help our clients make confident decisions for their futures."

A few days ago, U.S. Bancorp USB, the parent company of U.S. Bank, agreed to acquire San Francisco-based fintech firm, TravelBank, which offers technology-driven cost and travel management solutions.

The acquisition will help U.S. Bank, which is already an industry leader in delivering innovative corporate payment solutions like virtual corporate credit cards and tools to improve working capital, accelerate the integration of digital payments within its commercial segment.
Bitcoin, Like the Internet Itself, Could Change Everything
Blockchain and cryptocurrency has sparked one of the most exciting discussion topics of a generation. Some call it the "Internet of Money" and predict it could change the way money works forever. If true, it could do to banks what Netflix did to Blockbuster and Amazon did to Sears. Experts agree we're still in the early stages of this technology, and as it grows, it will create several investing opportunities.
Zacks' has just revealed 3 companies that can help investors capitalize on the explosive profit potential of Bitcoin and the other cryptocurrencies with significantly less volatility than buying them directly.
See 3 crypto-related stocks now >>
Want the latest recommendations from Zacks Investment Research? Today, you can download 7 Best Stocks for the Next 30 Days.
Click to get this free report
U.S. Bancorp (USB): Free Stock Analysis Report
CVB Financial Corporation (CVBF): Free Stock Analysis Report
SEI Investments Company (SEIC): Free Stock Analysis Report
Citizens Financial Group, Inc. (CFG): Free Stock Analysis Report
To read this article on Zacks.com click here.
Zacks Investment Research