BP to Tap the Surging Indian Fuel Market Via Reliance Deal
BP p.l.c. BP once again partners with Reliance ("RIL") and now both are initiating their joint venture in the fuel retailing business. In this partnership, RIL will have 51% stake in the ownership and the rest will be held by BP.

The joint venture aims to almost quadruple the existing 1400 fuel stations to 5,500 over the next five years. It further plans to focus more on providing packaged fuels and home delivery of fuels to customers and get an easy access to the Jamnagar refining facility of RIL in Gujarat with competitive advantages in supplying fuel.

Given that India is among the major countries that witnesses mounting demand for fuels, it is expected to be the fastest growing markets for the commodities around the world by mid 2020s. Further, BP predicted that over time, the number of passenger cars in the country will increase almost six-fold. Hence, the latest deal has reflected the integrated energy player's intention to capitalize on India's growing energy need.

Commenting on this venture, RIL stated that as both companies have extended their gas resources business in India to fuel retailing and aviation fuels, this will further strengthen their relationship with consumers leading to customer satisfaction and also boost their operations across the nation.

Although the two partners haven't mentioned their investment plans for this new venture, the final agreements are estimated to take place in 2019 and will be consummated in the first half of 2020, depending on the regulatory and customary approvals.

Prior to the current venture, BP and RIL have been partners since 2011 in RIL's exploration and production of hydrocarbons in India and further expanded the alliance in 2017. Ever since, the partners inked three new project deals on gas development in the KG D6 block.

BP, which is one of the world's largest oil and gas companies further, intends to widen its retailing business in China, Indonesia and Mexico.
BP p.l.c. Price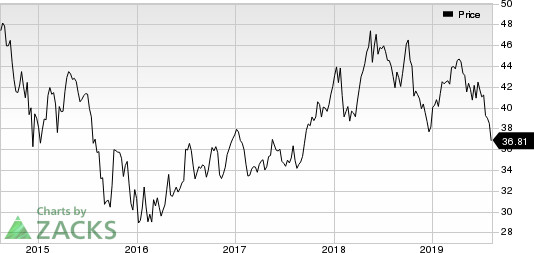 Zacks Rank & Key Picks

BP carries a Zacks Rank #3 (Hold). Better-ranked players in the energy space include Transportadora De Gas Sa Ord B TGS, Ameresco, Inc. AMRC and World Fuel Services Corporation INT. While Transportadora and Ameresco sport a Zacks Rank #1 (Strong Buy), World Fuel Services holds a Zacks Rank #2 (Buy).You can see the complete list of today's Zacks #1 Rank stocks here.
Transportadora earnings beat the Zacks Consensus Estimate in the trailing four quarters.

Ameresco earnings beat the Zacks Consensus Estimate in the last four quarters.

World Fuel Services earnings beat the Zacks Consensus Estimate in the preceding four quarters.

Today's Best Stocks from Zacks

Would you like to see the updated picks from our best market-beating strategies? From 2017 through 2018, while the S&P 500 gained +15.8%, five of our screens returned +38.0%, +61.3%, +61.6%, +68.1%, and +98.3%.

This outperformance has not just been a recent phenomenon. From 2000 – 2018, while the S&P averaged +4.8% per year, our top strategies averaged up to +56.2% per year.
See their latest picks free >>

Want the latest recommendations from Zacks Investment Research? Today, you can download 7 Best Stocks for the Next 30 Days.
Click to get this free report
World Fuel Services Corporation (INT): Free Stock Analysis Report
BP p.l.c. (BP): Free Stock Analysis Report
Transportadora De Gas Sa Ord B (TGS): Free Stock Analysis Report
Ameresco, Inc. (AMRC): Free Stock Analysis Report
To read this article on Zacks.com click here.
Zacks Investment Research