Horizon Therapeutics' Stock Up in a Year on Pipeline Progress
Shares of Horizon Therapeutics Public Limited Company HZNP have surged 78.4% in the past year compared with the industry's growth of 3.8%.

The company's biologic candidate teprotumumab is being developed for the treatment of Thyroid Eye Disease (TED). The company submitted a biologics license application (BLA) to the FDA in July 2019 based on positive results from the confirmatory OPTIC study. The same was accepted by the FDA in September and the agency granted it Priority Review. The FDA set an action date of Mar 8, 2020. The agency notified that it is currently planning to hold an advisory committee meeting to discuss the application per guidelines. If approved, teprotumumab would be the first and only approved treatment for active TED and will significantly boost the company's growth prospects. On Dec 13, 2019, the Dermatologic and Ophthalmic Drugs Advisory Committee (DODAC) of the FDA voted unanimously that the potential benefits of the candidate outweigh the potential risks for the treatment of TED.
Further, the company is working on label expansion of drugs like Krystexxa, Actimmune, Procysbi and Ravicti.
Krystexxa is the first and only FDA-approved medicine for chronic refractory gout. The company is evaluating the use of methotrexate to increase the response rate with Krystexxa. This was initiated through the small, open-label MIRROR pilot study in adults living with uncontrolled gout, followed by the larger MIRROR registrational study.

In October, the company initiated the PROTECT study, evaluating the effect of Krystexxa on serum uric acid levels in kidney transplant patients with uncontrolled gout. Managing uncontrolled gout is one of the most common and significant unmet needs of kidney transplant patients.
Actimmune is currently approved for the treatment of CGD and SMO. Horizon is working to increase awareness about the drug among patients and physicians. Meanwhile, the company is working on expanding Actimmune's label. An investigator-initiated study at the Moffitt Cancer Center is underway and enrolling patients. The study is evaluating the drug in combination with Roche Holdings' RHHBY Herceptin, Perjeta and Taxol and aims to determine the optimal dosing and treatment combination in certain advanced breast cancer patients.
In July 2019, the FDA accepted the new drug application (NDA) for Procysbi delayed-release oral granules in packets. If approved, this new dosage form would provide another administration option to patients, in addition to the currently available Procysbi delayed-release capsules for children aged one year or older and adults living with nephropathic cystinosis.
However, Horizon faces intense competition.. The company's marketed products s. Duexis and Vimovo face competition from Pfizer's PFE Celebrex and its generics, and other branded non-steroidal anti-inflammatory drugs (NSAIDs) and cheaper generic versions of NSAIDs. The other marketed product Pennsaid 2% faces competition from generic versions of diclofenac sodium topical solutions that are priced significantly less than Pennsaid 2%.
Although AstraZeneca AZN/Ironwood's Zurampic is not a direct competitor, as it has not yet been approved for refractory gout, this therapy could be used prior to Krystexxa and, if effective, could reduce the target patient population for Krystexxa. Proscysbi faces competition from Cystagon for the treatment of cystinosis and Cystaran for the treatment of corneal crystal accumulation in patients with cystinosis.
Horizon currently has a Zacks Rank #3 (Hold). You can see the complete list of today's Zacks #1 Rank (Strong Buy) stocks here.
Horizon Therapeutics Public Limited Company Price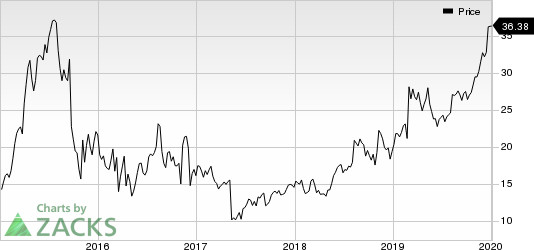 Horizon Therapeutics Public Limited Company price | Horizon Therapeutics Public Limited Company Quote
Biggest Tech Breakthrough in a Generation
Be among the early investors in the new type of device that experts say could impact society as much as the discovery of electricity. Current technology will soon be outdated and replaced by these new devices. In the process, it's expected to create 22 million jobs and generate $12.3 trillion in activity. A select few stocks could skyrocket the most as rollout accelerates for this new tech. Early investors could see gains similar to buying Microsoft in the 1990s. Zacks' just-released special report reveals 8 stocks to watch. The report is only available for a limited time.
See 8 breakthrough stocks now>>
Want the latest recommendations from Zacks Investment Research? Today, you can download 7 Best Stocks for the Next 30 Days.
Click to get this free report
Pfizer Inc. (PFE): Free Stock Analysis Report
Roche Holding AG (RHHBY): Free Stock Analysis Report
AstraZeneca PLC (AZN): Free Stock Analysis Report
Horizon Therapeutics Public Limited Company (HZNP): Free Stock Analysis Report
To read this article on Zacks.com click here.