RH Q3 Earnings & Revenues Beat, View Up for the Fourth Time
RH RH reported third-quarter fiscal 2019 results, wherein adjusted earnings and revenues handily beat the respective Zacks Consensus Estimate. Also, it raised its full-year guidance for the fourth time this year.

Earnings, Revenue & Margin Discussion

RH's third-quarter adjusted earnings of $2.79 per share surpassed the consensus mark of $2.22 by 25.7%. Moreover, the reported figure surged a notable 74% from the year-ago level.

Adjusted revenues (including recall accrual) of $676.7 million topped the consensus mark of $675.6 million by 0.2%. The said figure also increased 6% from the year-ago figure of $638.5 million. Despite adverse macro trends and higher tariffs, revenues grew year over year on the back of the core RH business, solid performance of new galleries, along with continued expansion of RH Hospitality.

The company's adjusted operating margin expanded 340 basis points (bps) year over year to 13%. Adjusted EBITDA also grew 32.5% year over year to $116.3 million in the quarter.
RH Price, Consensus and EPS Surprise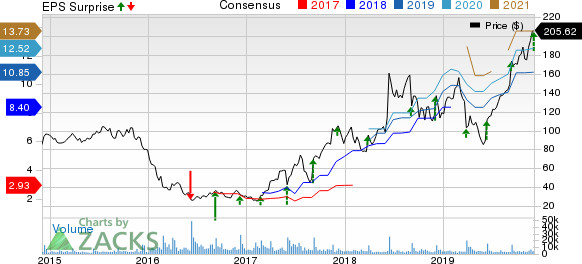 Store Update

As of Nov 2, 2019, RH operated 70 retail galleries. These include 42 Legacy Galleries, 21 Design Galleries, five Baby & Child Galleries, and two Modern Galleries. As of Nov 2, 2019, seven of RH Design Galleries included an integrated RH Hospitality experience. RH operated 71 retail galleries a year ago.

Balance Sheet

RH's cash and cash equivalents were $38.3 million as of Nov 2, 2019 compared with $5.8 million on Feb 2, 2019. The company ended the fiscal third quarter with merchandise inventories worth $429.2 million compared with $531.9 million as of Feb 2, 2019. Net cash provided by operating activities was $211 million during the first nine months of 2019 compared with $96.7 million in the comparable year-ago period.

Fiscal 2019 Guidance Up

Despite increase in tariffs and some negative macro trends, RH remains optimistic about business momentum.

In view of the recent trends, the company raised its full-year guidance for net revenues, adjusted operating income, operating margin and earnings for the fourth time this year. The company's focus on elevating the brand and architecting an integrated operating platform continues to reflect in its profit model leapfrogging past the home furnishings industry. Management believes that the company is gradually becoming one of the few retailers that is persistently boosting revenues, expanding margins, increasing operating earnings and driving significantly higher returns on invested capital.

Adjusted net revenues are now expected in the range of $2,685-$2,694 million versus $2,680-$2,694 million projected earlier. The guidance (considering the mid-point) is almost in line with the consensus estimate of $2,690 million.

Adjusted operating margin is now expected in the range of 14.1-14.2% (versus 13.6-13.8% estimated earlier). Adjusted earnings per share are projected between $11.58 and $11.70, higher than the prior guided range of $10.78-$11.01 and the consensus estimate of $10.85 (considering the mid-point of the guided range).

Free cash flow is now expected within $350-$360 million versus $325-$350 expected earlier.

The company has reiterated long-term targets, courtesy of its new vertically integrated real estate, design and development organization. It expects long-term net revenue improvement of 8-12%, adjusted operating margins in high teens to low 20s, adjusted net income growth of 15-20% annually and ROIC in excess of 50%.

Moreover, the company expects to accelerate Gallery openings to five-seven per year. Of these, it has plans to open five new Galleries and one Guesthouse in fiscal 2020, with RH Marin, RH Charlotte, and RH San Francisco opening in the first half; and RH Dallas, RH Jacksonville, and the first RH Guesthouse opening in New York by the second half of fiscal 2020.

RH has plans to open a minimum of seven new Galleries in fiscal 2021. It expects to launch RH Color next fall. RH International represents the company's largest growth opportunity that will position it to become a $20-BILLION global brand.

Zacks Rank

RH — which shares space with Tempur Sealy International, Inc. TPX , At Home Group Inc. HOME and Williams-Sonoma, Inc. WSM in the Zacks Retail - Home Furnishings industry — currently carries a Zacks Rank #1 (Strong Buy). You can see the complete list of today's Zacks #1 Rank stocks here.

More Stock News: This Is Bigger than the iPhone!

It could become the mother of all technological revolutions. Apple sold a mere 1 billion iPhones in 10 years but a new breakthrough is expected to generate more than 27 billion devices in just 3 years, creating a $1.7 trillion market.

Zacks has just released a Special Report that spotlights this fast-emerging phenomenon and 6 tickers for taking advantage of it. If you don't buy now, you may kick yourself in 2020.

Click here for the 6 trades >>
Want the latest recommendations from Zacks Investment Research? Today, you can download 7 Best Stocks for the Next 30 Days.
Click to get this free report
At Home Group Inc. (HOME): Free Stock Analysis Report
Tempur Sealy International, Inc. (TPX): Free Stock Analysis Report
Williams-Sonoma, Inc. (WSM): Free Stock Analysis Report
RH (RH): Free Stock Analysis Report
To read this article on Zacks.com click here.
Zacks Investment Research