Humana (HUM) to Buy Back Shares of $1B to Add Shareholder Value
Humana Inc. HUM has entered into an agreement with Mizuho Markets Americas LLC and Wells Fargo Bank, National Association, to buy back shares worth $1 billion as part of its $3-BILLION share repurchase program. This $3-BILLION plan was announced by HUM's board of directors in February 2021 with the expiration date of Feb 18, 2024.

The leading health insurance player has 128.5 million shares remaining under its share buyback plan.

HUM expects its final settlement under the accelerated agreements to take place in the first quarter of 2022. Per the recent 8-K filing, Humana will be making payments in an aggregate amount of $1 billion.

These initiatives reflect the health insurer's efforts to enhance shareholder's value.

A few days back, HUM's shares tumbled after it slashed its Medicare membership growth forecast by around 50% in a recent filing. However, the same improved to some extent following the share buyback announcement. This should instill investor's confidence in the stock.

This currently Zacks Rank #4 (Sell) player could take these initiatives owing to its impressive solvency level.
You can see the complete list of today's Zacks #1 Rank (Strong Buy) stocks here.

As of Sep 30, 2021, Humana had cash, cash equivalents and investment securities of $18.02 billion, higher than its long-term debt of $11.5 billion. Based on a strong financial position, Humana has been efficiently deploying excess capital for the past several years.

Share buybacks and dividend hikes are a prudent way to maximize shareholders' wealth and generate more value.

This health insurer has also been hiking its dividend since 2011. In December, Humana inked two separate deals with two third-party financial institutions to effect an aggregate $1.75-billion ASR program under its authorization.

Shares of Humana have lost 2.4% in a year's time against the industry's growth of 30.2%.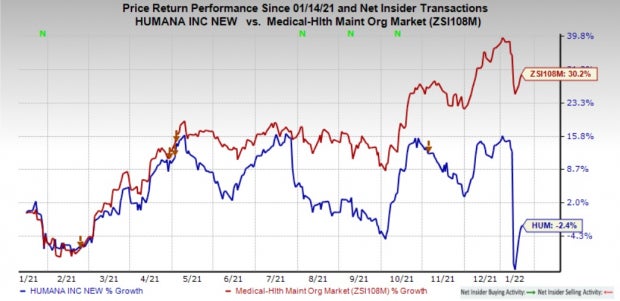 Image Source: Zacks Investment Research
Other companies in the same space being serious about capital deployment through share buybacks include Cigna Corp. CI, Select Medical Holdings Corporation SEM and Anthem, Inc. ANTM.

Cigna has a strong shareholder value-boosting program in place. CI announced a $2-BILLION accelerated share repurchase in the third quarter. It also declares special dividends from time to time. Management remains optimistic about paying an attractive dividend and generating a cumulative operating cash flow of $50 billion through 2025.

In the third quarter of 2021, Anthem repurchased shares worth $480 million. ANTM expects to buy back shares worth $1.6 billion for 2021 and around 60% of the target has been achieved so far. Anthem has always been aggressively engaged in share buybacks, utilizing its excess capital to add shareholder value.

After halting share buybacks for a short time, Select Medical resumed the same in the third quarter of 2021. SEM bought back shares worth $47.5 million in the period. Also, the board of directors authorized an increase in its share repurchase program on Nov 2, 2021, which will run until the end of 2023. It lifted the buyback program from $500 million to $1 billion.

Bitcoin, Like the Internet Itself, Could Change Everything
Blockchain and cryptocurrency has sparked one of the most exciting discussion topics of a generation. Some call it the "Internet of Money" and predict it could change the way money works forever. If true, it could do to banks what Netflix did to Blockbuster and Amazon did to Sears. Experts agree we're still in the early stages of this technology, and as it grows, it will create several investing opportunities.
Zacks' has just revealed 3 companies that can help investors capitalize on the explosive profit potential of Bitcoin and the other cryptocurrencies with significantly less volatility than buying them directly.
See 3 crypto-related stocks now >>
Want the latest recommendations from Zacks Investment Research? Today, you can download 7 Best Stocks for the Next 30 Days.
Click to get this free report
Humana Inc. (HUM): Free Stock Analysis Report
Cigna Corporation (CI): Free Stock Analysis Report
Select Medical Holdings Corporation (SEM): Free Stock Analysis Report
Anthem, Inc. (ANTM): Free Stock Analysis Report
To read this article on Zacks.com click here.
Zacks Investment Research