Pharma Stock Roundup: JNJ & SNY's Coronavirus Product Development, Other Updates
This week J&J JNJ selected a lead vaccine candidate for the treatment of coronavirus disease, COVID-19. Sanofi SNY treated the first patient in an outside U.S. study on its and Regeneron's rheumatoid arthritis (RA) drug, Kevzara for patients hospitalized with severe COVID-19. Meanwhile, the FDA approved AstraZeneca's AZN Imfinzi for its third indication, an aggressive form of lung cancer and Lilly's LLY IL-17 inhibitor, Taltz for plaque psoriasis in pediatric patients.
Recap of the Week's Most Important Stories:
J&J Identifies Coronavirus Vaccine Candidate: J&J announced that it has identified a lead vaccine candidate for COVID-19 and expects to begin phase I human clinical studies on the same by September. J&J also announced a new partnership with BARDA and committed to provide global supply of more than one billion doses of the vaccine. J&J sounded confident of having the first batches of a COVID-19 vaccine available for emergency use authorization by early 2021. Earlier J&J had committed to invest more than $1 billion to co-fund vaccine research, development, and clinical testing along with BARDA.
Sanofi Starts Outside U.S. Study on Kevzara for Severe Coronavirus Infection: Sanofi announced the initiation of a phase II/III study outside theUnited States to evaluate IL-6 inhibitor, Kevzara to treat patients hospitalized with severe infection due to COVID-19. The study has been initiated in Italy, Spain, Germany, France, Canada and Russia and is enrolling patients immediately. The first patient in the study has been treated. Last month, Regeneron/Sanofi announced plans to study Kevzara for severe COVID-19 infection. Regeneron initiated a U.S. based phase II/III study last month. While Regeneron is leading the U.S. studies, Sanofi is taking care of the ex-U.S. studies.
FDA Approves AstraZeneca's Imfinzi for Aggressive Lung Cancer Indication: The FDA granted approval to AstraZeneca's Imfinzi for the first-line treatment of extensive-stage small cell lung cancer —the most aggressive type of lung cancer —based on CASPIAN study data. The drug has been approved to treat this lung cancer patient population in combination with standard-of-care (SoC) chemotherapies, etoposide plus either carboplatin or cisplatin. Regulatory filings are also under review in Europe and Japan. Imfinzi is presently marketed for second-line advanced bladder cancer and unresectable, stage III non-small cell lung cancer (NSCLC)
Meanwhile, on the recommendation from an independent Data Monitoring Committee (DMC), AstraZeneca said that a phase III DAPA-CKD outcomes study on its SGLT2 inhibitor, Farxiga will be stopped early. The phase III DAPA-CKD study is being conducted to see the effect of Farxiga on renal outcomes and cardiovascular (CV) mortality in patients with chronic kidney disease with or without type II diabetes. The DMC's recommendation was based on Farxiga's overwhelming efficacy in the above patient population. DAPA-CKD is part of AstraZeneca's DapaCare clinical program to explore the CV and renal profile of Farxiga in type II diabetes patients. An sNDA seeking approval of Farxiga to reduce the risk of CV death or the worsening of heart failure (HF) in patients with reduced ejection fraction, with and without type-II diabetes is under priority review. The sNDA was based on positive results from the DAPA-HF study on Farxiga.
The Committee for Medicinal Products for Human Use (CHMP) of the European Medicines Agency (EMA) recommended approving AstraZeneca's hyperkalemia drug, Lokelma to treat patients on stable hemodialysis. The recommendation was based on data from phase IIIb DIALIZE study
FDA Approves Lilly's Taltz for Pediatric Patients: The FDA approved Lilly's Taltz to treat pediatric patients (aged from six to below 18 years) with moderate-to-severe plaque psoriasis. Taltz, an important revenue driver for Lilly, is presently marketed for moderate-to-severe plaque psoriasis, psoriatic arthritis (PsA) and ankylosing spondylitis (AS) in adults.
Meanwhile, Lilly announced a collaboration with small biotech, Sitryx to study up to four novel preclinical targets, identified by the latter, which can be developed into new medicines for autoimmune diseases. For the research and license collaboration, Lilly will make an upfront payment of $50 million to Sitryx while also investing $10 million in its stock.
Merck's Keytruda Meets PFS Endpoint in MSI-H Colorectal Cancer Study: Merck's MRK phase III head-to-head study (KEYNOTE-177) comparing Keytruda monotherapy to standard-of-care chemotherapy for the first-line treatment for MSI-H or dMMR colorectal cancer met one of its dual primary endpoints of progression-free survival (PFS). The data from an interim analysis showed that treatment with Keytruda led to statistically significant improvement in PFS over chemotherapy, including the current standard of care regimen of mFOLFOX6 plus Avastin (bevacizumab) in the above patient population. The interim analysis was conducted by an independent DMC. The DMC recommended the study to be continued without changes to evaluate the other primary endpoint, overall survival.
EU Approval for Bayer's Nubeqa and Pfizer Ruxience: The European Commission (EC) granted marketing approval to Bayer's Nubeqa (darolutamide) for the treatment of patients with non-metastatic castration-resistant prostate cancer (nmCRPC). Nubeqa was approved by the FDA in August last year, three months ahead of its target action date. Nubeqa has been developed jointly by Bayer and Finnish pharma company, Orion Corporation.
The EC also approved Pfizer's PFE Ruxience, a biosimilar version of Roche's blockbuster drug MabThera/Rituxan. It is approved for the treatment of adult patients with non-Hodgkin's lymphoma (NHL), chronic lymphocytic leukemia (CLL), rheumatoid arthritis (RA), granulomatosis with polyangiitis (GPA) and microscopic polyangiitis (MPA). Ruxience was approved by the FDA for NHL, CLL, GPA and MPA in July last year.
Bristol Myers Submits BLA for CAR-T Therapy: Bristol Myers BMY and partner bluebird bio filed a biologics license application (BLA) seeking approval from the FDA for its CAR-T cell immunotherapy candidate idecabtagene vicleucelfor heavily pre-treated multiple myeloma. The BLA was based on data from the pivotal phase II KarMMa study. The candidate was added to Bristol Myers' pipeline with last year's acquisition of Celgene.
The NYSE ARCA Pharmaceutical Index rose 1% in the last five trading sessions.
Large Cap Pharmaceuticals Industry 5YR % Return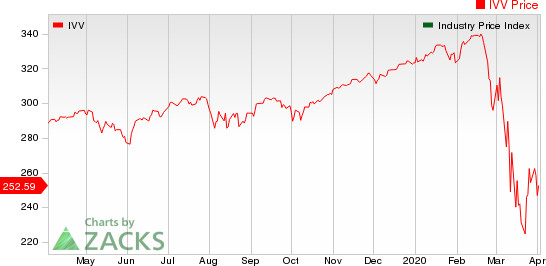 Here is how the seven major stocks performed in the last five trading sessions.

Last week, all the stocks were in the green with Lilly recording the highest increase (5.8%).
In the past six months, Lilly has risen the most (31.5%) while Glaxo declined the most (10.2%).
(See the last pharma stock roundup here: SNY, RHHBY, PFE's Coronavirus Product Development & Other Updates)
What's Next in the Pharma World?
Watch out for regular pipeline and regulatory updates next week.
Looking for Stocks with Skyrocketing Upside?
Zacks has just released a Special Report on the booming investment opportunities of legal marijuana.
Ignited by new referendums and legislation, this industry is expected to blast from an already robust $6.7 billion to $20.2 billion in 2021. Early investors stand to make a killing, but you have to be ready to act and know just where to look.
See the pot trades we're targeting>>
Want the latest recommendations from Zacks Investment Research? Today, you can download 7 Best Stocks for the Next 30 Days.
Click to get this free report
Johnson & Johnson (JNJ): Free Stock Analysis Report
Sanofi (SNY): Free Stock Analysis Report
AstraZeneca PLC (AZN): Free Stock Analysis Report
Pfizer Inc. (PFE): Free Stock Analysis Report
Merck & Co., Inc. (MRK): Free Stock Analysis Report
Eli Lilly and Company (LLY): Free Stock Analysis Report
Bristol-Myers Squibb Company (BMY): Free Stock Analysis Report
To read this article on Zacks.com click here.
Zacks Investment Research