What's in the Cards for Zimmer Biomet (ZBH) in Q2 Earnings?
Zimmer Biomet Holdings, Inc. ZBH is set to report second-quarter 2018 results on Jul 27, before the markets open.
Last reported quarter, the company delivered an earnings surprise of 2.14% with the bottom line surpassing the Zacks Consensus Estimate. However, Zimmer Biomet missed the consensus mark in two of the preceding four quarters, the average beat being 0.01%.
Let's take a look at how things are shaping up prior to this announcement.
Key Catalysts
Banking on the company's firm focus on priority areas like quality remediation, supply recovery efforts and product launches, Zimmer Biomet is once again expected to report strong topline numbers within its S.E.T. (Surgical, Sports Medicine, Foot and Ankle, Extremities and Trauma) arm in the to-be-reported quarter.
In the first quarter, the company had announced the first surgical case utilizing its FDA cleared Comprehensive Augmented Baseplate. This was in addition to the first U.S. surgery, aided by Sidus Stem-Free Shoulder, which received an FDA approval last November. Moreover, the company is receiving consistent feedback on the already marketed products. Within Sports, Comprehensive Baseplate, Sidus Stem-Free Shoulder and jogger stitch are expected to garner a positive response.
Zimmer Biomet Holdings, Inc. Price and EPS Surprise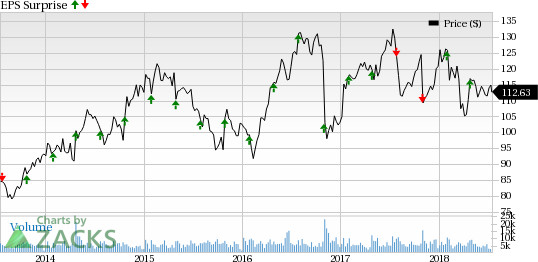 Zimmer Biomet Holdings, Inc. Price and EPS Surprise | Zimmer Biomet Holdings, Inc. Quote
Within Extremities and Trauma subcategories too, the company is investing a lot. Within upper extremities business, the company is gaining solid demand for a comprehensive shoulder line.
We expect all this to have effectively contributed to the company's second-quarter top line.
Notably, since last November, the company received several FDA nods within S.E.T. and is particularly, excited about the approval of the Sidus Stem-Free Shoulder system. We expect all these developments to have significantly boosted the company's top line in the second quarter.
On the flip side, the company's business within S.E.T has been in the recent past, massively hit by supply issues and a persistent pricing pressure.
Overall, the Zacks Consensus Estimate of $438 million for S.E.T. revenues reflects an increase of 3.5% from the second quarter of 2017.
We are also upbeat about the Spine, Craniomaxillofacial and Thoracic (Spine & CMF) segment, which is expected to deliver another quarter of promising performance. Under the spine category, Zimmer Biomet should continue to gain from a strong uptake of Mobi-C Cervical Disc.
However, we are apprehensive about the ongoing revenue dissynergies related to the company's U.S. spine sales force integration. Although Zimmer Biomet is working to resolve the impact of these dissynergies, chances of any near-term resolution are bleak.
The Zacks Consensus Estimate of $193 million for Spine revenues indicates a slight decline from the year-ago quarter's reported number of $194 million.
Other factors likely to influence Zimmer Biomet's second-quarter results are:
Looking at the focused execution of Zimmer Biomet's sales teams, we expect the global adoption rate of the flagship personalized knee system — Persona — to be impressive. In April, the company announced the completion of the first surgical case utilizing its Persona Trabecular Metal Tibia, which received an FDA approval in January. We are also enthusiastic about the launch of the Persona Partial Knee System, last September. The knee system marked the latest addition to the company's portfolio of personalized and anatomically designed knee implant systems.
The Zacks Consensus Estimate of $692 million for Knee revenues registers a 1.8% rise from the level in the year-ago period.
Within Hip business, we envision the company to once more demonstrate a sturdy performance in the Asia Pacific region. Notably, in the previously reported quarter, the company registered 3.6% sales growth within Hip in the aforementioned geography.
The Zacks Consensus Estimate of $482 million for Knee revenues represents a 2.6% improvement from the prior-year quarter's figure.
Emerging markets have always been a significant revenue generating source for Zimmer Biomet. Despite the recent economic downturn in Latin America, the company managed to drive growth through its operations in the other emerging markets, especially the Asia Pacific and EMEA (Europe, the Middle East and Africa) zones. The consensus estimate for second-quarter revenues from EMEA of $473 million denotes a 7.9% gain from the year-earlier quarter's tally.
On the flip side, Zimmer Biomet struggled with a downward pricing pressure of approximately 2.5% in 2017. In absence of any favorable changes along these lines, the headwinds might be mirrored in the company's second-quarter results.
Here's what our quantitative model predicts:
Per the proven Zacks model, a company with a favorable Zacks Rank #1 (Strong Buy), 2 (Buy) or 3 (Hold) has good chances of beating estimates if it also has a positive Earnings ESP.
However, along with an Earnings ESP of +0.89%, Zimmer Biomet has a Zacks Rank #4 (Sell), which lowers the predictive power of ESP. Hence, the combination leaves surprise prediction inconclusive for the company in the yet-to-be-reported quarter. We caution against the Sell-rated stocks (4 or 5) going into the earnings announcement, especially when the company is seeing negative estimate revisions.
You can uncover the best stocks to buy or sell before they're reported with our Earnings ESP Filter.
Stocks to Consider
Here are a few medical stocks worth considering with the right combination of elements to beat on earnings this time around:
Align Technology, Inc. ALGN has an Earnings ESP of +5.2% and a Zacks Rank of 1. You can see https://www.zacks.com/stocks/buy-list/?ADID=zp_1link_invidea...">the complete list of today's Zacks #1 Rank stocks here.
Baxter International Inc. BAX has an Earnings ESP of +0.42% and a Zacks Rank #2.
Boston Scientific Corporation BSX has an Earnings ESP of +0.49% and a Zacks Rank of 2.
Today's Stocks from Zacks' Hottest Strategies
It's hard to believe, even for us at Zacks. But while the market gained +21.9% in 2017, our top stock-picking screens have returned +115.0%, +109.3%, +104.9%, +98.6%, and +67.1%.

And this outperformance has not just been a recent phenomenon. Over the years it has been remarkably consistent. From 2000 - 2017, the composite yearly average gain for these strategies has beaten the market more than 19X over. Maybe even more remarkable is the fact that we're willing to share their latest stocks with you without cost or obligation.

See Them Free>>

Want the latest recommendations from Zacks Investment Research? Today, you can download 7 Best Stocks for the Next 30 Days.
Click to get this free report
Boston Scientific Corporation (BSX): Free Stock Analysis Report
Baxter International Inc. (BAX): Free Stock Analysis Report
Zimmer Biomet Holdings, Inc. (ZBH): Free Stock Analysis Report
Align Technology, Inc. (ALGN): Free Stock Analysis Report
To read this article on Zacks.com click here.