Copa Holdings (CPA) Down 12.1% in a Year: What Ails the Stock?
It is no longer news that the airline industry has been so far one of the worst-hit spaces of the investment world amid the coronavirus pandemic. Consequently, Copa Holdings CPA like its fellow airline players is laid low by the coronavirus-induced dismal air-travel demand.
Evidently, shares of Copa Holdings have shed 12.1% of value in the past year, wider than its industry's 9.8% decline.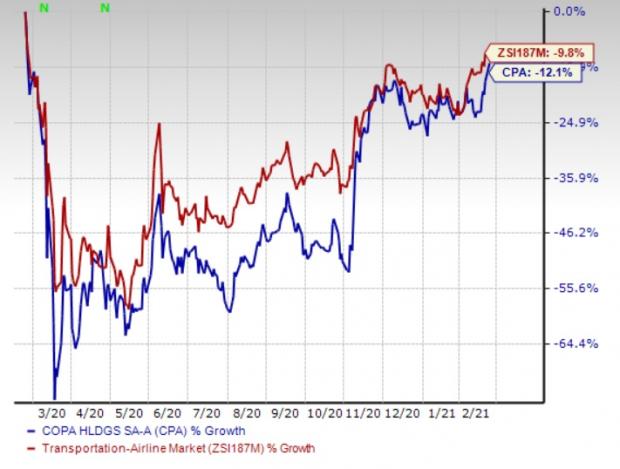 Let's delve deeper to unearth the reasons for this lackluster price performance.
Travel restrictions due to coronavirus weighed significantly on Copa Holdings' passenger revenues in the second, third and fourth-quarter 2020. Induced by the same, the airline could not operate scheduled commercial flights for five months and resumed services only on Aug 14, 2020. Thanks to flying constraints, passenger revenues plunged 98.3%, 96% and 77.6% year over year in the second, third and the fourth quarter of 2020, respectively. Woes are likely to persist in first-quarter 2021. Total revenues for the March quarter of 2021 are expected in the range of $170-$200 million or 25-30% of total revenues recorded in the first quarter of 2019.
As a result of travel curbs, Copa Holdings, which competes with the likes of Gol Linhas GOL and Azul AZUL in the Latin American aviation space, reduced its capacity dramatically. The airline's capacity declined 99.5% and 98.5% year over year in the second and third quarters, respectively. In the fourth quarter, capacity contracted 72.6% year over year. Due to weak air-travel demand amid coronavirus concerns, traffic decline was larger. Evidently, load factor (% of seats filled by passengers) declined 10 percentage points to 75.3% in the December quarter. Continuing with the negativity, load factor slipped 20.8 percentage points to 63.4% in January.
Unfavorable Earnings Estimate Revisions and Style Score
The pessimism surrounding the stock, presently carrying a Zacks Rank #5 (Strong Sell), is evident from the Zacks Consensus for the current-quarter bottom line being pegged at a loss of $2.31, wider than $1.31, over the past 30 days. Similarly, the Zacks Consensus Estimate for the current-year bottom line is currently pegged at a loss of $1.36 against earnings of 89 cents 30 days ago.
Additionally, the Momentum Score for Copa Holdings is currently F, highlighting its near-term unattractiveness.
You can see the complete list of today's Zacks #1 Rank (Strong Buy) stocks here.
A Key Pick
Investors interested in the Zacks Transportation sector may consider FedExCorporation FDX, carrying a Zacks Rank #2 (Buy) at present. Shares of FedEx have surged 64.4% in the past year.
Breakout Biotech Stocks with Triple-Digit Profit Potential
The biotech sector is projected to surge beyond $775 billion by 2024 as scientists develop treatments for thousands of diseases. They're also finding ways to edit the human genome to literally erase our vulnerability to these diseases.

Zacks has just released Century of Biology: 7 Biotech Stocks to Buy Right Now to help investors profit from 7 stocks poised for outperformance. Our recent biotech recommendations have produced gains of +50%, +83% and +164% in as little as 2 months. The stocks in this report could perform even better.

See these 7 breakthrough stocks now>>
Want the latest recommendations from Zacks Investment Research? Today, you can download 7 Best Stocks for the Next 30 Days.
Click to get this free report
Gol Linhas Aereas Inteligentes S.A. (GOL): Free Stock Analysis Report
FedEx Corporation (FDX): Free Stock Analysis Report
AZUL SA (AZUL): Free Stock Analysis Report
To read this article on Zacks.com click here.
Zacks Investment Research