Guess? (GES) More Than Doubles in 6 Months: Will Momentum Stay?
The coronavirus pandemic has accelerated consumers' shift to online shopping, which is offering major respite to several textile-apparel players as they battle challenges in their store businesses. Guess?, Inc. GES, being one such company, has been gaining on its robust digital business, which performed well in the fourth quarter of fiscal 2021. Also, the company's focus on its six key strategies has been yielding results.

Incidentally, shares of this Zacks Rank #3 (Hold) company have more than doubled in the past six months compared with the industry's rise of 20.4%. However, the company has been bearing the brunt of pandemic-induced reduced demand, temporary store closures and capacity constraints, mainly in Europe and Canada. Also, costs related to e-commerce growth are likely to somewhat affect the company's adjusted operating margin in the next few years.

Nonetheless, management on its fourth-quarter fiscal 2021 earnings call stated that it expects overall adjusted operating margin growth of 440 basis points in the next few years mainly on the back of operational efficiency, which in turn is likely to be driven by efficiency across the supply chain (thanks to better initial markups) and logistics. Clearly, these are likely to help counter increased e-commerce costs. Let's delve deeper.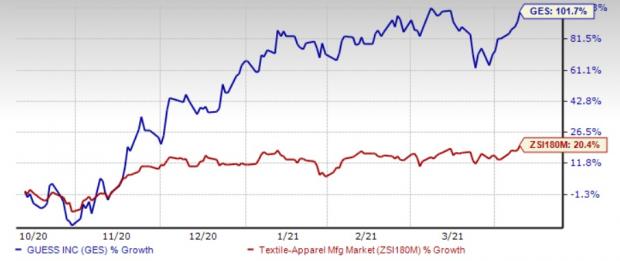 Digital Strength
In fourth-quarter fiscal 2021, Guess?'s e-commerce business in North America and Europe increased 38%, following 19% and 9% improvements in the third and second quarters, respectively. On its fourth-quarter earnings call, management said that the company's e-commerce penetration increased to 20% in the past year, partly due to the pandemic-led store closures. The company expects most of its anticipated revenue growth by fiscal 2025 (discussed below) to be backed by the e-commerce business. Management envisions e-commerce penetration of its direct-to-consumer sales to increase to 23% in fiscal 2025, from 13% in fiscal 2020.

Markedly, Guess? has been on track with its digital-first initiative and investing in brand building through social media platforms. Further, the company has been focusing on linking brick-and-mortar stores, e-commerce and mobile sales to improve its online operations. Guess? is also improving e-commerce operations by undertaking efforts such as better data capturing, improved customer profiling, personalized marketing and relationship management. These efforts are expected to help the company enhance the customer base and enrich their experience, which in turn is likely to aid sales.
Strategic Priorities in Place
Guess? has been focused on its five-year strategic plan that was unveiled in December 2019. To this end, the company is committed to its six key strategies and has made remarkable progress on each of them in fiscal 2021, amid the pandemic. The core strategies include organization and culture, functional capacities, brand relevance with three main consumer groups (heritage, Millennials and Generation Z customers), customer focus, product brilliance and international footprint. Management targets achieving an operating margin of 10% by fiscal 2025. Net revenues are expected to be $2.9 billion, indicating a CAGR of 2% from fiscal 2020. Further, management intends to double its earnings per share to $3 by fiscal 2025, from $1.33 recorded in fiscal 2020.

In connection with its strategic plan, the company completed the implementation of the salesforce platform in the United States, Canada and Europe in the past year and is encouraged with the initial results. With respect to its salesforce and omnichannel capacity rollout, Guess? is implementing Customer 360, which is a solution developed by salesforce for personalized marketing, customer data optimization and customers' journey engagement, among other objectives.

Moving on, the company rationalized its store portfolio during the year by shutting more than 125 underperforming stores and renegotiating 290 leases with favorable terms. As part of store rationalization, Guess? also repositioned its business in China through alliances with four new franchisees in different regions of the country. Also, the company integrated G by Guess? brand into its GUESS Factory business in the United States. Finally, management undertook steps to transform its business model, which includes the global reorganization of its team; omnichannel focus on its direct-to-consumer business; development of Guess?'s first global product line and the introduction of product categories like essentials and athleisure. We note that demand for these categories is likely to be high amid the pandemic-induced stay-at-home trends.
Wrapping Up
Guess?'s net revenues amounted to $648.5 million in the fourth quarter of fiscal 2021, which missed the consensus mark of $657 million and tumbled 23% year over year. On a constant-currency basis, net revenues declined 25.9%. Soft demand, temporary store closures and capacity constraints amid the pandemic weighed on Guess?'s retail revenues. Also, an expected shift in wholesale shipments (in Europe) to the first quarter of fiscal 2022 was a drag. Guess? envisions first-quarter 2022 net revenues to decline in high-single digits from the fiscal 2020 level due to the pandemic-induced store closures and reduced traffic.

For fiscal 2022, management expects revenues to decline in high-single digits from fiscal 2020, considering that there will not be any pandemic-related closures after the first quarter. Also, the guidance includes expectations of a return to the normal pace of product development and shipments in the European wholesale business. All said, we expect the company's solid digital endeavors and strategic plans to keep it well positioned.
3 Solid Textile-Apparel Picks
Gildan Activewear GIL, with a Zacks Rank #1 (Strong Buy), has a long-term earnings growth rate of 9%. You can see the complete list of today's Zacks #1 Rank stocks here.

G-III Apparel GIII, with a Zacks Rank #1, has a long-term earnings growth rate of 11.6%.

Delta Apparel DLA has Zacks Rank #1 and its bottom line has outperformed the Zacks Consensus Estimate by a wide margin in the trailing four quarters, on average.
These Stocks Are Poised to Soar Past the Pandemic
The COVID-19 outbreak has shifted consumer behavior dramatically, and a handful of high-tech companies have stepped up to keep America running. Right now, investors in these companies have a shot at serious profits. For example, Zoom jumped 108.5% in less than 4 months while most other stocks were sinking.

Our research shows that 5 cutting-edge stocks could skyrocket from the exponential increase in demand for "stay at home" technologies. This could be one of the biggest buying opportunities of this decade, especially for those who get in early.

See the 5 high-tech stocks now>>
Want the latest recommendations from Zacks Investment Research? Today, you can download 7 Best Stocks for the Next 30 Days.
Click to get this free report
Guess, Inc. (GES): Free Stock Analysis Report
GIII Apparel Group, LTD. (GIII): Free Stock Analysis Report
Gildan Activewear, Inc. (GIL): Free Stock Analysis Report
Delta Apparel, Inc. (DLA): Free Stock Analysis Report
To read this article on Zacks.com click here.
Zacks Investment Research