Defense Business Aids RBC Bearings, Lower Days to Hurt
We issued an updated research report on RBC Bearings Incorporated ROLL on Jan 14.

The company manufactures and distributes plain, roller and ball bearings. It currently has a market capitalization of $4.1 billion.

Factors Favoring RBC Bearings

Top-Line Tailwinds: In second-quarter fiscal 2020 (ended September 2019), RBC Bearings' revenues increased 5.2% year over year. Organic sales were up 6.8%, driven by growth in commercial and defense OEM, and aftermarket business.

The company believes that the aerospace and defense businesses will get a boost from new contracts and growth in manufacturing capabilities in the quarters ahead. It anticipates revenue growth of 3.2-4.4% to $177-$179 million for third-quarter fiscal 2020 (ended December 2019; results are awaited).

Low Debts: Funding growth programs and lowering debts is important for RBC Bearings. The company used resources to repay $30.2 million of debts — (including $30 million of revolving credit facilities and $0.2 million of notes) — in the first half of 2020 (ended September 2019).

Notably, its long-term debts (net of current portion) were $25 million at the end of second-quarter fiscal 2020, reflecting a sequential decline of 4.9%.

Rewards to Shareholders: RBC Bearings is committed toward rewarding shareholders handsomely through share buybacks. In fiscal 2019 (ended March 2019), it bought back $5.2 million shares, while repurchased shares worth $9.8 million in the first half of fiscal 2020.

It is worth mentioning here that the company received the board of directors' approval for a $100-MILLION share repurchase program in May 2019.

Factors Working Against RBC Bearings

Top-Line Woes: In second-quarter fiscal 2020, RBC Bearings' revenues were adversely impacted by soft industrial sales (caused by weakness in energy and industrial end markets). For the Ball Bearings segment, industrial sales were down 5.2% year over year, while that for the Roller Bearings segment declined 20.7%.

Persistence of such weakness might be concerning for the company.

Moreover, RBC Bearings believes that the holiday season will lower its shipping and production days by four to five days. This will likely adversely impact sales in the fiscal third quarter.

Higher Costs and Expenses: RBC Bearings' cost of sales increased 5.4% year over year in the second quarter of fiscal 2020, while its selling, general and administrative expenses grew 4.9%.

We believe that a hike in the cost of sales along with higher operating expenses, if uncontrolled, can affect the company's margins and profitability.

Share Price Performance and Earnings Estimate Revision: Market sentiments have been against RBC Bearings for quite some time now. Its stock price has increased 4.3% in the past three months compared with the industry's growth of 12.9%.

Furthermore, the company's earnings estimates for fiscal 2020 (ending March 2020) and 2021 (ending March 2021) have been lowered in the past 60 days. Currently, the Zacks Consensus Estimate for its earnings is pegged at $5.15 for fiscal 2020 and $5.65 for fiscal 2021, reflecting declines of 1.3% and 1.4% from the respective 60-day-ago numbers. The stock currently carries a Zacks Rank #4 (Sell).

RBC Bearings Incorporated Price and Consensus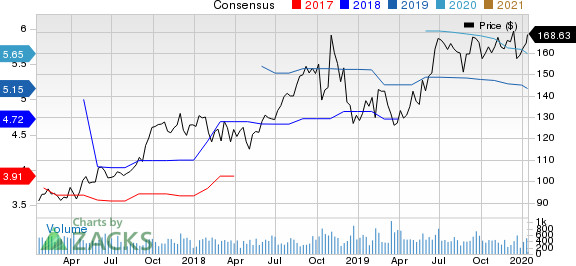 RBC Bearings Incorporated price-consensus-chart | RBC Bearings Incorporated Quote

Stocks to Consider

Some better-ranked stocks in the industry are DXP Enterprises, Inc DXPE, Parker-Hannifin Corporation PH and Chart Industries, Inc GTLS. While DXP Enterprises currently sports a Zacks Rank #1 (Strong Buy), Parker-Hannifin and Chart Industries carry a Zacks Rank #2 (Buy). You can see the complete list of today's Zacks #1 Rank stocks here.

In the past 60 days, earnings estimates for these stocks have improved for the current year. Further, positive earnings surprise for the last four quarters, on average, was 17.67% for DXP Enterprises, 5.29% for Parker-Hannifin and 4.01% for Chart Industries.

Breakout Biotech Stocks with Triple-Digit Profit Potential

The biotech sector is projected to surge beyond $775 billion by 2024 as scientists develop treatments for thousands of diseases. They're also finding ways to edit the human genome to literally erase our vulnerability to these diseases.

Zacks has just released Century of Biology: 7 Biotech Stocks to Buy Right Now to help investors profit from 7 stocks poised for outperformance. Our recent biotech recommendations have produced gains of +50%, +83% and +164% in as little as 2 months. The stocks in this report could perform even better.

See these 7 breakthrough stocks now>>
Want the latest recommendations from Zacks Investment Research? Today, you can download 7 Best Stocks for the Next 30 Days.
Click to get this free report
Chart Industries, Inc. (GTLS): Free Stock Analysis Report
DXP Enterprises, Inc. (DXPE): Free Stock Analysis Report
Parker-Hannifin Corporation (PH): Free Stock Analysis Report
RBC Bearings Incorporated (ROLL): Free Stock Analysis Report
To read this article on Zacks.com click here.