Apple (AAPL) Allows Use of Third-Party Payment in Netherlands
Apple AAPL will comply with a ruling from the Netherlands' Authority for Consumers and Markets (ACM) by allowing app developers to utilize third-party payment services within its App Store for the first time in its history.

The company has decided to release a pair of entitlements, which will enable app developers to use their own third-party payment services to pay for apps in the Netherlands. This rule is specifically for dating apps like Tinder, owned by Match Group MTCH.

Apple has been facing increasing pressure from the ACM since December 2021 to change its payment process in the App Store.

ACM believes that Apple has a dominant market share with regard to iOS apps since the only way to offer apps to iPhone users is through the Apple App Store. This scenario compels App developers to accept Apple's terms and conditions, like paying commission (maximum 30%) for every sale made within the App Store.

Apple has decided to comply with the Dutch ruling but the iPhone-maker will continue to collect its revenue shares from transactions and purchases. It is worth mentioning that this has come under scrutiny from governments and developers across the world.

Apple has stated that since most dating app developers are based outside of Netherlands so any revenues generated from this change will not provide any economic benefit to the local community.
Apple Inc. Price and Consensus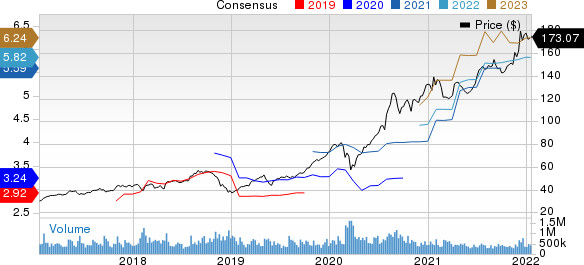 Services to Drive Growth in 2022
Apple's Services and Wearables businesses are expected to drive top-line growth in fiscal 2022 and beyond. Although Apple's business primarily runs around its flagship iPhone, the Services portfolio has emerged as the company's new cash cow. Services revenues grew 25.6% from the year-ago quarter to $18.28 billion and accounted for 21.9% of sales.

Apple currently has more than 745 million subscribers across its various service portfolios. The App store continues to draw the attention of prominent developers worldwide and provides new apps that drive Apple's store traffic.

Apple earns revenues in the form of commission for every sale made by more than 30,000 third-party subscription app providers. Apple users had to use Apple Pay to make purchases from Apple's App store or any other service. This helped Apple in earning revenues in the form of commission.

According to Cision, the Global Contactless payment market is expected to reach $6.25 trillion by 2028. The growing adoption of the contactless payment primarily triggered by the coronavirus pandemic will accelerate the adoption of the contactless payment service provided by Apple Pay.

Buoyed by the upbeat scenario in the digital payment market globally, Apple and other key players, including Alphabet's GOOGL Google Pay and Amazon's AMZN Amazon Pay, have been undertaking strong efforts to bolster their presence.
The recent proceedings by the ACM will force Apple to let dating app providers freely use other payment methods besides Apple's in-app purchases system. This will impact Apple's Services revenues generated from Apple Pay services and intensify competition with Google Pay and Amazon Pay.
Zacks Rank and Other Stock Performance
Apple currently carries a Zacks Rank #2 (Buy). You can see the complete list of today's Zacks #1 Rank (Strong Buy) stocks here.

In the past year, Apple's shares have outperformed the Computer and Technology Industry and appreciated 35.6% in the past year. The Zacks Consensus Estimate for 2022 earnings has moved upward by a nickel in the past 60 days to $5.82 per share.

Shares of Match Group have fallen 17.1% in the past year. The Zacks Consensus Estimate for 2022 earnings has remained unchanged in the past 60 days at $ 2.48 per share.

Alphabet shares have returned 56.2% in the past year. The Zacks Consensus Estimate for 2022 earnings has moved upward by 57 cents in the past 60 days to $108.43 per share.

Amazon shares have appreciated 3.8% in the past year. The Zacks Consensus Estimate for 2022 earnings has fallen by 99 cents in the past 60 days to $ 40.73 per share.
Just Released: Zacks Top 10 Stocks for 2022
In addition to the investment ideas discussed above, would you like to know about our 10 top picks for the entirety of 2022?
From inception in 2012 through 2021, the Zacks Top 10 Stocks portfolios gained an impressive +1,001.2% versus the S&P 500's +348.7%. Now our Director of Research has combed through 4,000 companies covered by the Zacks Rank and has handpicked the best 10 tickers to buy and hold. Don't miss your chance to get in…because the sooner you do, the more upside you stand to grab.
See Stocks Now >>
Want the latest recommendations from Zacks Investment Research? Today, you can download 7 Best Stocks for the Next 30 Days.
Click to get this free report
Amazon.com, Inc. (AMZN): Free Stock Analysis Report
Apple Inc. (AAPL): Free Stock Analysis Report
Alphabet Inc. (GOOGL): Free Stock Analysis Report
Match Group Inc. (MTCH): Free Stock Analysis Report
To read this article on Zacks.com click here.
Zacks Investment Research