Why Is Intercept Pharmaceuticals (ICPT) Down 3.9% Since the Last Earnings Report?
It has been about a month since the last earnings report for Intercept Pharmaceuticals, Inc. ICPT. Shares have lost about 3.9% in that time frame.
Will the recent positive trend continue leading up to the stock's next earnings release, or is it due for a pullback? Before we dive into how investors and analysts have reacted as of late, let's take a quick look at the most recent earnings report in order to get a better handle on the important catalysts.
Intercept Posts Narrower-than-Expected Q2 Loss
Intercept reported a loss of $3.46 per share in the second quarter of 2017, narrower than the Zacks Consensus Estimate of a loss of $3.62 but wider than the year-ago loss of $3.14.
Quarterly revenues were $30.9 million, up significantly from $5.5 million in the year-ago quarter and beat the Zacks Consensus Estimate of $27.0 million.
Quarter in Detail
Ocaliva recorded $30.4 million of sales in the second quarter of 2017, up from $20.6 million sales in the first quarter of 2017. Note that in May 2016, Ocaliva was approved in the U.S., in combination with ursodeoxycholic (UDCA) for the treatment of primary biliary cholangitis (PBC) in adults with an inadequate response to UDCA, or as monotherapy in adults who are unable to endure UDCA. The drug was also granted conditional approval by the European Commission in Dec 2016.
Sales from the U.S. markets came in at $27.9 million, up from $19.8 million recorded in the first quarter as prescriptions continue to grow steadily. Revenues from international markets were $2.5 million driven mainly by sales in Germany and France.
Research and development expenses increased 26.6% year over year to $44.2 million primarily driven by increases in clinical development programs for OCA and infrastructure to support such programs.
Selling, general and administrative expenses increased to $66.9 million, up from $48.7 million in the year-ago quarter driven by expenses related to Ocaliva's commercialization activities and additional personnel-related costs to support commercial and international initiatives.
2017 Outlook Reiterated
Intercept expects operating expenses to be in the range of $380–$420 million in 2017.The company believes that continued commercialization of Ocaliva in PBC in the United States and other markets, sustained clinical development for OCA in PBC and NASH and the continued advancement of INT-767 and other pipeline programs are likely to drive growth.
Demand in the third quarter will however reflect the typical summer trends but is expected to pick up again in the fourth quarter.
Pipeline Update
Ocaliva is being evaluated for other indications including non-alcoholic steatohepatitis (NASH) and primary sclerosing cholangitis (PSC).
Concurrent with the second-quarter earnings, Intercept announced trial results from two phase II trials–CONTROL (Combination OCA aNdsTatins for monitoRing Of Lipids) and AESOP for PSC. CONTROL study is being conducted to evaluate the effect of Ocaliva in combination with statin therapy on lipid metabolism in patients with NASH. Results from AESOP revealed that OCA met the primary endpoint of statistically significant reduction in alkaline phosphatase (ALP) while results from CONTROL showed that the company achieved its objective in demonstrating that the lowest available dose of atorvastatin rapidly reverses OCA associated LDL changes to below baseline levels in nonalcoholic steatohepatitis (NASH) patients with fibrosis or cirrhosis.
The FDA has earlier approved a redesign of the phase III trial, REGENERATE on Ocaliva for the safety and efficacy in treating NASH patients with liver fibrosis. The company now needs to achieve only one co primary endpoint- either fibrosis improvement or NASH resolution as compared with the earlier target of achieving both. The sample size of the trial has also been reduced to approximately 750 patients or about 250 patients per arm. The company completed enrolment for the interim analysis cohort in the REGENERATE trial (data readout in the first half of 2019).
The company also plans to initiate a phase III trial on Ocaliva in NASH patients with cirrhosis in the second half of 2017. The company will also initiate a phase II trial on another candidate, INT-767, in NASH patients with fibrosis in the second half of 2017.The company also continues to enrol in its phase IV trial, COBALT, to confirm Ocaliva's clinical benefit on outcomes in PBC.
How Have Estimates Been Moving Since Then?
Following the release, investors have witnessed an upward trend in fresh estimates. There have been two revisions higher for the current quarter.
Intercept Pharmaceuticals, Inc. Price and Consensus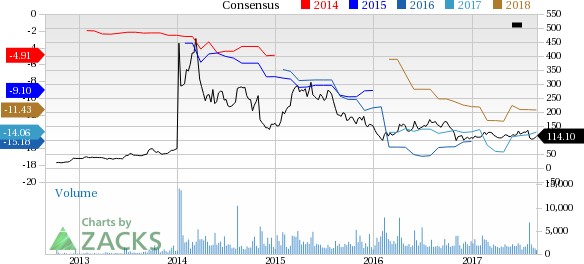 Intercept Pharmaceuticals, Inc. Price and Consensus | Intercept Pharmaceuticals, Inc. Quote
VGM Scores
At this time, the stock has a subpar Growth Score of D, however its Momentum is doing a bit better with a C. However, the stock was allocated a grade of F on the value side, putting it in the fifth quintile for this investment strategy.
Overall, the stock has an aggregate VGM Score of F. If you aren't focused on one strategy, this score is the one you should be interested in.
The company's stock is suitable solely for momentum based on our styles scores.
Outlook
Estimates have been trending upward for the stock. The magnitude of these revisions also looks promising. Notably, the stock has a Zacks Rank #3 (Hold). We are expecting an inline return from the stock in the next few months.
Want the latest recommendations from Zacks Investment Research? Today, you can download 7 Best Stocks for the Next 30 Days.
Click to get this free report
Intercept Pharmaceuticals, Inc. (ICPT): Free Stock Analysis Report
To read this article on Zacks.com click here.
Zacks Investment Research