PotlatchDeltic (PCH) Completes Merger With CatchMark, Stock Up
PotlatchDeltic Corporation PCH announced its merger with CatchMark Timber Trust, Inc., in an all-stock transaction. PCH inched up 0.4% on Sep 14, after the news release.

Per the terms of the deal, each outstanding share of CatchMark's common stock (immediately prior to the merger) was converted to 0.23 shares of PCH common stock. Approximately 11.5 million PotlatchDeltic's common stock will be issued to CatchMark's shareholders, representing nearly 14% of PCH's total shares outstanding.

Eric Cremers, president and chief executive officer of PCH, stated, "The completion of the CatchMark merger diversifies our timberland ownership into some of the strongest markets in the U.S. South. The work to integrate the two companies and realize our synergy target starts immediately. We are excited about leveraging the financial and strategic benefits of the transaction to continue growing shareholder value over the long term."

The merger has brought together two successful and complementary timberland REITs. PotlatchDeltic will now own nearly 2.2 million acres of diversified timberlands, 626,000 acres in Idaho and more than 1.5 million acres in the U.S. South markets.
Price Movement
Over the past year, PotlatchDeltic and other industry players like Louisiana-Pacific Corporation LPX, Weyerhaeuser Company WY and Boise Cascade Company BCC are grappling with higher raw material and energy costs, which represent significant components of our operating costs. These costs fluctuate based on certain macroeconomic factors like changes in demand, supply chain disruptions and inflation or deflation.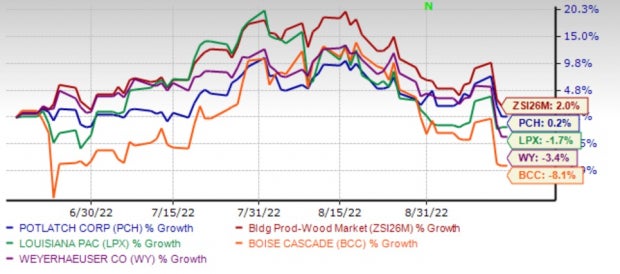 Image Source: Zacks Investment Research
The recent move will help PotlatchDeltic to forgo these costs and improve profitability. All four stocks have underperformed the Zacks Building Products – Wood industry in the past three months. Encouragingly, PCH has gained 0.2% in the said period, faring better than LPX, WY and BCC, which declined 1.7%, 3.4% and 8.1%, respectively.

We believe PotlatchDeltic's Timberlands and Wood Products businesses are benefiting from the surge in lumber prices. Higher demand for PCH's products, attributed to positive housing-related fundamentals and continued higher lumber prices, should fuel growth.
Zacks Rank
Currently, PCH carries a Zacks Rank #3 (Hold). You can see the complete list of today's Zacks #1 Rank (Strong Buy) stocks here.
A Brief Overview of Other Stocks
Louisiana-Pacific or LP is a leading manufacturer of sustainable, quality engineered wood building materials, structural framing products and exterior siding. This Zacks Rank #3 stock has been benefiting from solid demand from the U.S. residential market and repair and remodeling (R&R) business. Strategic business transformation, effective cash management and inorganic moves will likely boost its future performance.

The Zacks Consensus Estimate for LPX's 2022 earnings has moved down to $12.99 per share from $13.93 in the past 60 days.

Weyerhaeuser is one of the leading U.S. forest product companies. This Zacks Rank #1 stock has been benefiting from solid new residential construction activity, which in turn is leading to improved demand. Also, its focus on operational excellence has been advantageous over time.

The Zacks Consensus Estimate for WY's 2022 earnings has moved up to $3.14 per share from $3.05 in the past 60 days.

Boise, ID-based Boise Cascade — which makes wood products and distributes building materials in the United States and Canada — is aided by favorable commodity wood products, pricing and robust construction activity.

Boise Cascade currently carries a Zacks Rank #2. Earnings estimates for 2022 have moved north to $20.06 per share from $18.17 over the past 60 days.
Free Report Reveals How You Could Profit from the Growing Electric Vehicle Industry
Globally, electric car sales continue their remarkable growth even after breaking records in 2021. High gas prices have fueled his demand, but so has evolving EV comfort, features and technology. So, the fervor for EVs will be around long after gas prices normalize. Not only are manufacturers seeing record-high profits, but producers of EV-related technology are raking in the dough as well. Do you know how to cash in? If not, we have the perfect report for you – and it's FREE! Today, don't miss your chance to download Zacks' top 5 stocks for the electric vehicle revolution at no cost and with no obligation.
>>Send me my free report on the top 5 EV stocks
Want the latest recommendations from Zacks Investment Research? Today, you can download 7 Best Stocks for the Next 30 Days.
Click to get this free report
Weyerhaeuser Company (WY): Free Stock Analysis Report
LouisianaPacific Corporation (LPX): Free Stock Analysis Report
Potlatch Corporation (PCH): Free Stock Analysis Report
Boise Cascade, L.L.C. (BCC): Free Stock Analysis Report
To read this article on Zacks.com click here.
Zacks Investment Research