McKesson's (MCK) Latest JV to Boost Cancer Treatment Options
McKesson Corporation MCK recently announced an agreement to form a joint venture ("JV") with HCA Healthcare, Inc. HCA. The JV will combine McKesson's US Oncology Research ("USOR") and HCA Healthcare's Sarah Cannon Research Institute ("SCRI"). Following the completion of the deal, which is expected to close in 2022, McKesson will own the majority stake in the JV and have operating control.
It is worth mentioning that USOR is the research arm of McKesson's The US Oncology Network, which specializes in oncology clinical trials. On the other hand, SCRI is the research arm of Sarah Cannon, HCA Healthcare's Cancer Institute, and provides end-to-end clinical trial site support services.
In the same press release, McKesson confirmed that it will acquire SCRI's personalized medicine platform, Genospace (a renowned innovator in precision medicine and clinical trial matching). Post buyout, Genospace is expected to drive the oncology data and analytics capabilities for the JV as well as enhance the ability of its provider partners to more efficiently identify the most appropriate therapies or clinical trials for their patients.
Financial terms of the agreement have been kept under wraps. The agreement is subject to required regulatory approvals and other customary closing conditions. McKesson's The US Oncology Network and HCA Healthcare's cancer network, Sarah Cannon Cancer Institute, are not part of the transaction and will continue to operate independently of the JV.
These developments are expected to significantly solidify McKesson's foothold in the global cancer treatment space and boost its U.S. Pharmaceutical business.
Rationale Behind the JV
The JV is aimed at combining the two entities to create a fully-integrated oncology research organization to expand clinical research, advance drug development and increase availability and access to clinical trials for community oncology providers and patients, including those in underserved communities. The JV intends to provide an expanded clinical research network, a broader portfolio of clinical trials, and enhanced data and analytics capabilities to better match patients with appropriate clinical trials.
Per McKesson's management, the latest JV is an important step forward in improving access to clinical trials, especially within the community setting, where the majority of all cancer patients are initially treated. Management also believes that the JV directly aligns with the company's strategic growth priorities by further expanding its differentiated oncology ecosystem and improving the value proposition for provider and biopharma partners.
HCA Healthcare's management feels that this JV will likely advance the development of individualized therapies and offer more opportunities for cancer patients to receive new treatments.
Industry Prospects
Per a report by Grand View Research, the global oncology clinical trials market was valued at $10.8 billion in 2019 and is anticipated to grow at a CAGR of 5.4% between 2020 and 2027. Factors like increasing number of cancer cases, the need for personalized medicines and the rise in the research and development activities for oncology are expected to drive the market.
Given the market potential, the recent inking of the JV is expected to strengthen McKesson's position in the global oncology care space.
Notable Developments
This month, McKesson announced results from the second phase of the broad, collaborative MYLUNG Consortium research study in non-small-cell lung cancer, which showed that the incorporation of a remote oncology pharmacist in clinical research teams significantly enhanced patient enrollment for Protocol 2 of the MYLUNG Consortium.
In May, McKesson reported solid fourth-quarter fiscal 2022 results, where it recorded robust uptick in overall revenues. During the quarter, the company confirmed that its proprietary oncology-focused software suite had documented approximately 10 million patient visits in the last year. This, in turn, helped McKesson advance cancer care within its Oncology ecosystem.
Price Performance
Shares of McKesson have gained 64.5% in the past year against the industry's 11% fall and the S&P 500's 11.9% decline.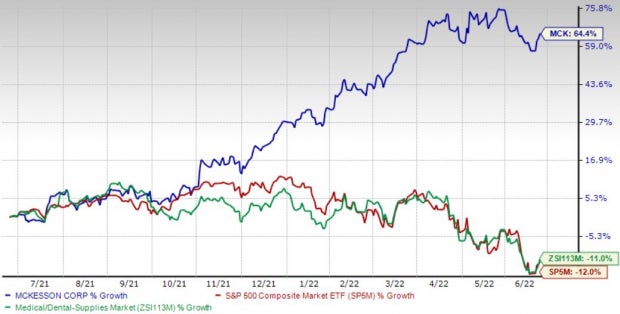 Image Source: Zacks Investment Research
Zacks Rank & Key Picks
Currently, McKesson carries a Zacks Rank #3 (Hold).
A couple of better-ranked stocks in the broader medical space are AMN Healthcare Services, Inc. AMN and Omnicell, Inc. OMCL.
AMN Healthcare, carrying a Zacks Rank #1 (Strong Buy) at present, has an estimated long-term growth rate of 1.1%. AMN's earnings surpassed the Zacks Consensus Estimate in all the trailing four quarters, the average beat being 15.6%.
You can see the complete list of today's Zacks #1 Rank stocks here.
AMN Healthcare has gained 10.7% against the industry's 51.5% fall in the past year.
Omnicell, carrying a Zacks Rank #2 (Buy) at present, has an estimated long-term growth rate of 20%. OMCL's earnings surpassed estimates in three of the trailing four quarters and missed the same in the other, the average beat being 13.4%.
Omnicell has lost 21.6% compared with the industry's 56.9% fall over the past year.
7 Best Stocks for the Next 30 Days
Just released: Experts distill 7 elite stocks from the current list of 220 Zacks Rank #1 Strong Buys. They deem these tickers "Most Likely for Early Price Pops."
Since 1988, the full list has beaten the market more than 2X over with an average gain of +25.4% per year. So be sure to give these hand-picked 7 your immediate attention.
See them now >>
Want the latest recommendations from Zacks Investment Research? Today, you can download 7 Best Stocks for the Next 30 Days.
Click to get this free report
McKesson Corporation (MCK): Free Stock Analysis Report
Omnicell, Inc. (OMCL): Free Stock Analysis Report
AMN Healthcare Services Inc (AMN): Free Stock Analysis Report
HCA Healthcare, Inc. (HCA): Free Stock Analysis Report
To read this article on Zacks.com click here.
Zacks Investment Research