Caterpillar (CAT) Set to Report Q2 Earnings: What to Expect
Caterpillar CAT is a company that has had somewhat of a quiet year, with shares up 7.7% year-to-date. The company has managed to make some gains but nothing eye opening. Nonetheless, Caterpillar has been able to provide returns for its shareholders in a time filled with economic uncertainty. Caterpillar, along with other companies such as Merck MRK, Cisco CSCO, and IBM IBM, to name a few, are especially susceptible to the ongoing trade conflict between the world's two largest economies: the U.S. and China. China is said to make up between 5% and 10% of Caterpillar's sales, particularly in hydraulic excavators and demolition vehicles. The company benefited from the bullish sentiment that followed the G20 summit where the U.S. and China agreed to halt tariffs while trade deal talks resumed.
Overview
Caterpillar is the world's leading manufacturer of construction and mining equipment. Their CAT branded bulldozers, steamrollers, and excavators have become staples of the construction community. The company also manufactures diesel/natural gas engines and industrial gas turbines. Caterpillar is based in Deerfield, Illinois and operates in six segments of which four are reportable segments. The Machinery, Energy and Transportation segment accounted for 90% of the company's total revenue in 2018. Resource Industries services consumers using machinery in mining, heavy construction, and other applications. The company's Financial Products sector accounted for 10% of its total revenue in 2018.
In early June, Caterpillar CEO Jim Umpleby expressed his confidence in the company despite the ongoing trade war. Umpleby stated that "We've navigated trade tensions in our 94-year history, this is not new for us." The Caterpillar CEO went on to assure that the company would still manage to hit their forecast despite the trade tensions. The company is poised on getting through the rough trade landscape unscathed, and has been focusing its efforts on improving operating margins and building its services business. In May of this year, Caterpillar announced its plans to double down on its digital capabilities. The company now has 850,000 connected machines and engines around the world, which is a 70% increase from its 2017 levels.
Q2 Outlook and Earnings Trends
Caterpillar was able to bring in $13.47 billion in total revenues for the first quarter of 2019. CAT's construction industries brought in $5.87 billion while the resource industries brought in $2.73 billion, which was a 18% year-over-year jump. The Machinery, Energy and Transportation sector all together brought in $12.72 billion and Financial Products brought in the other $742 million. The company was able to surpass our revenue estimate by 0.5%, and its reported EPS of $2.94 surpassed our estimates by 3.52%. Caterpillar has been able to beat our Consensus Estimates three out of the past four quarters for an average EPS surprise of 0.45%.
For Q2, our Consensus Estimates are forecasting the manufacturer's bottom line to jump 5.05% to $3.12, and projecting revenues to reach $14.52 billion, a 3.66% hike. Estimates are calling for the construction industry revenue to increase 7.8% to $6.33 billion, with resource revenues increasing to $2.76 billion for the current quarter. Machinery, Energy and Power is expected to jump 8.5% to $13.8 billion, and financial product revenues estimates are projecting $756 million for Q2. Estimate revisions have been moving in the right direction for the company lately with two out of three revisions calling for an increase.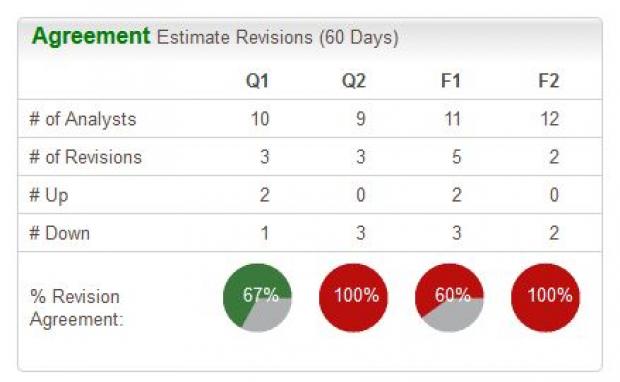 Bottom Line
Caterpillar is a company that has not let the trade war uncertainty hinder their optimistic outlook. The company is looking to follow up their sound first quarter where they were able to report an EPS increase of 4% and a revenue increase of 5% year over year. Last quarter marked the ninth consecutive quarter that the company was able to report top and bottom-line growth. With Jim Umpleby at the helm, the company has been able to string together some solid performances that has changed the dynamic of Caterpillar.
Looking for Stocks with Skyrocketing Upside?

Zacks has just released a Special Report on the booming investment opportunities of legal marijuana.

Ignited by new referendums and legislation, this industry is expected to blast from an already robust $6.7 billion to $20.2 billion in 2021. Early investors stand to make a killing, but you have to be ready to act and know just where to look.

See the pot trades we're targeting>>
Want the latest recommendations from Zacks Investment Research? Today, you can download 7 Best Stocks for the Next 30 Days.
Click to get this free report
Cisco Systems, Inc. (CSCO): Free Stock Analysis Report
International Business Machines Corporation (IBM): Free Stock Analysis Report
Merck & Co., Inc. (MRK): Free Stock Analysis Report
Caterpillar Inc. (CAT): Free Stock Analysis Report
To read this article on Zacks.com click here.
Zacks Investment Research