RISE (REDU) Launches WhySTEAM and Hiyeah, Boosts Offerings
RISE Education Cayman Ltd REDU introduced WhySTEAM and Hiyeah — two new aptitude training products — to complete its aptitude training ecosystem. This leading junior English Language Training ("ELT") provider primarily focuses on STEAM-oriented aptitude development for children.

WhySTEAM provides STEAM-oriented aptitude development for children. It aims to serve students through cognitive skills training and development, including math logical thinking, science literacy and science exploration. The courses are designed to nurture students with deep understanding of conceptual thinking and innovative problem solving.

Hiyeah supports the combination of abilities and practice, focusing on children's social interaction and emotional development, growth mindset as well as family education support. Moreover, the company plans to develop a leading systematic training program in China that focuses on the social-emotional development of children.

In addition to core ELT courses and these new products, RISE will continue to provide comprehensive aptitude training solutions based on an online-merge-offline model, and intends to build a better education ecosystem for children as well as parents.

Notably, the latest products will accelerate the development of RISE's aptitude training ecosystem. The company expects the new brands and products to help it diversify product offerings and improve brand positioning.

RISE has been gaining from various strategic initiatives. The company currently offers three flagship courses, namely Rise Start, Rise On and Rise Up, which are designed for students aged three to six, seven to 12 and 13 to 18, respectively. It also offers various complementary products to further enhance students' learning experience, including Can-Talk, Rise Library Online, Rise Camp, Rise Workshop and Rise Overseas Study Tour.

Meanwhile, its unique teaching model is designed to promote all-around growth of students. Notably, the company offers subject-based courses in English. Its courses are designed to focus on skills such as public speaking, project management and critical thinking as well as cultivating personal attributes such as leadership, teamwork, creativity, and confidence. This unique model allows students to accumulate subject matter knowledge, while developing their language capabilities and strengthening important personal traits.

Revenues for first-quarter 2021 rose 140% year over year. For first-quarter 2021, new students enrolled for Rise regular courses were 5,846 compared with 1,507 a year ago. New students enrolled for other Rise courses (including Rise Up, Can-Talk, other Rise online courses, STEAM, courses provided by The Edge learning centers and light courses) were 44,262 for the quarter compared with 32,551 in the prior-year period.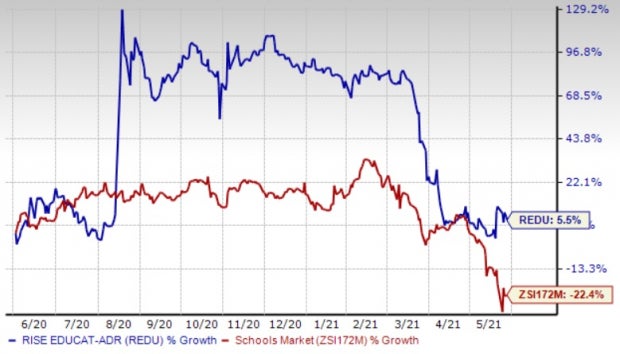 Image Source: Zacks Investment Research
Coming to price performance, shares of the company have gained 5.5% over a year against the industry's 22.4% decline. The above-mentioned initiatives and the recent move will aid its share price performance and profitability going forward.
Zacks Rank
RISE — which shares space with Strategic Education, Inc. STRA, Bright Horizons Family Solutions Inc. BFAM and Universal Technical Institute, Inc. UTI in the same industry — currently carries a Zacks Rank #5 (Strong Sell).

You can the complete list of today's Zacks #1 Rank (Strong Buy) stocks here.
Zacks' Top Picks to Cash in on Artificial Intelligence
In 2021, this world-changing technology is projected to generate $327.5 billion in revenue. Now Shark Tank star and billionaire investor Mark Cuban says AI will create "the world's first trillionaires." Zacks' urgent special report reveals 3 AI picks investors need to know about today.

See 3 Artificial Intelligence Stocks With Extreme Upside Potential>>
Want the latest recommendations from Zacks Investment Research? Today, you can download 7 Best Stocks for the Next 30 Days.
Click to get this free report
Strategic Education Inc. (STRA): Free Stock Analysis Report
Universal Technical Institute Inc (UTI): Free Stock Analysis Report
Bright Horizons Family Solutions Inc. (BFAM): Free Stock Analysis Report
RISE Education Cayman Ltd. American Depositary Shares (REDU): Free Stock Analysis Report
To read this article on Zacks.com click here.
Zacks Investment Research