Humana's (HUM) Q4 Loss Narrower Than Expected, Tumble Y/Y
Humana Inc.'s HUM fourth-quarter 2020 operating loss per share of $2.30 is lower than the Zacks Consensus Estimate of a loss of $2.35. This was on account of steep COVID-related treatment and testing costs, high marketing expenses related to the Medicare Advantage Annual Election Period (AEP) as well as continuous relief efforts and strategic measures in its integrated care delivery models. The bottom line, however, came against the year-ago quarter's earnings per share of $2.28.
Operational Update
Revenues of $19 billion were up 17% year over year. Moreover, the top line surpassed the Zacks Consensus Estimate by 1.3% on the back of better premium revenues from Medicare Advantage along with improved membership in state-based contracts and an increase in per member Medicare Advantage premiums.

Benefit ratio expanded 170 basis points (bps) to 88.3%.

Operating cost ratio expanded 310 bps to 16.3%.

Total expenses shot up 21.8% year over year due to higher benefits and operating costs.
Humana Inc. Price, Consensus and EPS Surprise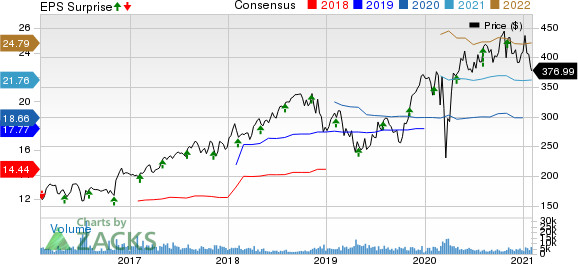 Humana Inc. price-consensus-eps-surprise-chart | Humana Inc. Quote
Segmental Results

Retail
Revenues from the Retail segment were $16.83 billion, up 18% year over year. This can primarily be attributed to premium rise owing to Medicare Advantage along with state-based contracts membership growth and higher per member Medicare Advantage premiums.

Benefit ratio of 87% expanded 70 bps year over year due to meaningful COVID-19 treatment and testing costs, pandemic-related relief efforts along with strategic measures taken in the integrated care delivery model. Shift in Medicare membership mix and growth in Medicare Advantage members are other reasons.

The segment's operating cost ratio of 14% expanded 240 bps year over year due to reinstatement of the non-deductible health insurance industry fee in 2020 along with COVID-related costs. Other reasons are strategic initiatives in its integrated care delivery model and high costs related to Medicare AEP.
Group and Specialty
Revenues from the Group and Specialty segment were $1.79 billion, down 4% from the prior-year quarter due to reduction in fully-insured group commercial membership.

Benefit ratio expanded 910 bps year over year to 104.3% due to expenses involving the ongoing pandemic relief, strategic initiatives in the business as well as COVID-related treatment and testing expenses.

Operating cost ratio expanded 570 bps year over year to 28.1%.
Healthcare Services
Revenues of $7.29 billion increased 9% year over year, primarily owing to Medicare Advantage membership growth and additional pharmacy revenues associated with the Enclara Healthcare buyout.

Operating cost ratio expanded 100 bps year over year to 97.8% due to coronavirus-related administrative costs as well as expenses incurred in the pharmacy business for timely delivery of prescriptions. Additional investment in the segment's provider business associated with marketing and AEP measures also bothers.
Financial Update
As of Dec 31, 2020, the company had cash and cash equivalents, and investment securities of $17.2 billion, up 14.6% from the level at 2019 end.
Debt-to-total capitalization as of Dec 31, 2020 was 32.7%, expanding 70 bps from the level as of Dec 31, 2019.

As of Dec 31, 2020, cash flows provided by operating activities came in at $5.6 billion, up 6.7% year over year.
Capital Deployment
In December, Humana inked two separate deals with two third-party financial institutions to effect an aggregate $1.75 billion ASR program under its authorization. The company repurchased around 3,829,400 shares in the quarter under this plan.

It paid out cash dividends worth $84 million in the period.
2021 Guidance
After announcing fourth-quarter results, the company issued its 2021 guidance. Adjusted EPS is expected in the range of $21.25-$21.75.

For the full year, the company expects individual Medicare Advantage membership growth of around 425,000-475,000 members.
Zacks Rank and Performance of Other Players
Humana carries a Zacks Rank #3 (Hold), currently. You can see the complete list of today's Zacks #1 Rank (Strong Buy) stocks here.

Among other players from the medical space that have reported fourth-quarter earnings so far, the bottom-line results of UnitedHealth Group Incorporated UNH and HCA Healthcare Inc. HCA beat respective estimates while that of Anthem, Inc. ANTM missed the same.
These Stocks Are Poised to Soar Past the Pandemic
The COVID-19 outbreak has shifted consumer behavior dramatically, and a handful of high-tech companies have stepped up to keep America running. Right now, investors in these companies have a shot at serious profits. For example, Zoom jumped 108.5% in less than 4 months while most other stocks were sinking.

Our research shows that 5 cutting-edge stocks could skyrocket from the exponential increase in demand for "stay at home" technologies. This could be one of the biggest buying opportunities of this decade, especially for those who get in early.

See the 5 high-tech stocks now>>

Want the latest recommendations from Zacks Investment Research? Today, you can download 7 Best Stocks for the Next 30 Days.
Click to get this free report
UnitedHealth Group Incorporated (UNH): Free Stock Analysis Report
Humana Inc. (HUM): Free Stock Analysis Report
HCA Healthcare, Inc. (HCA): Free Stock Analysis Report
Anthem, Inc. (ANTM): Get Free Report
To read this article on Zacks.com click here.
Zacks Investment Research