AT&T's CFO Discusses 2020-2022 Targets With Stockholders
Speaking at the recently held Wells Fargo Global TMT conference, AT&T Inc.'s T chief financial officer, John Stephens, provided business update to shareholders, shedding more light on the three-year plan initially offered in October along with quarterly results.

The telecom and media giant projects consolidated revenues at a CAGR of 1-2% from 2020-2022, and EBITDA margins to grow 200 basis points by 2022. While revenue growth is expected mainly from wireless, WarnerMedia and Mexico, margin expansion is likely to come from wireless, merger synergies, Mexico, and cost-reduction initiatives.

Going forward, the CFO discussed about AT&T's largest operating segment, AT&T Communications. Growth in wireless is expected to be driven by network performance, targeted promotions and enhanced sales opportunities from AT&T's FirstNet build. Stephens stated that AT&T Mexico's eight-year reseller agreement with Telefónica Movistar is acting as a tailwind. The company plans to augment its efficiency initiatives to support the three-year goal to increase EBITDA margins.

Over the past five years, it has achieved annual network cost savings between 6% and 8%, driven primarily by software-defined networking, network function virtualization and automation. This trend is expected to continue in 2020. To achieve its margin goals for 2020 and beyond, AT&T has started several, additional cost-reduction initiatives targeting an incremental 4% reduction in labor-related costs in 2020 or nearly $1.5 billion.

Moreover, AT&T is evaluating a $100-MILLION accelerated share repurchase program for the first quarter of 2020. By the end of 2022, it expects to repay 100% of the debt related to acquisition of Time Warner, targeting a net debt-to-adjusted EBITDA ratio in the 2.0-2.3 band. The company is on track to achieve 2019 free cash flow of $28 billion. It expects to end 2019 with a net debt-to-adjusted EBITDA ratio of 2.5. AT&T has already surpassed its $6-$8 billion target for non-core asset monetization in 2019 and is targeting another $5-$10 billion in 2020, as part of its continuing portfolio review.

A few days back, AT&T communicated that it is working to bring 5G service to millions of consumers and businesses this year. The telecom bellwether is on track to provide nationwide 5G to customers in the first half of 2020. It said that, in the coming weeks, its 5G network will be launched over low-band spectrum in areas of Indianapolis, IN; Pittsburgh, PA; Providence, RI; Rochester, NY; and San Diego, CA.

Further, the company aims to launch this breakthrough service in several markets, which include Boston, Las Vegas, Milwaukee, New York City, San Jose, San Francisco, Birmingham, Bridgeport and Louisville. It continues to offer 5G+ over mmWave spectrum to enterprises in parts of 21 cities at present and intends to reach 30 cities in early 2020. Its 5G+ technology uses millimeter wave spectrum to provide ultra-fast speed, lower latency and better connectivity in mobile devices.

The company remains focused on building networks that will enable fiber-based connectivity and LTE to work efficiently side by side with 5G solutions, making the most of business transformation. AT&T's wireless network covers more than 99% of Americans and is reportedly the fastest in the nation. Its LTE network covers more than 400 million people in North America. Sustainable subscriber growth, backed by network expansion, remains a key driver.

Driven by strong execution of operational strategies, the stock has gained 31.6% compared with the industry's growth of 16.6% year to date. The company topped earnings estimates thrice in the trailing four quarters, delivering average positive surprise of 0.9%.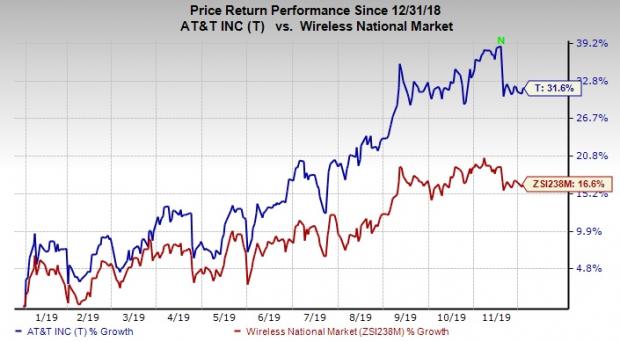 AT&T currently has a Zacks Rank #3 (Hold).

Some better-ranked stocks in the broader industry are Qualcomm Incorporated QCOM, Ubiquiti Inc. UI and PCTEL, Inc. PCTI. While Qualcomm and Ubiquiti sport a Zacks Rank #1 (Strong Buy), PCTEL carries a Zacks Rank #2 (Buy). You can see the complete list of today's Zacks #1 Rank stocks here.

Qualcomm has long-term earnings growth expectation of 14%.

Ubiquiti has long-term earnings growth expectation of 9.4%.

PCTEL surpassed earnings estimates in each of the trailing four quarters, the average surprise being 150.6%.

Biggest Tech Breakthrough in a Generation

Be among the early investors in the new type of device that experts say could impact society as much as the discovery of electricity. Current technology will soon be outdated and replaced by these new devices. In the process, it's expected to create 22 million jobs and generate $12.3 trillion in activity.

A select few stocks could skyrocket the most as rollout accelerates for this new tech. Early investors could see gains similar to buying Microsoft in the 1990s. Zacks' just-released special report reveals 8 stocks to watch. The report is only available for a limited time.

See 8 breakthrough stocks now>>
Want the latest recommendations from Zacks Investment Research? Today, you can download 7 Best Stocks for the Next 30 Days.
Click to get this free report
QUALCOMM Incorporated (QCOM): Free Stock Analysis Report
PCTEL, Inc. (PCTI): Free Stock Analysis Report
AT&T Inc. (T): Free Stock Analysis Report
Ubiquiti Inc. (UI): Free Stock Analysis Report
To read this article on Zacks.com click here.
Zacks Investment Research