Headwinds Hound American Airlines: Better to Ditch the Stock
American Airlines Group Inc. AAL has been grappling with numerous headwinds of late, primarily the extension of the Boeing 737 MAX grounding period and rise in fuel costs. These factors have taken a toll on the carrier due to which shares of the company have declined nearly 1% so far this year against the industry's 6.2% increase.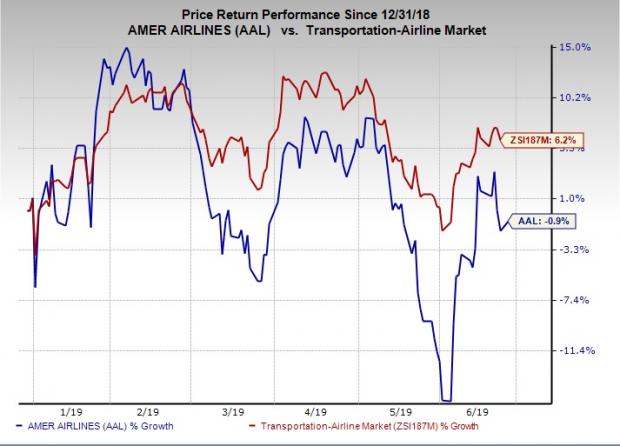 The carrier with 24 Boeing 737 MAX jets in its fleet, expanded the grounding period of such jets until Sep 3. This will result in the cancellation of approximately 115 flights daily. Previously, American Airlines expected its current-year pre-tax earnings to be affected to the tune of roughly $350 million. However, the loss might increase with the recent extension in Boeing 737 MAX jet's grounding time period. The carrier had initially notified that 737 MAX jets would be grounded until Apr 24, which was later stretched through Jun 5 and again until Aug 19 and finally, came the current early-September date.

The volatile fuel prices are likely to weigh on the company's earnings this year as expenses on the commodity comprise a major chunk of any airline company's expenditure. Evidently, fuel expenses for 2019 are expected to be $650 million more compared with what was predicted in January. Fuel costs per gallon for the current year are now estimated between $2.13 and $2.18 (earlier outlook: $1.99-$2.04). This bearish fuel cost view as well as the extended grounding of the Boeing 737 MAX jets induced the company to slash its earnings guidance for the full year. American Airlines now expects earnings per share between $4 and $6 (earlier outlook: $5.50-$7.50).

Additionally, the company's fleet modernization efforts — albeit encouraging — are pushing up capital expenditures, which in turn, are limiting bottom-line growth. Notably, its 2019 capex is anticipated to be as high as $4.4 billion, majority of which will be spent on aircraft.

The carrier's high debt levels further add to its woes. Its long-term debt-to-capitalization (expressed as a percentage) is currently 85.2, much higher than the industry's average of 45.4. This reading also compares unfavorably with the S&P 500 Index's average of 43.5.

Surrounded by negativity, the Zacks Consensus Estimate for the company's second-quarter earnings has been revised 14.8% downward in the last 60 days. The same for 2019 earnings has moved 11.8% south.

In light of the pessimism surrounding American Airlines, we believe investors would do best to discard this Zacks Rank #4 (Sell) stock from their portfolios now.

Key Picks

Some better-ranked stocks in the same space are Air China Ltd. AIRYY, SkyWest, Inc. SKYW and United Continental Holdings, Inc. UAL. While Air China sports a Zacks Rank #1 (Strong Buy), SkyWest and United Continental carry a Zacks Rank #2 (Buy). You can see the complete list of today's Zacks #1 Rank stocks here.

Shares of Air China, SkyWest and United Continental have gained more than 19%, 27% and 3%, respectively, so far this year.

Looking for Stocks with Skyrocketing Upside?

Zacks has just released a Special Report on the booming investment opportunities of legal marijuana.

Ignited by new referendums and legislation, this industry is expected to blast from an already robust $6.7 billion to $20.2 billion in 2021. Early investors stand to make a killing, but you have to be ready to act and know just where to look.

See the pot trades we're targeting>>
Want the latest recommendations from Zacks Investment Research? Today, you can download 7 Best Stocks for the Next 30 Days.
Click to get this free report
United Continental Holdings, Inc. (UAL): Free Stock Analysis Report
American Airlines Group Inc. (AAL): Free Stock Analysis Report
SkyWest, Inc. (SKYW): Free Stock Analysis Report
Air China Ltd. (AIRYY): Free Stock Analysis Report
To read this article on Zacks.com click here.
Zacks Investment Research