Adidas vs Nike: Which Sportswear Giant Will Win the FIFA World Cup?
The 2018 FIFA World Cup in Russia kicks off Thursday on Fox FOXA. The month-long tournament is expected to attract billions of viewers from over 200 countries, making it a marketing dream. The likes of Coca-Cola KO, Visa V, Budweiser BUD, and McDonald's MCD will all be heavily featured, but Adidas ADDYY and Nike NKE are the only companies competing against each other. So let's take a look to see which sportswear company seems poised to come out on top at the 2018 World Cup.
According to The Telegraph, it costs between $25 million and $50 million annually to be a FIFA partner and $10 million to $25 million to be a major World Cup sponsor. German giant Adidas has been a FIFA partner since 1970. The company also signed an extension to become the official partner, supplier, and licensee for the FIFA World Cup and all FIFA events until 2030.
Therefore, right off the bat, Adidas might get more overall shine with their classic "three stripes" logo plastered on in-stadium signage, official game balls, and more. But this is just the start.
Jerseys
Nike has spent heavily to become a soccer powerhouse around the world since the U.S. hosted the World Cup in 1994. The Oregon-based company has successfully infiltrated every level and nearly every league in the world, including Europe's top five leagues. Adidas, which has been a soccer giant for decades, has cultivated and maintained similar relationships and sponsorship deals.
Adidas sponsors 12 of the 32 national teams competing at this year's World Cup. This list includes some of the favorites: Germany, Spain, and Argentina.
Nike, in a move that reshaped soccer sponsorships, spent millions of dollar in 1996 to outfit the Brazilian national team. Brazil, who has won the most ever World Cups, with five, is also the top favorite this year. Overall, Nike's Swoosh logo will appear on 10 different jerseys, including France.
Although it is nearly neck and neck, the slight edge has to go to Adidas. (Side Note: Puma sponsors four teams, with Under Armour UAA notably left off this list)
Stars
Cristiano Ronaldo (Portugal), Lionel Messi (Argentina), and Neymar (Brazil) are three of the most famous people on the planet. The three soccer stars ranked number one, three, and four, respectively, on ESPN's DIS World Fame 100 list. They also all landed in the top five of Forbes' highest paid athletes rankings. Ronaldo boasts over 202 million followers on Instagram FB and Twitter TWTR combined, with the other two resting closely behind.
Ronaldo has been with Nike since 2003, while Messi signed with Adidas in 2006—both players are currently on "lifetime" deals with their sportswear companies. Neymar tips the balance slightly in Nike's favor, with the Brazilian superstar currently under a massive, incentive-laden contract with the American company.
Cleats/Boots
With the team sponsorships and some of the biggest stars covered, let's take a look at what a majority of the players will be wearing on their feet. ESPN ranked their top 50 players at the World Cup and also recently highlighted what boots they will wear when they take the field. The publication noted that 49 of their 50 best players in Russia will sport Nike, Adidas, or Puma—with New Balance as the one outlier.
Nike takes the top spot here, with 26 of the 50 set to play in Nike cleats, while Adidas claims 20. However, Adidas noted that 60% of all the players will be wearing Adidas footwear at the World Cup. With that said, the slight edge still has to go to Nike.
Stock Performance
With the fight between Nike and Adidas still a little too close to call, let's dive into their stock price performance to help determine a winner.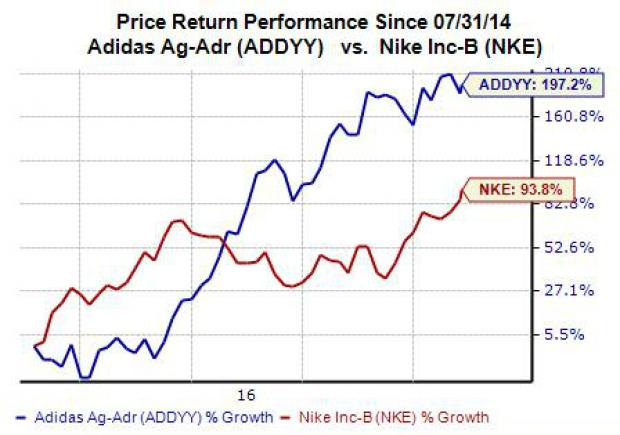 Clearly, Adidas stock has crushed Nike since the end of the 2014 World Cup. Therefore, coupled with its slight edge in the jersey department, and its standing as an official FIFA partner, Adidas appears to be the winner in the 2018 sportswear World Cup.
But, this could change depending on how individual players and teams perform on the world's biggest stage. So make sure to come back to Zacks for more World Cup business updates.
The Hottest Tech Mega-Trend of All

Last year, it generated $8 billion in global revenues. By 2020, it's predicted to blast through the roof to $47 billion. Famed investor Mark Cuban says it will produce "the world's first trillionaires," but that should still leave plenty of money for regular investors who make the right trades early.

See Zacks' 3 Best Stocks to Play This Trend >>
Want the latest recommendations from Zacks Investment Research? Today, you can download 7 Best Stocks for the Next 30 Days.
Click to get this free report
The Walt Disney Company (DIS): Free Stock Analysis Report
Facebook, Inc. (FB): Free Stock Analysis Report
Twitter, Inc. (TWTR): Free Stock Analysis Report
Anheuser-Busch InBev SA/NV (BUD): Free Stock Analysis Report
Coca-Cola Company (The) (KO): Free Stock Analysis Report
Twenty-First Century Fox, Inc. (FOXA): Free Stock Analysis Report
McDonald's Corporation (MCD): Free Stock Analysis Report
NIKE, Inc. (NKE): Free Stock Analysis Report
Adidas AG (ADDYY): Free Stock Analysis Report
Under Armour, Inc. (UAA): Free Stock Analysis Report
Visa Inc. (V): Free Stock Analysis Report
To read this article on Zacks.com click here.
Zacks Investment Research