Amazon Prime Day 2019: What Does This Mean for the Company Moving Forward?
Amazon AMZN kicked off its annual Prime Day Monday, exclusively offering a vast variety of deals for its Prime members. This year, Prime Day will run for 48 hours, which is an increase from last year's 36. The company reported that it sold 100 million products in 2018's event, which was its most successful to date. The extra hours added to this year's Prime Day are expected to propel the company into crushing last year's numbers. To be able to partake in this year's Prime Day, customers must be Prime members; membership costs $119 a year or $59 a year for students. Amazon utilizes consumer psychology to optimize its sales with events such as Prime Day.
FOMO
With these exclusive deals being available to Amazon Prime members for a limited time only, consumers often don't want to miss out on the annual event. Consumer psychologist Kit Yarrow commented on consumers' thoughts about Prime Day, saying "the psychology is really just fear of missing out and timing." Like Black Friday, which is right before the biggest retail shopping season, Prime Day is right before back to school shopping season, retail's second busiest season. Amazon utilizes the proximity to the season to entice its Prime members into doing their back to school shopping on Amazon with the vast amount of deals they have going on.
Yarrow went on to say that by investing their money into becoming Prime members, consumers may be more motivated to participate in Prime Day in order to get their money's worth. Prime Day almost feels like a reward for Prime members for shelling out money that is not necessary to shop on the website regularly. Prime Day's annual occurrence also gives consumers a sense of urgency; there won't be an opportunity like this again anytime soon, and people fear passing up on the day of deals only to hear about friends or family that scored big with savings. The potential increase in revenue from Prime Day could help the e-commerce giant post a solid results next quarter, which would add to an already stellar year.
Moving Forward
When people think about Prime Day, they will likely think about saving on electronics or appliances and don't typically imagine saving on designer apparel. AMZN is currently attempting to use Prime Day to endorse its fashion deals. The company has recently been dabbling in initiatives to collaborate with fashion influencers in an attempt to establish the site as a place to shop for more than just socks and underwear. Amazon's initiatives come at a time when apparel retailers have been struggling, encouraging the company to try its hand in the over $1 trillion market.
Wells Fargo WFC estimated that AMZN generated roughly $35 billion in sales in 2018 related to apparel and footwear, out of its $232.9 billion in overall revenue. The commerce giant was able to outpace some established competitors such as athletic apparel giant Lululemon LULU, which brought in $3.3 billion in sales last year; Gap GPS, who generated $16.6 billion; and Costco COST, who reeled in $7 billion. Amazon attributes this towering revenue to its "commoditized" clothing like white t-shirts, jeans, and underwear. AMZN CEO Jeff Bezos frequently mentioned to colleagues in the past that in order to become a $200 billion company "We've got to learn how to sell clothes and food." The company was able to exceed $200 billion in full year sales for the first time in 2018.
Amazon has been enlisting a mass of fashion influencers to spread taglines such as "I #FoundItOnAmazon." Influencers such as Paola Alberdi, Sierra Furtado, Emi Suzuki, and Leonie Hanne all boast at least one million followers and are working with Amazon to help establish it as a true fashion platform. Data from eMarketer shows that Amazon is on track to obtain nearly 30% of the market share for apparel e-commerce this year, which is up from 22.7% in 2016. U.S. e-commerce sales still represent less than 15% of total retail sales, meaning that the majority of purchases are still focused in physical stores. Amazon is looking to continue its fashion campaign with its army of influencers that can help the company grab a significant share of the lucrative market.
Bottom Line
Amazon is a Zacks Rank #3 (Hold) and is coming off a solid quarter, crushing our Consensus Estimate of $4.61 by reporting an EPS of $7.09 for an EPS surprise of 53.80%. The company has made a habit of beating our Consensus Estimates, as it has an average EPS surprise of a whopping 60.25% over the previous four reported quarters. In addition, full year estimates look sound for the company as Consensus Estimates are calling for revenue to increase 18.19% to $275.24 billion and earnings to surge 31.83%. Double digit earnings and revenue growth are projected for 2020 as well, further cementing the stock as a solid growth pick. Amazon has had a spectacular year, with shares up 72.5%; the stock has substantially outperformed the broader e-commerce market year-to-date too.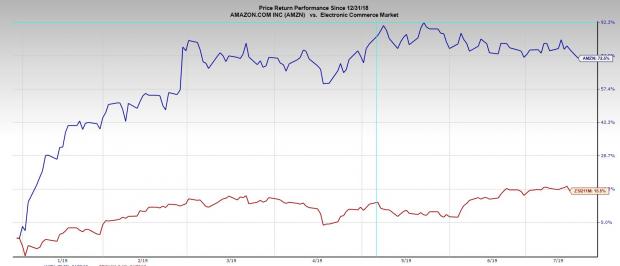 Wall Street's Next Amazon

Zacks EVP Kevin Matras believes this familiar stock has only just begun its climb to become one of the greatest investments of all time. It's a once-in-a-generation opportunity to invest in pure genius.

Click for details >>
Want the latest recommendations from Zacks Investment Research? Today, you can download 7 Best Stocks for the Next 30 Days.
Click to get this free report
Wells Fargo & Company (WFC): Free Stock Analysis Report
Amazon.com, Inc. (AMZN): Free Stock Analysis Report
The Gap, Inc. (GPS): Free Stock Analysis Report
lululemon athletica inc. (LULU): Free Stock Analysis Report
Costco Wholesale Corporation (COST): Free Stock Analysis Report
To read this article on Zacks.com click here.
Zacks Investment Research