Nokia Solution to Boost LG Uplus' Network for 5G Services
Nokia Corp. NOK recently announced that it is helping South Korean telco LG Uplus upgrade and automate its IP transport and core networks. Reportedly, the partnership will allow the operator to roll out 5G services faster and offer customers better speeds combined with exceptional quality and reliability. Financial terms of the deal remained undisclosed.

The Finnish company deployed its Network Service Platform solution, a modular and programmable approach, to facilitate LG Uplus automate network operations. A suite of ready-to-use applications helps network operations teams cover all use cases for network management and control. A software-defined networking (SDN) resource controller lets them control the network and optimize traffic in real-time. An open programmable platform enables engineers to automate network operations and ease integration with orchestrators and operations support systems.

Nokia's solution, which combines IP routers with the SDN slicing controller, is the foundation of building a robust 5G transport network that in turn is a key enabler of 5G service delivery. The company's FP4-based IP routers and multiple vendor platforms will allow the operator to ease integration. The network processor allows service providers and webscale operators to implement IP networks that deliver unparalleled scale, security and functionality without sacrificing performance.

Nokia has been developing its 5G portfolio, strengthening AirScale and further advancing the capabilities of its ReefShark chipset. The company is working with multiple partners to support its ReefShark family of chipsets, which are used in many base station elements. In Mobile Access, it expects the improvement to be driven by increasing shipments of "5G Powered by ReefShark" portfolio, product cost reductions, better commercial management and strong operational performance in services.

On Mar 2, Nokia announced that its board of directors has appointed Pekka Lundmark as president and CEO, to revive the company's faltering 5G business. He is likely to start his new role on Sep 1, 2020. Rajeev Suri, Nokia's current president and CEO, will leave his position on Aug 31, 2020, and continue to serve as an advisor to the Nokia Board until Jan 1, 2021.

Nokia's end-to-end portfolio includes products and services for every part of a network, which are helping operators to enable key 5G capabilities such as network slicing, distributed cloud, and industrial IoT. It facilitates customers to move from an economy-of-scale network operating model to demand-driven operations by offering easy programmability and automation. It is witnessing healthy underlying momentum in its focus areas of software and enterprise, which augurs well for its licensing business.

The company is expanding its business into targeted, high-growth and high-margin vertical markets to address several opportunities beyond its primary markets. It had announced plans to accelerate strategy execution, sharpen customer focus and reduce long-term costs. This, in turn, should help the company to position itself as a global leader in the delivery of end-to-end 5G solutions.

Nokia is focused on its strategy that hinges on four priorities. The first priority is to lead in high-performance end-to-end networks with its communications service provider customers. The second priority is based on its relentless pursuit to expand network sales to select vertical markets. Building a strong standalone software business remains the third strategic priority. The fourth pillar aims to create new business and licensing opportunities in the consumer ecosystem.

Nokia has a long-term earnings growth expectation of 18.9% compared with 14.5% for the industry. The stock has lost 47.8% compared with the industry's decline of 25.1% in the past six months.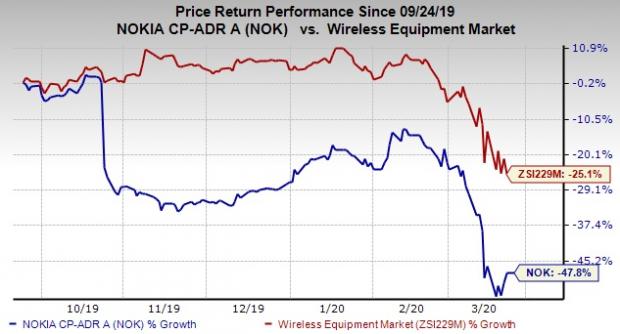 The company topped earnings estimates twice in the trailing four quarters and missed the same in the remaining two quarters, delivering a positive surprise of 87.5%, on average. Shares are currently trading with a forward P/E of 10.15X.

Nokia currently has a Zacks Rank #3 (Hold).

Some better-ranked stocks in the industry include Motorola Solutions, Inc. MSI, Qualcomm Incorporated QCOM and Ubiquiti Inc. UI, each carrying a Zacks Rank #2 (Buy). You can see the complete list of today's Zacks #1 Rank (Strong Buy) stocks here.

Motorola topped earnings estimates in the trailing four quarters, the surprise being 6.6%, on average.

Qualcomm surpassed earnings estimates in the trailing four quarters, the beat being 10%, on average.

Ubiquiti topped earnings estimates twice in the trailing four quarters, the positive surprise being 5.7%, on average.

Free: Zacks' Single Best Stock Set to Double

Today you are invited to download our latest Special Report that reveals 5 stocks with the most potential to gain +100% or more in 2020. From those 5, Zacks Director of Research, Sheraz Mian hand-picks one to have the most explosive upside of all.

This pioneering tech ticker had soared to all-time highs and then subsided to a price that is irresistible. Now a pending acquisition could super-charge the company's drive past competitors in the development of true Artificial Intelligence. The earlier you get in to this stock, the greater your potential gain.

See 5 Stocks Set to Double>>
Want the latest recommendations from Zacks Investment Research? Today, you can download 7 Best Stocks for the Next 30 Days.
Click to get this free report
Nokia Corporation (NOK): Free Stock Analysis Report
QUALCOMM Incorporated (QCOM): Free Stock Analysis Report
Motorola Solutions, Inc. (MSI): Free Stock Analysis Report
Ubiquiti Inc. (UI): Free Stock Analysis Report
To read this article on Zacks.com click here.
Zacks Investment Research