Target (TGT) to Spend $4 Billion Annually in Growth Initiatives
Target Corporation TGT continues to invest in strategic growth endeavors to stay relevant amid changing retail market conditions and enhance consumers' shopping experience. Progressing along these lines, the company announced its bold investment plan worth $4 billion annually over the next several years. The company plans to invest in new store openings, augment fulfillment services and strengthen supply chain operations. The investment is expected to boost the company's capabilities and help it sustain sales growth momentum.

Management highlighted that 2020 was quite a successful year for the company, thanks to strong demand conditions amid the pandemic. Moreover, strong omni-channel capabilities coupled with a wide range of assortments have been supporting its performance. The company plans to keep building on aspects that has made it a preferred shopping destination for millions of customers. The latest investment plan is expected to aid long-term growth, drive deeper engagement with customers and continue boosting the company's market share. However, investors seemed skeptical regarding the latest announcement, as shares of the company fell 6.7% during the trading session on Mar 2. The stock has inched down 0.9% in the past three months compared with the industry's 3.2% decline.

That said let's take a closer look at the initiatives laid down by the company, as part of its gallant plan for strategic growth.
Boosting Fulfillment Services, Brand Experiences & More
Target's same-day services have been receiving favorable consumer response. The company plans to keep building on such fast-growth fulfillment options in 2021. It plans on increasing fresh and frozen food assortments available for Drive Up and Order Pickups. Also, adult beverage pickup options will be made available across 800 more stores over the next few months. To enhance customer personalization in the Target app, the company will undertake technological improvements. This includes guidance regarding where to place customer's orders in their vehicle as well as authorizing a different guest to pick up the orders.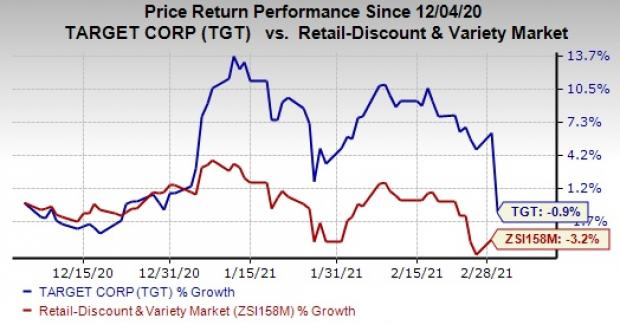 Target prides on its wide range of assortments of owned and exclusive brands, national brand favorites and brand partnerships. During 2020, the company's 10 owned brands generated annual sales worth $1 billion or more, each. In fact, four such brands generated more than $2 billion during the year. The company plans to build on its brand partnerships, across stores and online. In this context, it plans to build on its strategic relations with Ulta Beauty Inc. ULTA by expanding the brand's footprint across stores. Target plans to open 100 Ulta Beauty at Target shop-in-shops in 2021, with plans to add several more over time. Also, the company is taking its long-drawn relationship with Apple Inc. AAPL to the next level. The company is doubling Apple's footprint across 17 stores and online, with augmented assortments and services. Additional locations are scheduled to roll out the services this fall. We note that Target also holds brand partnerships with Walt Disney Company DIS and Levi Strauss & Co. among many others.

Moving on, Target plans to open 30-40 new stores each year to meet the growing needs of the society at large. We note that the company opened 30 new stores during 2020, which included 29 small-format stores. The company plans to open more small-formal stores in Urban areas as well as across college and university campuses. Moreover, additional mid-size stores will be opened in dense sub-urban areas. Additionally, the company plans to accelerate its store remodel program. It expects to complete the remodeling of 150 stores by the holiday season his year. In fact, management plans to remodel more than 200 stores a year, beginning in 2022. The refurbished stores will enable improved delivery fulfillment services and will be equipped with increased contactless features.

Furthermore, the company plans to boost its fulfillment operations by scaling up the stores-as-hubs model. In this context, the company is testing a sortation center in Minneapolis and expects to add five more of such facilities in 2021. The sortation center collects online orders from local stores and sorts them to different routes for carrier delivery. The process helps removing sorting activity out of store backrooms. Moreover, such facilities are likely to drive fulfillment capacity, reduce last-mile fulfillment costs as well as ramp up delivery.

Apart from these, the company is making investments in supply chain to support growth of stores. It plans to open two new distribution centers, this year, while two more are scheduled to be opened in 2022.

Clearly, Target's efforts exemplify that it is committed toward enhancing customers' shopping experience. This Zacks Rank #2 (Buy) company's well-chalked assortments, refurbished stores and growing digital capacity are likely to keep it in good shape in the forthcoming periods.

You can see the complete list of today's Zacks #1 Rank (Strong Buy) stocks here.
Bitcoin, Like the Internet Itself, Could Change Everything
Blockchain and cryptocurrency has sparked one of the most exciting discussion topics of a generation. Some call it the "Internet of Money" and predict it could change the way money works forever. If true, it could do to banks what Netflix did to Blockbuster and Amazon did to Sears. Experts agree we're still in the early stages of this technology, and as it grows, it will create several investing opportunities.

Zacks' has just revealed 3 companies that can help investors capitalize on the explosive profit potential of Bitcoin and the other cryptocurrencies with significantly less volatility than buying them directly.

See 3 crypto-related stocks now >>
Want the latest recommendations from Zacks Investment Research? Today, you can download 7 Best Stocks for the Next 30 Days.
Click to get this free report
Target Corporation (TGT): Get Free Report
Apple Inc. (AAPL): Get Free Report
The Walt Disney Company (DIS): Free Stock Analysis Report
Ulta Beauty Inc. (ULTA): Free Stock Analysis Report
To read this article on Zacks.com click here.
Zacks Investment Research