Juniper (JNPR) Introduces Advanced Networking Solutions
Juniper Networks, Inc. JNPR recently reached a significant milestone with the deployment of 400 Gigabit per second Ethernet network between Denver and Chicago. The computer network equipment maker provided top-notch equipment and services to meet the supercomputing requirements in the conference for networking and analysis — SC19.

The trial, conducted in collaboration with SCinet, the largest supercomputer center in Canada, plays a pivotal role in the establishment of an agile digital infrastructure. It is likely to cater to the burgeoning connectivity requirements of the supercomputing community as leading telecom firms transition from traditional networks to secure AI-driven networks. The deployment leverages Juniper's first fixed-configuration core router — PTX10003 Packet Transport Router — to transmit large volume of data for the betterment of global research and education communities.

The company's heavy-duty router delivers adequate performance and scalability, supports software upgrades without network traffic interruption and provides a space-efficient design for seamless data transmission. The deployment of the avant-garde networking solutions promotes a flexible data infrastructure, thereby creating an agile environment to foster dynamic innovation needs in various disciplines.

The demand for 400 Gigabit Ethernet is being driven by the need for cost-efficient packet transport network technology. This technology has proved beneficial to prepare for 5G infrastructure, and handle growing bandwidth demands with surge in traffic in data centers.

Moreover, with the proliferation of smartphones and tablets, mobile data traffic has witnessed exponential growth. This has resulted in increased demand for advanced networking architecture, leading service providers to spend more on routers and switches. Juniper is expected to benefit from the higher spending pattern among carriers to upgrade their networks to support the incremental growth in data traffic. Juniper's new products are likely to meet the escalating connectivity requirements, thereby finding easy acceptance among customers.

In the face of some short-term challenges, particularly within the cloud and service provider verticals, Juniper expects encouraging developments in most areas of its business, which augur well for its long-term growth. The company has made significant changes to its go-to-market structure to better align its sales strategies with each of its core customer verticals. It is also planning to introduce new silicon photonics capability that is likely to enhance its competitive position.

Despite solid inherent growth potential, the stock has lost 5.4% in the year-to-date period, while the industry has rallied 21.3%. Juniper has a long-term earnings growth expectation of 5.9%.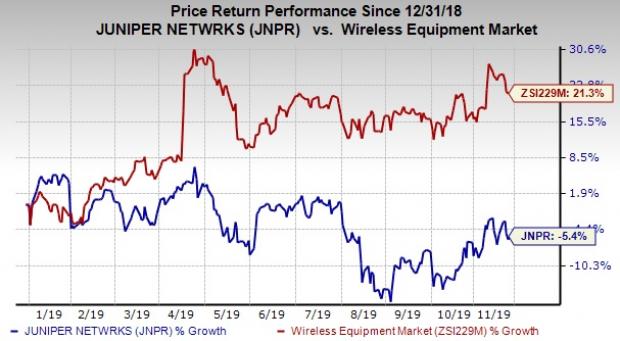 Zacks Rank & Stocks to Consider

Juniper has a Zacks Rank #3 (Hold).

Some better-ranked stocks in the industry are Qualcomm Incorporated QCOM, Ubiquiti Inc. UI and PCTEL, Inc. PCTI. While Qualcomm Incorporated and Ubiquiti sport a Zacks Rank #1 (Strong Buy), PCTEL carries a Zacks Rank #2 (Buy). You can see the complete list of today's Zacks #1 Rank stocks here.

Qualcomm exceeded the Zacks Consensus Estimate in each of the trailing four quarters, the average positive earnings surprise being 8.7%.

Ubiquiti surpassed the consensus estimates thrice in the preceding four quarters, the average positive earnings surprise being 16.1%.

PCTEL outpaced the consensus mark in each of the trailing four quarters, the average positive earnings surprise being 150.6%.

Today's Best Stocks from Zacks

Would you like to see the updated picks from our best market-beating strategies? From 2017 through Q3 2019, while the S&P 500 gained +39.6%, five of our strategies returned +51.8%, +57.5%, +96.9%, +119.0%, and even +158.9%.

This outperformance has not just been a recent phenomenon. From 2000 – Q3 2019, while the S&P averaged +5.6% per year, our top strategies averaged up to +54.1% per year.

See their latest picks free >>
Want the latest recommendations from Zacks Investment Research? Today, you can download 7 Best Stocks for the Next 30 Days.
Click to get this free report
Juniper Networks, Inc. (JNPR): Free Stock Analysis Report
QUALCOMM Incorporated (QCOM): Free Stock Analysis Report
PC-Tel, Inc. (PCTI): Free Stock Analysis Report
Ubiquiti Inc. (UI): Free Stock Analysis Report
To read this article on Zacks.com click here.