Here's What to Expect Ahead of Cadence (CDNS) Q3 Earnings
Cadence Design Systems Inc. CDNS is scheduled to release third-quarter 2021 results on Oct 25.
For the third quarter, Cadence expects total revenues in the range of $730-$750 million. The Zacks Consensus Estimate for revenues is currently pegged at $739.6 million, suggesting 10.9% year-over-year growth.
Management projects non-GAAP earnings in the range of 74-76 cents per share. The consensus mark for earnings has been steady at 75 cents in the past 30 days, indicating a rise of 7.1% from the prior-year quarter's reported figure.
The company has a trailing four-quarter earnings surprise of 13.1%, on average.
Cadence Design Systems, Inc. Price and EPS Surprise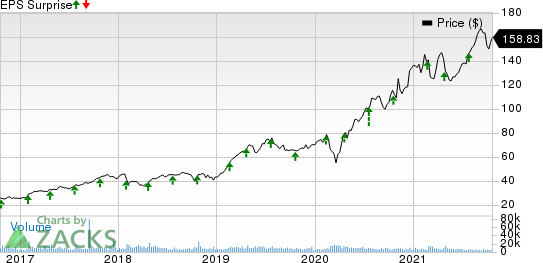 Cadence Design Systems, Inc. price-eps-surprise | Cadence Design Systems, Inc. Quote
Factors Likely to Have Influenced Q3 Earnings
Increasing chip design activity globally along with rising system design complexity are expected to have driven demand for Cadence's system design and verification solutions among semiconductor companies in the to-be-reported quarter.
The company's Palladium Z2 and the Protium X2 systems are already being deployed by the likes of NVIDIA NVDA and Advanced Micro Devices for validating system-on-chip ("SoC") and GPU designs. Earlier in the year, Cadence debuted Palladium Z2 and Protium X2 solutions that offer two times more capacity and 1.5 times improved performance than the prior generation — Palladium Z1 and Protium X1.
The evolution of semiconductor manufacturing processes from 10 nm (nanometer) to 7 nm and even 5 nm technology also bodes well.
Cadence's top line is likely to have gained from strong pipeline of its digital & signoff, custom & analog and IP solutions as well as an improving backlog. The company's system design & analysis segment is likely to have benefitted from increasing presence in domains like 5G, aerospace & defense, wireless and communications.
Introduction of new products along with strong uptake of company's other solutions like Clarity 3D Transient Solver, Sigrity-X, Xcelium Logic, Spectre X Simulator, Smart JasperGold and Tensilica Vision Q7 is likely to have driven the company's performance in the third quarter.
During the second quarter of 2021, Cadence introduced Allegro X Design Platform, powered by Allegro and OrCAD core technology. The platform can offer four times enhanced design team productivity compared with traditional design tools, added the company. It also unveiled the Cerebrus Intelligent Chip Explorer solution that offers up to 10 times productivity increases and up to 20% performance, power and area improvement, in comparison with manual approach, noted the company.
Synergies from the Integrand and AWR buyouts along with recent acquisitions of Pointwise and NUMECA are anticipated to have contributed to the company's top line performance in the to be reported quarter.
Increasing customer base is instilling investors' optimism on the stock. Shares of Cadence, which carries a Zacks Rank #3 (Hold), have gained 42.8% in the past year compared with the industry's rally of 38%.
You can see the complete list of today's Zacks #1 Rank (Strong Buy) stocks here.
Supply chain constraints, component shortages and logistics' bottlenecks witnessed globally, stemming from the pandemic, are likely to have affected the company in the third quarter.
Increasing expenses on product development amid stiff competition from peers like Synopsys SNPS and ANSYS ANSS might have impeded margin expansion in the quarter to be reported.
Zacks' Top Picks to Cash in on Artificial Intelligence
This world-changing technology is projected to generate $100S of billions by 2025. From self-driving cars to consumer data analysis, people are relying on machines more than we ever have before. Now is the time to capitalize on the 4th Industrial Revolution. Zacks' urgent special report reveals 6 AI picks investors need to know about today.
See 6 Artificial Intelligence Stocks With Extreme Upside Potential>>
Want the latest recommendations from Zacks Investment Research? Today, you can download 7 Best Stocks for the Next 30 Days.
Click to get this free report
NVIDIA Corporation (NVDA): Free Stock Analysis Report
Synopsys, Inc. (SNPS): Free Stock Analysis Report
Cadence Design Systems, Inc. (CDNS): Free Stock Analysis Report
ANSYS, Inc. (ANSS): Free Stock Analysis Report
To read this article on Zacks.com click here.
Zacks Investment Research