LyondellBasell's Technology Selected for China HDPE Unit
LyondellBasell
LYB
said that Shandong Shougang Luqing Co., Ltd, has chosen its industry-leading Hostalen Advanced Cascade Process (ACP) polyethylene technology for a 350 KTA high density polyethylene (HDPE) unit to be constructed in the latter's petrochemical complex, at Bohai Industry Park, Shouguang, Shandong Province, China.
This technology is known for increasing the flexibility and versatility in multimodal HDPE resins production compared to other HDPE technologies. These multi-modal HDPE resins have higher toughness balance and impact resistance. Also, they boast high stress cracking resistance and other processing advantages that make them valuable in film, blow molding and pipe applications.
Apart from the Hostalen ACP process, LyondellBasell's portfolio of licensed polyolefin technologies and associated technical services includes Spheripol, Spherizone, Metocene PP, Lupotech and Spherilene.
LyondellBasell has underperformed the
industry
over the last six months. The company's shares have lost 3.8% during the period against the industry's 3.1% gain.
LyondellBasell's adjusted earnings came in at $2.82 per share for second-quarter 2017, beating the Zacks Consensus Estimate of $2.71. Revenues rose roughly 14.7% year over year to $8,403 million in the quarter but missed the Zacks Consensus Estimate of $8,670.5 million.
With no major maintenance schedule, the company expects robust performance from its global assets moving forward.
LyondellBasell is undertaking expansion projects to leverage the U.S. natural gas liquids (NGLs) advantage. LyondellBasell's ethylene expansion initiatives are likely to boost the capacity and add to its earnings. It also remains committed to boosting shareholder returns by leveraging healthy cash flows.

LyondellBasell Industries NV Price and Consensus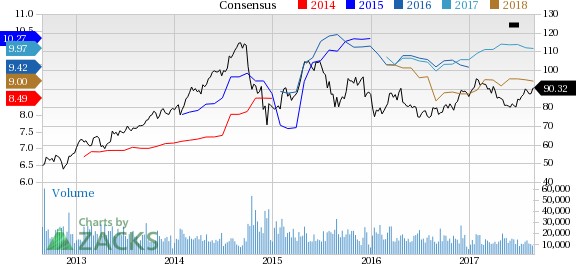 LyondellBasell Industries NV Price and Consensus | LyondellBasell Industries NV Quote
LyondellBasell currently carries a Zacks Rank #3 (Hold).
Stocks to Consider
Some better-ranked companies in the chemical space include are The Chemours Company CC, Kronos Worldwide KRO and Akzo Nobel N.V. AKZOY. All three stocks sport a Zacks Rank #1 (Strong Buy). You can see the complete list of today's Zacks #1 Rank stocks here.
Chemours has an expected long-term earnings growth of 15.5%.
Kronos Worldwide has an expected long-term earnings growth of 5%.
Akzo Nobel has an expected long-term earnings growth of 11.1%.
Zacks' 10-Minute Stock-Picking Secret
Since 1988, the Zacks system has more than doubled the S&P 500 with an average gain of +25% per year. With compounding, rebalancing, and exclusive of fees, it can turn thousands into millions of dollars.
But here's something even more remarkable: You can master this proven system without going to a single class or seminar. And then you can apply it to your portfolio in as little as 10 minutes a month.
Want the latest recommendations from Zacks Investment Research? Today, you can download 7 Best Stocks for the Next 30 Days.
Click to get this free report
Kronos Worldwide Inc (KRO): Free Stock Analysis Report
LyondellBasell Industries NV (LYB): Free Stock Analysis Report
Chemours Company (The) (CC): Free Stock Analysis Report
Akzo Nobel NV (AKZOY): Free Stock Analysis Report
To read this article on Zacks.com click here.
Zacks Investment Research