Mattel (MAT) Stock on Fire: Outpaces Industry in the Past Year
Mattel, Inc. MAT is poised to benefit from robust Barbie brand performance, digitalization initiatives and its cost-saving efforts. Also, progress toward transforming into an IP-driven high-performing toy company bodes well.

Shares of Mattel have surged 86.3% in the past year compared with the industry's 7% growth. The price performance was backed by a solid earnings surprise history. Mattel's earnings surpassed the Zacks Consensus Estimate in each of the trailing four quarters. Earnings estimates for full-year 2021 and 2022 have moved up 16.7% and 22.6%, respectively, in the past 60 days. This positive trend signifies bullish analysts' sentiments and justifies the company's Zacks Rank #1 (Strong Buy). This indicates robust fundamentals and expectation of outperformance in the near term. You can see the complete list of today's Zacks #1 Rank stocks here.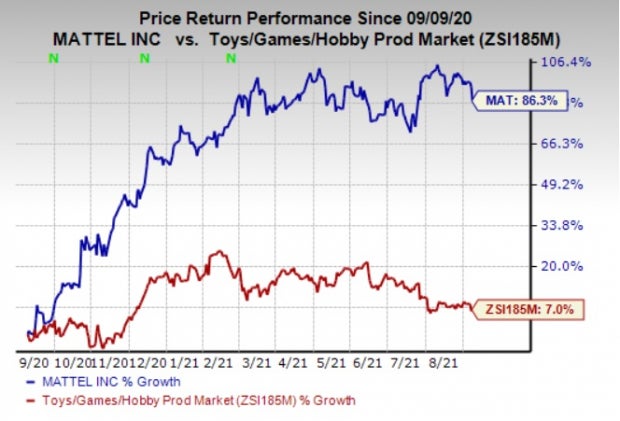 Image Source: Zacks Investment Research
Major Growth Drivers
Solid Barbie Brand Performance: The Barbie brand continues to impress investors with solid performance. In second-quarter 2021, the brand's worldwide gross billings witnessed an increase of 46% on a reported basis and 41% at cc. Notably, Barbie point of sales increased 41%. The upside was mainly driven by design led innovation, cultural relevance, executional excellence and customers positive response to the brand. Going forward, the brand has new fashion segments like Barbie EXTRA and Ken Turned 60, in its pipeline. The company plans to develop Barbie Fashion Battle, a reality show where designers compete for the chance to create a fashion collection for Barbie. During the second quarter, the company gave green signal to the new Barbie feature movie and announced the commencement of production in 2022 with a targeted release in 2023. Notably, focus on new content and digital engagement is likely to drive growth in the upcoming quarters.
Digitalization Initiatives: With brick-and-mortar stores open in most of the markets, consumers have resumed in-person shopping particularly in regions with lower e-commerce penetration. Having said that, the importance of online retail and e-commerce platforms cannot be ruled out as e-commerce POS represented more than 25% of its total POS. The company's POS grew double digits for the fourth straight quarter. Per the NPD, it achieved positive POS growth in the last five quarters, while global market share grew for the fourth consecutive quarter. Mattel has been undertaking efforts on the digital front and focusing on better execution of marketing and promotional initiatives. The company formed a brand development framework to unlock the scale and profitability of its brands as well as modernize them for the digital world.

Focus On IP Driven Strategy: Mattel continues to make progress toward capturing the full value of its IP and transform itself into a high-performing toy company. To this end, the company is leveraging its resources to relaunch its catalog IP including Masters of the Universe, Matchbox and Monster High. The company is optimistic in this regard owing to the upside potential and built-in fan base. It is strengthening its partnership with major entertainment companies, including Disney, Microsoft, Nickelodeon, Nintendo, Universal, Warner Bros and WWE. Through the association, the company has licensing agreements for several highly-anticipated properties in 2022 and beyond.
Cost-Control Efforts: Through its current cost-saving program, Mattel continues to focus on achieving cumulative cost savings, thus, enhancing margins. The company is simplifying its organization structure, optimizing processes and supply chain to generate savings across operations. Meanwhile, cost-saving initiatives have been helping the company drive margin growth. In the first, the second, the third and the fourth quarter of 2020 as well as the first and the second quarter of 2021, adjusted gross margin expanded 450, 410, 410, 250, 350 and 370 basis points (year over year) to 43.5%, 44%, 51%, 51.4%, 47% and 47.5%, respectively. During fourth-quarter 2020, the company initiated a new multi-year program — Optimizing for Growth. This program along with the integration of the Capital Light Program is likely to deliver an additional $250-MILLION savings by 2023. Also, the company is raising the estimated range of cost savings for 2021 from $75 million to $80-$90 million.
Other Key Picks
Some other top-ranked stocks in the Zacks Consumer Discretionary sector include Bluegreen Vacations Holding Corporation BVH, SeaWorld Entertainment, Inc. SEAS and JAKKS Pacific, Inc. JAKK. Bluegreen Vacations and SeaWorld Entertainment sport a Zacks Rank #1, while JAKKS Pacific carries a Zacks Rank #2 (Buy).

Bluegreen Vacations and SeaWorld Entertainment's earnings for 2021 are expected to surge 172% and 176.4%, respectively.

JAKKS Pacific has a trailing four-quarter earnings surprise of 49.5%, on average.
Breakout Biotech Stocks with Triple-Digit Profit Potential
The biotech sector is projected to surge beyond $2.4 trillion by 2028 as scientists develop treatments for thousands of diseases. They're also finding ways to edit the human genome to literally erase our vulnerability to these diseases.
Zacks has just released Century of Biology: 7 Biotech Stocks to Buy Right Now to help investors profit from 7 stocks poised for outperformance. Recommendations from previous editions of this report have produced gains of +205%, +258% and +477%. The stocks in this report could perform even better.
See these 7 breakthrough stocks now>>
Want the latest recommendations from Zacks Investment Research? Today, you can download 7 Best Stocks for the Next 30 Days.
Click to get this free report
Mattel, Inc. (MAT): Free Stock Analysis Report
JAKKS Pacific, Inc. (JAKK): Free Stock Analysis Report
SeaWorld Entertainment, Inc. (SEAS): Free Stock Analysis Report
Bluegreen Vacations Holding Corporation (BVH): Free Stock Analysis Report
To read this article on Zacks.com click here.
Zacks Investment Research