AstraZeneca's Farxiga Gets CRL from FDA for Type I Diabetes
AstraZeneca AZN announced that the FDA has issued a complete response letter ("CRL") to its supplemental new drug application (sNDA) for SGLT2 inhibitor, Farxiga (dapagliflozin). The sNDA sought approval for label expansion of Farxiga as an adjunct treatment to insulin to improve glycemic control in type I diabetes patients in whom insulin has inadequate response.
The details of the CRL have not been announced. The company will meet with the FDA to discuss the CRL and seek the path forward for the sNDA. The sNDA was filed based on data from the phase III DEPICT study. Data from the study showed that both the 5mg and 10mg doses of Forxiga led to significant and clinically-meaningful reductions from baseline in average blood glucose levels HbA1c (primary endpoint), weight and total daily insulin dose (secondary endpoints) at 24 weeks.
In March, Forxiga was approved for a similar indication in Europe and Japan. Farxiga/Forxiga is already approved as both monotherapy and combination therapy to improve glycemic control, with additional benefits of weight loss and blood pressure reduction as an adjunct to diet and exercise in adults with type-II diabetes.
Please note that, in March, the FDA also issued a CRL to Lexicon Pharmaceuticals, Inc.'s LXRX new drug application seeking approval for Zynquista, a dual SGLT1 and SGLT2 inhibitor, in combination with insulin as a treatment for type I diabetes. The details of the CRL were not available. Lexicon is developing the candidate in collaboration with Sanofi SNY.
It may seem that SGLT inhibitors have adequate response in type II diabetes patients. However, these face some hurdles in type I diabetes patients. It has been observed that SGLT inhibitors carry the risk of diabetic ketoacidosis, a serious complication of diabetes. In both CRLs, the concerned companies are working with the FDA to sort out any issues. There is no approved SGLT inhibitor for type I diabetes in the United States.
AstraZeneca's stock has increased 5.8% this year so far, outperforming the industry's decrease of 1.6%.

Farxiga/Forxiga, a key driver of AstraZeneca's top line, recorded sales of almost $349 million in the first quarter of 2019, representing growth of 23%. Farxiga, one of the many successful new drugs in AstraZeneca's portfolio, enjoys volume market share leadership globally.
Other SGLT2 inhibitors available in the market are Johnson & Johnson's JNJ Invokana and Lilly's Jardiance, Synjardy (a fixed dose combination of Jardiance and metformin) and Glyxambi (a fixed dose combination of Jardiance and Tradjenta).
AstraZeneca PLC Price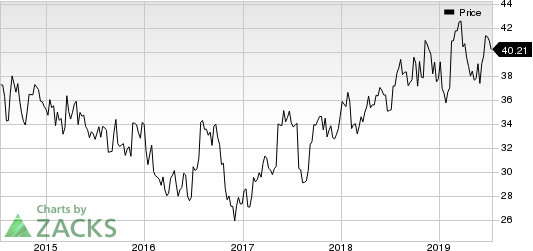 Zacks Rank
AstraZeneca currently carries a Zacks Rank #4 (Sell).
You can see the complete list of today's Zacks #1 Rank (Strong Buy) stocks here.
Wall Street's Next Amazon
Zacks EVP Kevin Matras believes this familiar stock has only just begun its climb to become one of the greatest investments of all time. It's a once-in-a-generation opportunity to invest in pure genius.
Want the latest recommendations from Zacks Investment Research? Today, you can download 7 Best Stocks for the Next 30 Days.
Click to get this free report
AstraZeneca PLC (AZN): Free Stock Analysis Report
Sanofi (SNY): Free Stock Analysis Report
Johnson & Johnson (JNJ): Free Stock Analysis Report
Lexicon Pharmaceuticals, Inc. (LXRX): Free Stock Analysis Report
To read this article on Zacks.com click here.
Zacks Investment Research