Buy Chipotle (CMG) Stock at New High After Blowout Q4 Earnings & Sales?
Chipotle CMG shares surged over 14% Thursday morning after the fast-casual restaurant chain reported far better-than-expected Q4 earnings, revenue, and same-store sales Wednesday. The move continues Chipotle's year-long comeback after multiple food-safety concerns beat down the once high-flying stock.
Q4 Overview
Chipotle's fourth-quarter revenues jumped 10.4% from the year-ago period to reach $1.23 billion. This not only surpassed our $1.19 billion Zacks Consensus Estimate but also topped Q3's 8.6% top-line growth and its overall climb of 8.1% during the first nine months of last year.
On top of that, CMG's comparable restaurant sales popped 6.1%, which blew by our NFM estimate that called for 4.43% comps growth. The fourth quarter also marked Chipotle's best same-store sales growth in 2018, easily topping Q4's 4.4%, Q2's 3.3%, and Q1's 2.2%.
Some of this growth can be attributed to digital initiatives. CMG's digital sales soared 65.6% in the fourth quarter and made up a total of nearly 13% of sales, up from 11.2% of sales last quarter and 48% digital expansion.
Meanwhile, the company was also able to boost its restaurant level operating margin from 14.9% to 17%. Plus, the company's adjusted quarterly earnings surged roughly 11% to $1.72 share, which crushed our $1.37 per share estimate.
Stock Price Movement
As we touched on up top, shares of CMG soared over 14% through mid-morning trading Thursday to reach a brand new 52-week high of $605 a share. Chipotle stock has now surged over 127% in the last 12 months to crush the S&P 500's 6.2% climb and its peer group's 19% jump—which includes Domino's DPZ, Darden DRI, Yum! Brands YUM, and others. In fact, we can see that CMG's recent surge has helped it erase much of its post-2015 downturn.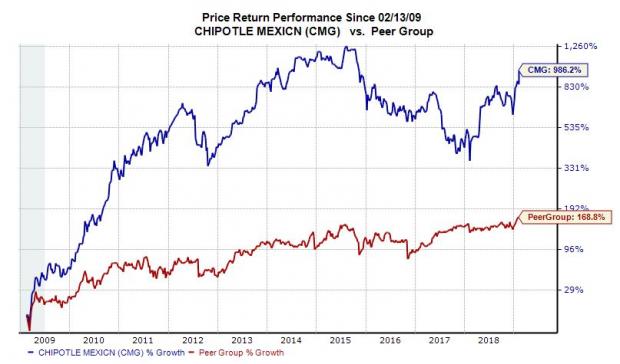 Growth Plans
Chipotle, which rose to prominence because of its simplicity and healthy ingredients and helped spark the larger fast-casual movement that includes Shake Shack SHAK, closed the period with 2,500 restaurants. Chipotle opened 40 new restaurants and closed or relocated 12 in the quarter, and we should remember that the company owns and operates all of its locations.
Chipotle hired its new CEO Brian Niccol last spring. Since his arrival fromTaco Bell, he has focused on digital ordering and delivery, along with industry giants like Starbucks SBUX and McDonald's MCD along with Walmart WMT and Target TGT. On top of that, he re-focused the brand around its real and fresh ingredients in an increasingly health-conscious market.
The company is also updating its kitchens with a second assembly line to focus solely on its growing digital and mobile ordering business. Furthermore, Chipotle is currently testing some drive-through windows for customers to pick up their online orders. And executives reiterated their plans to launch a loyalty program nationwide in 2019 after rolling out tests in October of last year.
Outlook
Looking ahead, Chipotle expects to post comparable restaurant sales growth in the mid-single digit range in 2019, which would mark solid progress. The firm also plans to open between 140 to 155 new restaurants.
Chipotle's first quarter fiscal 2019 revenues are projected to jump 7.6% to reach $1.24 billion, based on our current Zacks Consensus Estimates. The company's full-year revenues are expected to climb by a similar percentage. Better still, the company's fiscal 2020 revenues are projected to jump 10.2% above our current-year estimate.
At the bottom end of the income statement, CMG's adjusted EPS figure is projected to surge roughly 33% in 2019. On top of that, we can see that Chipotle's earnings estimate revision picture has turned far more positive recently, which is often a good sign.

Bottom Line
Prior to its earnings release, many U.S. funds were waiting for Chipotle's official Q4 results to determine if they would buy more shares of the surging restaurant chain. After Wednesday's impressive quarter, they might be hungry for more CMG shares.
Chipotle is currently a Zacks Rank #3 (Hold) that rocks "A" grades for both Growth and Momentum in our Style Scores system.
Zacks' Top 10 Stocks for 2019

In addition to the stocks discussed above, wouldn't you like to know about our 10 finest buy-and-holds for the year?

From more than 4,000 companies covered by the Zacks Rank, these 10 were picked by a process that consistently beats the market. Even during 2018 while the market dropped -5.2%, our Top 10s were up well into double-digits. And during bullish 2012 – 2017, they soared far above the market's +126.3%, reaching +181.9%.

This year, the portfolio features a player that thrives on volatility, an AI comer, and a dynamic tech company that helps doctors deliver better patient outcomes at lower costs.

See Stocks Today >>
Want the latest recommendations from Zacks Investment Research? Today, you can download 7 Best Stocks for the Next 30 Days.
Click to get this free report
Target Corporation (TGT): Get Free Report
Walmart Inc. (WMT): Get Free Report
Darden Restaurants, Inc. (DRI): Get Free Report
Shake Shack, Inc. (SHAK): Get Free Report
Domino's Pizza Inc (DPZ): Get Free Report
Yum! Brands, Inc. (YUM): Free Stock Analysis Report
McDonald's Corporation (MCD): Get Free Report
Starbucks Corporation (SBUX): Get Free Report
Chipotle Mexican Grill, Inc. (CMG): Get Free Report
To read this article on Zacks.com click here.
Zacks Investment Research