Gap (GPS) Falls on Q3 Earnings Miss, Sales Top Estimates
The Gap Inc. GPS reported third-quarter fiscal 2020 results, wherein earnings missed the Zacks Consensus Estimate and declined year over year. Despite gross margin gains, the company's bottom line was impacted by higher operating expenses, driven by a significant rise in marketing expenses across all brands.

However, sales beat the consensus mark and remained flat year over year. The better-than-expected top-line performance was mainly supported by robust online growth trend and positive comparable sales (comps). Shares of Gap declined 11.4% in the after-hours trading session on Nov 24, following the third-quarter fiscal 2020 results.

Nonetheless, the company's overall results reflected a marked improvement on a sequential basis. While the bottom line returned to a positive trend after two consecutive quarters of reporting loss per share, sales reflected significant sequential improvement.

Driven by the prevailing uncertainty, the company did not currently provide guidance for fiscal 2020. It also expects the rising COVID-19 cases to impact store traffic, which remains concerning. However, it is optimistic about the fiscal fourth-quarter results, driven by robust online momentum and opportunity for market share gains through increased marketing investments.

The company anticipates investments in digital capabilities, including its loyalty program, to contribute to a robust holiday shopping season. As a result, it expects fourth-quarter fiscal 2020 net sales to be equal to or slightly higher than the year-ago quarter. Gross margin is expected to be flat year over year on gains from store closures, considerably offset by higher shipping expenses. It expects operating expense rate of 33-34%, owing to increased investment in brand marketing to gain market share as well as costs incurred for health and safety measures in stores.

In the past three months, shares of the Zacks Rank #3 (Hold) company have gained 57.8% compared with the industry's 53.8% growth.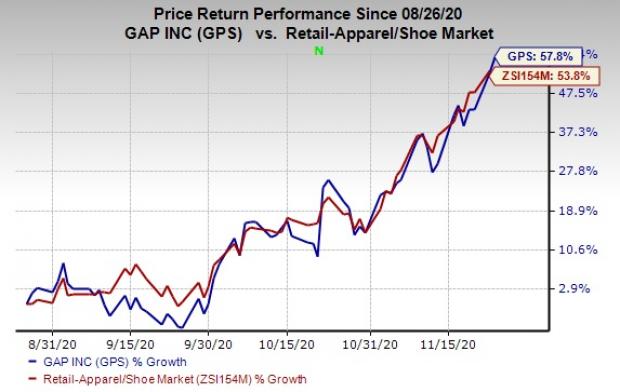 Q3 Details
In the fiscal third quarter, the company's earnings of 25 cents per share missed the Zacks Consensus Estimate of 29 cents and declined 32.4% from 37 cents in the year-ago quarter. Nonetheless, its bottom-line results reflect a return to a positive trend after reporting loss per share for the previous two quarters.

Net sales were flat with the year-ago quarter at $3,994 million but reflected significant improvement on a sequential basis. Moreover, the top line surpassed the Zacks Consensus Estimate of $3,801 million. Sales reflected significant gains from 5% growth in comps and a 61% rise in online sales. Meanwhile, a 20% decline in in-store sales and the company's ongoing strategy to close underperforming stores partly hurt sales.
The Gap, Inc. Price, Consensus and EPS Surprise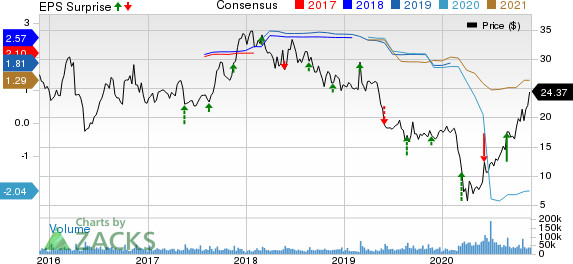 The Gap, Inc. price-consensus-eps-surprise-chart | The Gap, Inc. Quote
Comps in the reported quarter primarily benefited from strength in the company's scaled e-commerce business. Notably, its e-commerce business acquired 3.4 million new customers in the fiscal third quarter, which represents more than 145% growth in new online customer acquisitions year over year. Moreover, the online business contributed about 40% of its net sales in the fiscal third quarter.
Brand-wise Sales & Comps
In third-quarter fiscal 2020, net sales declined 14% and 34% at Gap Global and Banana Republic Global brands, respectively. Further, comps for Gap Global and Banana Republic Global were down 5% and 34%, respectively. Meanwhile, sales improved 15% and 35% for the Old Navy and Athleta brands, respectively. Comps at Old Navy Global and Athleta increased 17% and 37%, respectively.

During the reported quarter, the Banana Republic brand's results continued to be impacted by the adverse product mix due to the shift of consumers' demands to more casual fashion to meet stay-at-home requirements, which is a disadvantage to the brand's workwear assortments. However, the company is focused on adjusting to consumer preferences and improving the inventory mix by shifting away from its traditional workwear assortment into casual fashion. Driven by its efforts, the brand's sales for the quarter reflected an improvement from the prior quarter.

Declines at the Gap brand mainly relate to reduced store fleet and traffic trends, partly negated by strong online growth. In addition to the fleet rationalization efforts, the brand remains focused on maximizing the online demand through appropriate marketing, better execution and customer engagement. Notably, the company received positive customer response for its Fall marketing campaigns "Stand United" and "Be the Future".

At the Old Navy brand, sales gained from the significant acceleration of online business due to robust customer demand as well as relevant digital marketing investments.

The Athleta brand's values-driven active and lifestyle categories, increased digital marketing investments, and focus on product strategy aided sales growth. Notably, Athleta recorded the highest comps growth in the brand's history, including more than 50% contribution from online business. Moreover, the brand benefited from continued demand for its masks, which helped establish new customer engagements across other product offerings.
Margins & Costs
Gross profit of $1,620 million reflected a 3.9% increase from $1,559 million in the prior-year quarter. Gross margin of 40.6% expanded 160 basis points (bps) from the prior-year quarter, backed by gains from lower rent and occupancy costs and higher product margins, offset by higher shipping expenses to fulfill the increasing online sales. The rent and occupancy savings during the quarter mainly related to the company's consistent focus and execution of the Power Plan 2023. The plan focuses on opening highly-profitable Old Navy and Athleta stores, while closing the underperforming Gap and Banana Republic stores. Further, it witnessed improved product margins, owing to reduced promotions.

Meanwhile, operating expenses rose 8% to $1,445 million, with operating expense rate up 270 bps to 36.2%. Higher operating expense rate was the result of more than 175 bps growth in marketing investments across all brands and 140 bps of spending toward health and safety measures at stores. Further, operating expenses include a negative impact of 120 bps from costs related to closed stores, which was almost offset by rent and occupancy savings reflected in gross margin. However, operating expense comparison benefited from 200-bps one-time costs recorded in the year-ago quarter related to the previously planned Old Navy spin-off.

Driven by the higher operating expense rate, the company's operating margin contracted 110 bps to 4.4%. Operating income declined 20.8% year over year to $175 million in the reported quarter.
Other Financials
Gap ended the fiscal third quarter with cash, cash equivalents, and short-term investments of $2,649 million, representing more than $1-billion growth from $1,082 million in the year-ago period. As of Oct 31, it had total stockholders' equity of $2,371 million and long-term debt of $2,214 million. Consequently, the company has sufficient liquidity to steer clear of the coronavirus environment.

It generated free cash flow of $111 million year to date compared with $5 million in the year-ago period. The strong free cash flow primarily reflects the robust cash flows generated in the second and third quarters of fiscal 2020 as well as lower capital expenditure compared with the year-ago level.

The company now expects capital spending of $375 million for fiscal 2020, up from $300 million stated earlier. The increase in capital expenditure is mainly attributed to higher investments in digital, technology and the capacity to drive online growth.
Store Update
As of Oct 31, Gap had 3,785 stores in 43 countries, out of which 3,178 were company-operated and 607 were franchise outlets.

In sync with its ongoing fleet optimization efforts, the company plans to close about 225 Gap and Banana Republic stores globally, net of openings, in fiscal 2020. It expects additional closures in fiscal 2021.
3 Better-Ranked Retail Stocks
L Brands, Inc. LB has a long-term earnings growth rate of 13%. The company currently flaunts a Zacks Rank #1 (Strong Buy). You can see the complete list of today's Zacks #1 Rank stocks here.

Tapestry, Inc. TPR has a long-term earnings growth rate of 9.3%. It currently sports a Zacks Rank #1.

Capri Holdings Limited CPRI has a long-term earnings growth rate of 4.1% and it sports a Zacks Rank of 1 at present.
More Stock News: This Is Bigger than the iPhone!
It could become the mother of all technological revolutions. Apple sold a mere 1 billion iPhones in 10 years but a new breakthrough is expected to generate more than 27 billion devices in just 3 years, creating a $1.7 trillion market.

Zacks has just released a Special Report that spotlights this fast-emerging phenomenon and 6 tickers for taking advantage of it. If you don't buy now, you may kick yourself in 2021.

Click here for the 6 trades >>
Want the latest recommendations from Zacks Investment Research? Today, you can download 7 Best Stocks for the Next 30 Days.
Click to get this free report
The Gap, Inc. (GPS): Free Stock Analysis Report
L Brands, Inc. (LB): Free Stock Analysis Report
Tapestry, Inc. (TPR): Free Stock Analysis Report
Capri Holdings Limited (CPRI): Free Stock Analysis Report
To read this article on Zacks.com click here.
Zacks Investment Research