M&T Bank (MTB) Rewards Shareholders With 9.1% Dividend Hike
M&T Bank Corporation MTB announced a hike in quarterly dividend. It announced a dividend per share of $1.20, representing a hike of 9.1% from the prior payout. The new dividend will be paid out on Dec 31 to shareholders of record as of Nov 30.

Considering last day's closing price of $160.42 per share, the dividend yield currently stands at 2.99%.

Since the 2008 financial crisis, when the company paid out a dividend of 70 cents per share, M&T Bank has come a long way in displaying its capital strength. Prior to this hike, the bank had raised its dividend by 10% in November 2019 to $1.10 per share.

In addition to paying dividends, the company has an impressive share-repurchase plan in place. While repurchases were suspended in mid-March 2020 due to the coronavirus crisis, the same was resumed earlier this year. In January, M&T Bank's board of directors authorized a stock repurchase plan worth up to $800 million.

Currently, the company will not repurchase any shares until the closing of the merger deal with People's United Financial Inc. PBCT.

This February, M&T Bank agreed to acquire People's United in an all-stock merger deal worth $7.6 billion, which will likely complete in the fourth quarter of 2021. M&T Bank expects the deal to be instantly accretive to its tangible book value per share. Also, the merger will result in an earnings accretion of 10-12% in 2023, suggesting an estimated annual cost synergy of $330 million.

The merger with People's United is also expected to lead to increased growth prospects and the creation of shareholder value. Supported by a robust liquidity position, M&T Bank is anticipated to continue with efficient capital deployments, thereby, continuing to enhance shareholder value.

Over the past year, shares of M&T Bank have gained 31.6% compared with 56.5% growth recorded by the industry.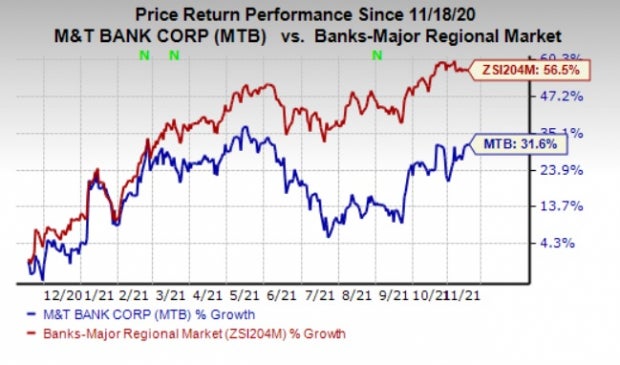 Image Source: Zacks Investment Research
Currently, M&T Bank carries a Zacks Rank #3 (Hold). You can see the complete list of today's Zacks #1 Rank (Strong Buy) stocks here.
Similar Actions by Other Finance Companies
Last month, Bank OZK OZK declared a quarterly cash dividend of 29 cents per share, reflecting a rise of 1.8% from the prior payout. The dividend was paid out on Oct 22 to shareholders of record as of Oct 15.

This was the 45th consecutive quarter of a dividend hike by Bank OZK. Prior to this, Bank OZK hiked its dividend by 1.8% to 28.5 cents per share in July. We believe that such disbursements highlight OZK's operational strength and commitment toward enhancing shareholder wealth. Over the past year, shares of the company have gained 69%.

In September, JPMorgan JPM announced a dividend of $1 per share, representing a hike of 11.1% from the prior payout. The dividend was paid out on Oct 31 to shareholders of record as of Oct 6.

Over the past year, shares of JPMorgan have gained 43.5%. For 2021, JPMorgan had authorized to repurchase shares worth up to $30 billion.
Zacks' Top Picks to Cash in on Artificial Intelligence
This world-changing technology is projected to generate $100S of billions by 2025. From self-driving cars to consumer data analysis, people are relying on machines more than we ever have before. Now is the time to capitalize on the 4th Industrial Revolution. Zacks' urgent special report reveals 6 AI picks investors need to know about today.
See 6 Artificial Intelligence Stocks With Extreme Upside Potential>>
Want the latest recommendations from Zacks Investment Research? Today, you can download 7 Best Stocks for the Next 30 Days.
Click to get this free report
JPMorgan Chase & Co. (JPM): Free Stock Analysis Report
M&T Bank Corporation (MTB): Free Stock Analysis Report
People's United Financial, Inc. (PBCT): Free Stock Analysis Report
Bank OZK (OZK): Free Stock Analysis Report
To read this article on Zacks.com click here.