Auto Stock Roundup: Buyout Updates From THO, CNHI & SMP, and More
Last week, many auto biggies released U.S. auto sales data for August. Most of them witnessed a year-over-year decline in sales volumes owing to persistent microchip shortage, which has been crippling the auto industry lately. In August, the seasonally adjusted annual rate declined to 13.09 million light vehicle units, marking the lowest SAAR reading in 2021. The chip crunch caused inventory levels to plummet to record lows and dealerships were not able to keep up with strong vehicle demand. U.S. auto giant Ford suffered the worst blow, with sales plummeting 33.1% year over year to 124,176 units. Japan-based auto giants Toyota and Honda witnessed year-over-year sales decline of 2% and 15.6%, respectively. South Korea-based automakers Hyundai and Kia posted U.S. sales of 56,200 and 54,009 units, down 3.7% and 5.3%, respectively. (Chip Crunch Derails U.S. August Auto Sales: Rough Road Ahead)
On the earnings front, Li Auto LI, BRP Inc. DOOO and ChargePoint Holdings CHPT unveiled quarterly numbers last week.
Li Auto reported second-quarter 2021 loss per share of 4 cents a share, narrower than the Zacks Consensus Estimate of a loss of 6 cents. The bottom line also improved more than 90% from the year-ago period. The China-based electric vehicle maker posted revenues of $780.4 million, up a whopping 158.7% year over year. The company expects third-quarter 2021 deliveries in the band of 25,000-26,000 vehicles, signaling a year-over-year uptick in the range of 188.7-200.2%. Revenues are envisioned in the range of $1.08-$1.12 billion, indicating a year-over-year jump of 177.8-188.9%.
BRP reported second-quarter fiscal 2022 earnings of $2.35 per share, which beat the Zacks Consensus Estimate of $1.04 and rose from 83 cents in the year-ago period. The company posted revenues of $1.55 billion for the quarter ended July 2021, surpassing the Zacks Consensus Estimate by 15.51% and increasing from $901.51 million generated in the year-ago quarter. Following strong results, BRP raised its 2022 guidance. It expects normalized EPS between $8.25 and $9.75 (higher than the prior guidance of $7.75-$8.5 a share), indicating year-over-year growth of 53-81%. The stock currently carries a Zacks Rank #3 (Hold). You can see the complete list of today's Zacks #1 Rank (Strong Buy) stocks here.
ChargePoint reported second-quarter fiscal 2022 loss of 24 cents a share, wider than the Zacks Consensus Estimate of loss of 23 cents. Quarterly revenues increased 61% year over year to $56.1 million and topped the consensus mark of $49 million. The EV charging network company ChargePoint expects third-quarter revenues in the range of $60-$65 million. It has also boosted fiscal 2022 revenue projections to $225-$235 million from the prior view of $195-$205 million.
Last Week's Top Stories
1. Tesla TSLA is set to hit India's roads soon, with the union transport ministry approving four of its models for production or import in the country. Though it is still not clear which four models received a green signal from the authorities, it is being speculated by Tesla fans that it could be Model 3 and Model Y variants, which were spotted regularly on India's roads for testing. (Tesla to Make Inroads Into India With Nod to 4 Vehicles)
Meanwhile, the EV behemoth has delayed its much-anticipated Cybertruck to late 2022. Tesla's CEO Musk further stated that owing to the new and innovated technology required in the electric pickup, the company does not expect to achieve production ramp-up and anticipates attaining volume production as late as 2023-end. The company has also delayed deliveries of the new version of electric car Roadster until 2023. This high-performing EV, which was supposed to be rolled out in 2020, has been postponed on account of supply chain disruptions. (Tesla Delays Its Cybertruck Production to Late 2022)
2. In a bid to enhance the supply chain, Thor Industries THO acquired Airxcel in a $750-MILLION deal. The buyout comes at an opportune time as the recreational vehicle (RV) maker is battling global supply chain disruptions in both Europe and North America. The deal will diversify and bolster Thor's revenues and gross profit mix, especially in the aftermarket business. The buyout is expected to be accretive to its fiscal 2022 earnings. The transaction was financed through a mix of cash and asset-based credit facility (ABL). In conjunction with the buyout, Thor expanded its ABL from $750 million to $1 billion. (Thor Enhances Supply Chain With Airxcel Acquisition)
3. Standard Motor Products SMP announced full ownership of the capital stock of Stabil Operative Group GmbH. The company will fund the buyout through cash borrowings under its revolving credit facility. It projects the deal to boost earnings in 2022. The financial terms of the deal are still under wraps. Standard Motor is optimistic of the buyout as Stabil provides the former with access to a diversified group of big-league European commercial and light vehicle OE customers, augments its product portfolio, and creates a harmony with its existing operations in Poland. (Standard Motor Enriches Product Menu on Stabil Buyout)
4. CNH Industrial CNHI entered into an agreement to purchase 90% of privately-owned Italian company, Sampierana S.p.A., and acquire full control of the company over four years, following the transaction's conclusion. The deal is worth 101.8 million euros. The transaction, expected to conclude in fourth-quarter 2021, will be funded by CNH Industrial through available cash on hand. The buyout confirms CNH Industrial's commitment to invest in and augment its construction equipment business, capturing a niche in the industry-leading mini and midi excavator segment. (CNH Industrial to Enhance Portfolio on Sampierana Acquisition)
5. Allison Transmission ALSN enhanced electrification testing capabilities at its Vehicle Environmental Test Center, and revamped the same at the Vehicle Electrification and Environmental Test Center (VE+ET). The VE+ET Center refurbishment serves as an opportunity for Allison to support persistent development of next-generation electric propulsion platforms and build new partnerships with established OEMs as well as new entrants in the transmission space. (Allison Plant Gets a Face-Lift, Electrification Betters)
The company also reached an agreement with Hino Trucks to become its e-Axle development partner for Class 6, 7 and 8 Battery Electric Vehicle (BEV) trucks. Hino will integrate Allison's eGen Power 100D e-Axle into its vehicles. Also, Hino is thrilled to be the first OEM to integrate Allison's recently-launched eGen Power 100S into its class 6 and 7 BEV trucks, marking another milestone in Hino's Project Z — Path to Zero initiative — that was announced late last year. (Allison & Hino Team Up for E-Axles on the BEV Trucks)
Price Performance
The following table shows the price movement of some of the major auto players over the past week and six-month period.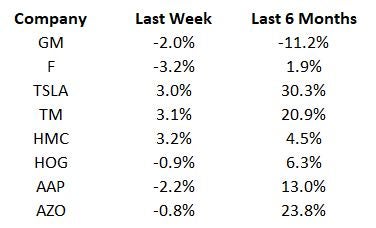 Image Source: Zacks Investment Research
In the last six months, all stocks have increased, apart from General Motors. In the past week, a mixed price trend has been displayed, with Ford losing the most and Honda registering the maximum gain.
What's Next in the Auto Space?
Industry watchers will track China vehicle sales data for August 2021, which is likely to be released by the China Association of Automobile Manufacturers later this week. Also, stay tuned for updates on how automakers will tackle the semiconductor shortage and make changes in business operations.
5 Stocks Set to Double
Each was handpicked by a Zacks expert as the #1 favorite stock to gain +100% or more in 2021. Previous recommendations have soared +143.0%, +175.9%, +498.3% and +673.0%.
Most of the stocks in this report are flying under Wall Street radar, which provides a great opportunity to get in on the ground floor.
Today, See These 5 Potential Home Runs >>
Want the latest recommendations from Zacks Investment Research? Today, you can download 7 Best Stocks for the Next 30 Days.
Click to get this free report
Thor Industries, Inc. (THO): Free Stock Analysis Report
Standard Motor Products, Inc. (SMP): Free Stock Analysis Report
Tesla, Inc. (TSLA): Free Stock Analysis Report
Allison Transmission Holdings, Inc. (ALSN): Free Stock Analysis Report
CNH Industrial N.V. (CNHI): Free Stock Analysis Report
BRP Inc. (DOOO): Free Stock Analysis Report
Li Auto Inc. Sponsored ADR (LI): Free Stock Analysis Report
ChargePoint Holdings, Inc. (CHPT): Free Stock Analysis Report
To read this article on Zacks.com click here.
Zacks Investment Research