Jones Lang LaSalle (JLL) Q3 Earnings & Revenues Beat, Stock Up
Shares of Jones Lang LaSalle Inc. JLL — popularly known as JLL — were up 4.39% during Monday's regular session as the company delivered better-than-expected results for the third quarter.

JLL reported third-quarter adjusted earnings of $2.99 per share, beating the Zacks Consensus Estimate of $1.34. Revenues for the quarter came in at $3.98 billion, surpassing the Zacks Consensus Estimate of $3.74 billion.

Despite the challenging environment, the company benefited from the resiliency of its global, full-service platform. Moreover, the company witnessed steady contributions from Property & Facility Management, reflecting the global platform's strength and evolving outsourcing trends.

However, capital markets and leasing continued to be substantially affected by the COVID-19 pandemic and quarterly adjusted earnings were down 15% from the prior-year quarter tally of $3.52. Revenues declined 12% year on year, while fee revenues slipped 22% year over year to $1.4 billion.

Apart from this, adjusted EBITDA margin, calculated on a fee-revenue basis, was 17.2% compared with the prior-year quarter's 16.5%. The expansion in net margin was mainly driven by management's cost-mitigation moves, including government relief programs. This was partly offset by net dilution from Real Estate Services (RES), marking the decline in fee revenues, particularly transactional service lines.
Behind the Headline Numbers
During the September-end quarter, JLL's RES revenues dropped 12% year over year to $3.87 billion. Notably, RES revenues declined across the geographic segments and most service lines. Capital markets and leasing declines in fee revenues highlights the year-over-year plunge in global market volumes. However, strength in the Corporate Solutions and property management businesses, particularly in the United States, helped Property &Facility Management segment in the reported quarter.

In the Americas, revenues and fee revenues came in at $2.38 billion and $773.7 million, respectively, reflecting an 11% and 26% year-over-year decline. The Americas transaction-based service lines were affected by the pandemic. Also, soft investment sales and debt placement activity hurt Capital Markets revenues. Nonetheless, new property management and Corporate Solutions clients, along with expansions of existing Corporate Solutions client relationships, helped Property & Facility Management segment register significant revenue and fee revenue growth.

Revenues and fee revenues of the EMEA segment came in at $743.8 million and $324.6 million, down 14% and 19%, respectively, from the year-ago period, reflecting the adverse impact of the pandemic. Transaction-based revenues were substantially lower, particularly in Germany, the U.K. and France.

For the Asia-Pacific segment, revenues and fee revenues came in at $743.2 million and $213.5 million, respectively, marking a year-over-year fall of 11% and 19%. Transaction-based revenues bore the brunt. Shift in deal activity away from large transactions, affected Capital Markets revenues. The decline was most notable in Japan and Greater China. Nevertheless, Property & Facility Management business reflects resiliency, with property management and Corporate Solutions staffs teaming up with clients for executing improved facilities management and re-entry plans.

Revenues in the LaSalle segment edged down 1% year over year to $110.3 million, while fee revenues remained essentially flat at $105.8 million. Solid advisory fees displayed strong private equity capital raising over the trailing 12 months. Also, the company witnessed higher transaction fees, thereby helping it offset the decline in incentive fees.

At the end of third-quarter 2020, assets under management were $65.7 billion, up 1% from the last quarter end, reflecting acquisitions and foreign currency increases.
Liquidity
JLL exited the third quarter with cash and cash equivalents of $440 million, down from $451.9 million as of Dec 31, 2019. Moreover, as of Sep 30, 2020, the company's net debt amounted to $752 million, marking a decline of $320 million from June end and nearly $730 million from September 2019 end reflecting the operating cash flow drivers.

During the reported quarter, approximately 258,000 shares were repurchased for $25 million.

JLL currently carries a Zacks Rank #4 (Sell).

You can see the complete list of today's Zacks #1 Rank (Strong Buy) stocks here.
Jones Lang LaSalle Incorporated Price, Consensus and EPS Surprise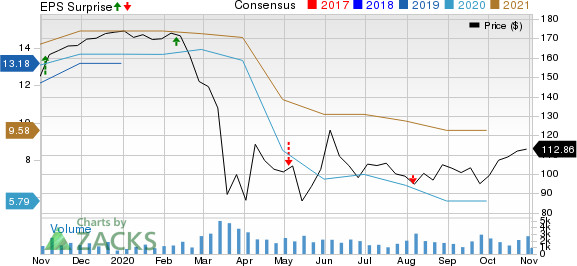 Jones Lang LaSalle Incorporated price-consensus-eps-surprise-chart | Jones Lang LaSalle Incorporated Quote
Recently, JLL's peer, CBRE Group Inc. CBRE reported third-quarter 2020 adjusted earnings per share of 73 cents, beating the Zacks Consensus Estimate of 44 cents. However, the figure slid 8.3% year over year. Despite the pandemic's adverse impact on property leasing and sales, the company is benefiting from the "resilient aspects" of its business and efforts to align expenses with decline in market demand.

We, now, look forward to the earnings releases of other companies in the broader real estate sector like Federal Realty Investment Trust FRT and Kimco Realty Corporation KIM, scheduled for a Nov 5 release.
Legal Marijuana: An Investor's Dream
Imagine getting in early on a young industry primed to skyrocket from $17.7 billion in 2019 to an expected $73.6 billion by 2027.

Although marijuana stocks did better as the pandemic took hold than the market as a whole, they've been pushed down. This is exactly the right time to get in on selected strong companies at a fraction of their value before COVID struck. Zacks' Special Report, Marijuana Moneymakers, reveals 10 exciting tickers for urgent consideration.

Download Marijuana Moneymakers FREE >>
Want the latest recommendations from Zacks Investment Research? Today, you can download 7 Best Stocks for the Next 30 Days.
Click to get this free report
Kimco Realty Corporation (KIM): Free Stock Analysis Report
Federal Realty Investment Trust (FRT): Free Stock Analysis Report
Jones Lang LaSalle Incorporated (JLL): Free Stock Analysis Report
CBRE Group, Inc. (CBRE): Free Stock Analysis Report
To read this article on Zacks.com click here.
Zacks Investment Research