Facebook (FB) Introduces GIF Button in its Comment Section
Facebook Inc FB has finally added a dedicated GIF button to the comments section of its News Feed, reports TechCrunch. The button will enable users to find and post GIFs from sites likes Giphy and Tenor.
GIF or Graphic Interchange Format is a bitmap format developed by Steve Wilhite exactly 30 years ago. It became extremely popular after the "Lempel–Ziv–Welch (LZW) lossless data compression technique" was added to it. The new technique not only reduced the file size but kept the visual quality intact at the same time.
In 2015, Facebook first added support for incorporating a GIF file by enabling users to add the GIF link in the Status Bar and post it. However, TechCrunch observes that the social media platform took a lot of time even in adding support for GIFs as it was not sure of the kind of impact it would have on the News Feed's visual quality. However, increasing relevance of other social media services, which allowed usage of GIFs, Facebook was compelled to ultimately add GIFs.
Facebook, Inc. Price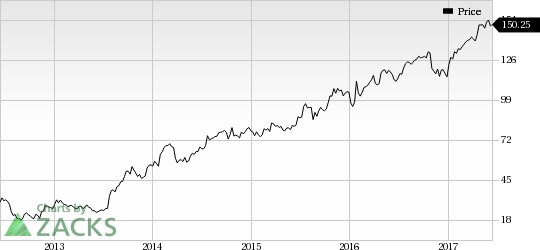 Notably, the company's messaging service, Messenger, also supports GIFs. Facebook has been quoted by TechCrunch saying that over 13 billion GIFs were sent on the platform over the past year. On New Year's Day, 2017, Facebook claims that about 400 million GIFs were sent on Messenger.
Meanwhile, in a separate development, the company will soon add a tool to its Safety Check feature, whereby users (only in the U.S. for the time being) will be able to raise/donate funds for victims of "natural disasters and violent attacks", as reported by Reuters. The report added that Facebook will soon make its Community Help Feature available on the desktop version of its site.
Zacks Rank & Stock Price Movement
At present, Facebook carries a Zacks Rank #3 (Hold). You can see the complete list of today's Zacks #1 Rank (Strong Buy) stocks here.
In the past one year, Facebook has vastly outperformed the broader market. Shares of Facebook have rallied over 31.1% compared with the Zacks categorized Internet Service industry's gain of 22.5%.

Stocks to Consider
Some better-ranked stocks in the broader tech space are TiVo Corp TIVO, MercadoLibre MELI and Ollie's Bargain Outlet Holdings OLLI. While TiVo Corp and MercadoLibre sport a Zacks Rank #1, Ollie's Bargain Outlet holds a Zacks Rank #2 (Buy).
In the trailing four quarters, TiVo, MercadoLibre and Ollie's Bargain Outlet delivered average positive earnings surprises of 67.56%, 26.74% and 14.56%, respectively.
3 Stocks to Ride a 588% Revenue Explosion
At Zacks, we're mostly focused on short-term profit cycles, but the hottest of all technology mega-trends is starting to take hold...
By last year, it was already generating $8 billion in global revenues. By 2020, it's predicted to blast through the roof to $47 billion. Famed investor Mark Cuban says it will produce "the world's first trillionaires," but that should still leave plenty of money for those who make the right trades early.See Zacks' Top 3 Stocks to Ride This Space >>
Want the latest recommendations from Zacks Investment Research? Today, you can download 7 Best Stocks for the Next 30 Days.
Click to get this free report
Ollie's Bargain Outlet Holdings, Inc. (OLLI): Free Stock Analysis Report
MercadoLibre, Inc. (MELI): Free Stock Analysis Report
Facebook, Inc. (FB): Free Stock Analysis Report
TiVo Corporation (TIVO): Free Stock Analysis Report
To read this article on Zacks.com click here.
Zacks Investment Research