FirstEnergy's (FE) Unit Uses Aerial Crew for Tree Trimming
FirstEnergy Corporation's FE subsidiary, Potomac Edison, has announced that it is using aerial saw services to complete the vegetation management along 182 miles of high-voltage transmission line corridors in Maryland, West Virginia and Virginia. The tree-trimming project will ensure better upkeep of trees, enhance electric service reliability and reduce the frequency and duration of tree-related power outages, especially during severe weather conditions.

As part of the $33 million vegetation management program, Potomac Edison will cut trees along nearly 3,100 miles of distribution power lines in Maryland and West Virginia this year. Instead of sending ground crews to each facility, FE is deploying aerial saw services that are quicker and more effective in areas that are environmentally sensitive or inaccessible to bucket trucks and other vehicles. This safe and efficient method of trimming typically covers more area in a day than a ground crew might complete in a week.
Need for Maintenance
Maintaining vegetation along power lines is the first defense mechanism in preventing tree-related power outages. This ensures that transmission lines operate properly during extreme weather to efficiently transfer high-voltage power from generation units to designated locations.

FirstEnergy is working steadily on maintaining its infrastructure. It employs tree contractors annually who work round the year to ensure proper vegetation management in the company's electric lines. The aerial saw service used by FE cleanly cuts tree limbs 8-10 inches in diameter, which fall straight to the ground propelled by air blasts from the helicopter rotors. This fast, secure and efficient method of tree-trimming reduced service interruption by 20% in 2021 compared with 2019.

On Sep 14, 2022, FirstEnergy's another unit, The Illuminating Company, completed the vegetation management of a complex $3 million tree-trimming project for nearly 100 power lines in the City of Cleveland. The project will enhance electric service reliability for more than 25,000 customers and provide greater flexibility to restore power outages during the upcoming winter storm season.
Utilities' Focus on Infrastructure
To provide 24X7 electricity supply to consumers, utilities are investing heavily in strengthening their infrastructure. They are replacing old transmission and distribution lines, undergrounding distribution lines and going for technological upgrades to increase the resiliency of infrastructure for withstanding the impact of extreme weather conditions. Xcel Energy XEL, NiSource NI and Pinnacle West Capital PNW are some of the leading utilities.

Xcel Energy continues to invest substantially in its utility assets and aims to strengthen and expand its transmission, distribution, electric generation and renewable projects. XEL aims to spend $26 billion during the 2022-2026 period, which includes $1.5 to $2.5 billion in incremental opportunities.

NiSource is working on a long-term utility infrastructure modernization program and made capital investments worth $1.9 billion in 2021. It plans to invest in the range of $2.4-$2.7 billion in 2022. NI estimated $40-BILLION long-term natural gas and electric infrastructure investment opportunities, which are expected to drive earnings beyond 2024.

To efficiently serve its expanding customer base, Pinnacle West Capital has systematic investment plans to increase generation and strengthen its transmission and distribution lines. After investing $1.5 billion in 2021, it aims at investing $1.53 billion in 2022. Pinnacle West Capital also plans to invest $4.7 billion during the 2022-2024 period.
Zacks Rank & Price Performance
Currently, FirstEnergy carries a Zacks Rank #3 (Hold). In the past month, shares of FE have declined 6%, narrower than the industry's decline of 10.5%. You can see the complete list of today's Zacks #1 Rank (Strong Buy) stocks here.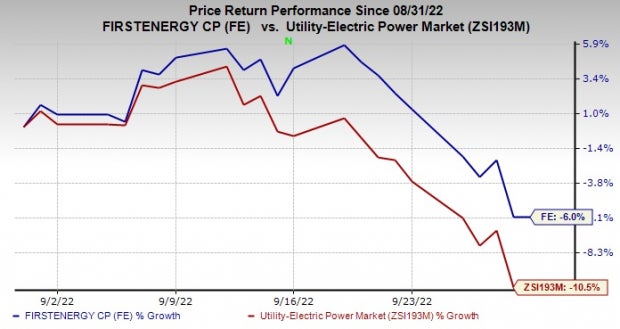 Image Source: Zacks Investment Research
This Little-Known Semiconductor Stock Could Be Your Portfolio's Hedge Against Inflation
Everyone uses semiconductors. But only a small number of people know what they are and what they do. If you use a smartphone, computer, microwave, digital camera or refrigerator (and that's just the tip of the iceberg), you have a need for semiconductors. That's why their importance can't be overstated and their disruption in the supply chain has such a global effect. But every cloud has a silver lining. Shockwaves to the international supply chain from the global pandemic have unearthed a tremendous opportunity for investors. And today, Zacks' leading stock strategist is revealing the one semiconductor stock that stands to gain the most in a new FREE report. It's yours at no cost and with no obligation.
>>Yes, I Want to Help Protect My Portfolio During the Recession
Want the latest recommendations from Zacks Investment Research? Today, you can download 7 Best Stocks for the Next 30 Days.
Click to get this free report
Xcel Energy Inc. (XEL): Free Stock Analysis Report
NiSource, Inc (NI): Free Stock Analysis Report
FirstEnergy Corporation (FE): Free Stock Analysis Report
Pinnacle West Capital Corporation (PNW): Free Stock Analysis Report
To read this article on Zacks.com click here.
Zacks Investment Research