3 Consumer Staples Stocks to Consider Buying for Inflation Protection
Many consumer staples companies offer products that are often necessities even in bad economic conditions. This gives consumer staples stocks hedging capabilities against inflation or events that might derail the broader market such as an economic slowdown or recession.
Many consumer staples stocks have also outperformed the broader market so far this year as they offer growth and value despite tough operating conditions for many businesses.
Let's take a look at three consumer staples stocks that can potentially offer protection against inflation.
The Chef's Warehouse CHEF
After its 2017 IPO, The Chef's Warehouse has become a consumer staples stock that investors may want to familiarize themselves with. The Chefs' Warehouse is a distributor of specialty food products in the U.S. The company caters to the specific needs of chefs who operate restaurants in a variety of establishments, with a focus on higher-end dining. Chef's Warehouse's product portfolio includes artisan charcuterie, caviar, specialty cheeses, and many other ingredients geared toward the specific usage of professional cooks.
CHEF currently sports a Zacks Rank #1 (Strong Buy) with earnings estimates on the rise. Year to date, CHEF is down -7% to outperform the S&P 500's -22%. Despite being down YTD, CHEF is up impressive +124% over the last two years to crush the benchmark.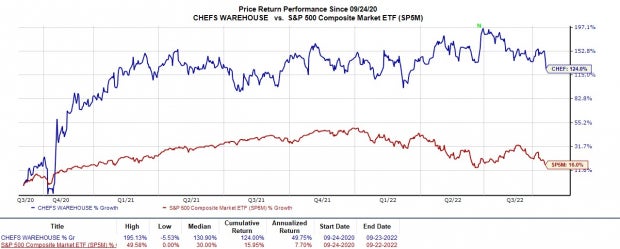 Image Source: Zacks Investment Research
Trading around $30 a share, CHEF has a forward P/E 22.3X. This is above the industry average of 17.7X. However, this is much lower than its high of 50.7X and the median of 32X over the last year. Rising earnings estimate revisions are starting to support CHEF's niche among the consumer staples sector and as a possible hedge in current market conditions.
Chef's Warehouse is expected to swing from an annual loss of -$0.05 per share all the way to +$1.36 a share. Fiscals 2023 calls for another 16% earnings growth. Top line growth indicates CHEF is able to keep growing in the midst of inflation, with sales expected to be up 41% in FY22 and another 10% in FY23 to $2.70 billion.
Plus, the average Zacks Price Target suggests upside of 50% from current levels. Higher income customers are still spending on fine dining which continues to support upscale restaurants use of Chef's Warehouse as a distributor of specialty food products.
General Mills GIS
A well-known name for investors to consider out of the consumer staples sector is General Mills (GIS). General Mills is a global manufacturer and marketer of branded consumer foods sold in retail stores. The company serves the foodservice and commercial baking industries through products that include cereals, convenient mills, snacks, and ice cream.
General Mills' familiarized consumer products are considered necessities even through tough economic times. This is why analysts and investors look to GIS during recessionary periods.
CEO Jeff Harmening said on GIS' earnings call that the company continues to deliver strong performance in a highly volatile operating environment. Harmening went on to say General Mills is raising its full year outlook for net sales, operating profit, and EPS growth, which is rather striking as the earnings outlook for the broader S&P 500 outside of energy is trending in the wrong direction.
This gives optimism to investors with GIS providing the positive outlook and raising its guidance just a few days ago after beating earnings expectations by 11% at $1.11 a share.
GIS is up an impressive +17% year to date to outperform the benchmark. Even better, over the last year GIS is up +31% to crush the S&P 500's -17% decline.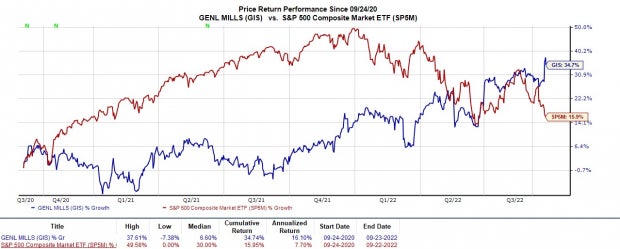 Image Source: Zacks Investment Research
At current levels GIS has a forward P/E of 19.4X, not to far from the industry average of 17.7X. GIS currently trades around its high over the last five years of 20.2X and above the median of 16.2X. However, estimate revisions for 2022 and Fiscal 2023 are starting to go up.
According to Zacks estimates, GIS earnings are expected to be up 3% in 2022 at $4.07 per share. Fiscal 2023 earnings are expected to grow another 7%. Sales are expected to be up 2% this year and another 2% in FY23 to $19.87 billion.
GIS currently lands a Zacks Rank #2 (Buy). With inflationary concerns prevalent in the broader economy, investors might want to consider buying GIS. General Mills products will remain necessary even during times of economic strain and might even become more popular. GIS also offers investors a respectable annual dividend yield of 2.73% at $2.16 a share.
Coca-Cola KO
Coca-Cola's beverages will still be consumed even when the economy drifts toward recessionary periods. Coca-Cola is a global operator and distributor of over 4,700 beverage products and more than 500 brands. KO is only down -1% in 2022 to outperform the benchmark. Over the last two years KO is up +20% vs. the S&P 500's +16%.


Image Source: Zacks Investment Research
Trading around $58 a share, KO has a forward P/E 23.7X. This is on par with the industry average. KO trades below its high of 29X over the last two years and its 25.2X median.
KO's earnings are expected to be up 6% this year at $2.46 a share. And fiscal year 2023 calls for another 5% earnings growth. Sales are expected to be up 9% in 2022 and another 3% in FY23 to $43.73 billion.
KO currently lands a Zacks Rank #3 (Hold) and its Beverages-Soft drinks Industry is in the top 27% of over 250 Zacks Industries. Coco-Cola is one of the quintessential consumer staples companies that tends to perform well during good times and bad. And its 3% dividend yield tops rival PepsiCo's (PEP) 2.7%.
Bottom Line
With the Fed raising interest rates again last week, fear is beginning to ring out in markets. This can also spill over to the broader economy and lead to a tightening in consumer spending.
Many Consumer Staples Sector companies offer products that remain essential even during recessionary environments and periods of high inflation, making them ideal candidates for the current times.
5 Stocks Set to Double
Each was handpicked by a Zacks expert as the #1 favorite stock to gain +100% or more in 2021. Previous recommendations have soared +143.0%, +175.9%, +498.3% and +673.0%.
Most of the stocks in this report are flying under Wall Street radar, which provides a great opportunity to get in on the ground floor.
Today, See These 5 Potential Home Runs >>
Want the latest recommendations from Zacks Investment Research? Today, you can download 7 Best Stocks for the Next 30 Days.
Click to get this free report
CocaCola Company The (KO): Free Stock Analysis Report
General Mills, Inc. (GIS): Free Stock Analysis Report
The Chefs' Warehouse, Inc. (CHEF): Free Stock Analysis Report
To read this article on Zacks.com click here.
Zacks Investment Research