Sallie Mae (SLM) Tops Q3 Earnings Estimates, Hikes Dividend
Sallie Mae SLM, formally known as SLM Corporation, reported third-quarter 2021 core earnings per share of 24 cents, which handily surpassed the Zacks Consensus Estimate of 17 cents. The bottom line compared unfavorably with 45 cents reported in the prior-year quarter.
Results benefited from the company's prudent cost management and improved fee income. Private education loan originations were also strong in the quarter. The company enhanced its capital deployment plans. However, lower net interest income (NII) on a decline in interest income from loans posed a major undermining factor.
The company's GAAP net income attributable to common stock was $73 million, down 57% year over year.
NII Declines, Expenses Fall
NII in the third quarter was $357.5 million, down 2% year over year. Nonetheless, the reported figure outpaced the Zacks Consensus estimate of $342.7 million. The net interest margin expanded to 5.03% from 4.79% in the year-ago quarter.
The company's non-interest income was $14 million, up 40% from the prior-year quarter. The rise mainly stemmed from higher other income, and gain on derivatives and hedging activities.
Sallie Mae's non-interest expenses fell 7.2% year over year to $141 million. The fall mainly resulted from lower restructuring expenses, partly offset by higher FDIC assessment fees, compensation and benefits, and other operating expenses.
Credit Quality: A Mixed Bag
The company recorded an expense for provision for credit losses of $138 million against a benefit of $4 million in the prior-year quarter.
Delinquencies as a percentage of private education loans in repayment were 2.4 %, down from 3 % in the prior-year quarter.
Loans Rise, Deposits Decrease
As of Sep 30, 2021, deposits of Sallie Mae were $20.9 billion, down 1.1 % sequentially. Lower brokered as well as retain and other deposits contributed to the downside.
Private education loan held for investment was $20.6 billion, up 6.1% on a sequential basis. In the quarter, the company witnessed private education loan originations of $2.1 billion.
Enhanced Capital Deployment Activities
In the third quarter, the company repurchased 13 million shares of its common stock for $244 million under its share repurchase programs.
Its board of directors also approved an increase in the share buyback authorization by $250 million to the company's 2021 share repurchase program. With this as of Oct 20, 2021, $301 million of capacity remains which will expire on Jan 26, 2023.
The company also announced a fourth-quarter dividend of 11 cents per share on its common shares. The dividend will be paid out on Dec 15 to its shareholders of record as of Dec 3, 2021. The dividend indicates a significant increase from 3 cents paid out in the previous quarter.
2021 Outlook
The company expects core earnings per share (on a GAAP basis) of $3.55-$3.60.
It anticipates total portfolio net charge-offs of $195-$205 million.
Private education loan originations are projected to grow 3-4% year over year.
The company's non-interest expenses are expected to be $525-$530 million.
Our Viewpoint
Sallie Mae remains focused on maintaining a solid capital position by introducing multiple complementary products and improving efficiency. Additionally, its aim to solidify presence in the consumer banking business bodes well. We believe that improving economic conditions will further assist Sallie Mae in maintaining its leading position in the student lending market. Robust capital deployment activities are likely to drive its share price.
SLM Corporation Price, Consensus and EPS Surprise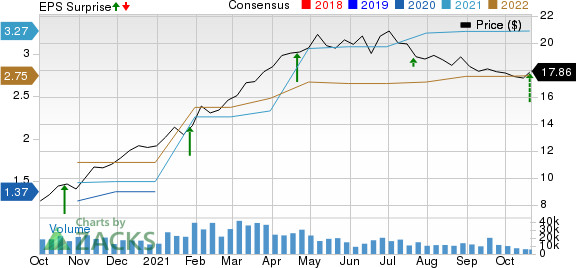 SLM Corporation price-consensus-eps-surprise-chart | SLM Corporation Quote
Currently, the company carries a Zacks Rank #2 (Buy). You can see the complete list of today's Zacks #1 Rank (Strong Buy) stocks here.
Performance of Other Finance Stocks
Synovus Financial SNV reported third-quarter 2021 adjusted earnings of $1.20 per share, which beat the Zacks Consensus Estimate of $1.07 per share, aided by solid revenues. Also, the bottom line compared favorably with earnings of 89 cents per share recorded in the year-ago quarter.
Northern Trust Corporation NTRS reported third-quarter 2021 earnings per share of $1.80, which surpassed the Zacks Consensus Estimate of $1.67 on the release of credit reserves. The bottom line increased year over year from $1.32.
M&T Bank Corporation MTB reported an earnings surprise of 6.82% in third-quarter 2021. Net operating earnings per share of $3.76 surpassed the Zacks Consensus Estimate of $3.52. The bottom line also compared favorably with the $3.45 per share reported in the year-ago period.
Infrastructure Stock Boom to Sweep America
A massive push to rebuild the crumbling U.S. infrastructure will soon be underway. It's bipartisan, urgent, and inevitable. Trillions will be spent. Fortunes will be made.
The only question is "Will you get into the right stocks early when their growth potential is greatest?"
Zacks has released a Special Report to help you do just that, and today it's free. Discover 7 special companies that look to gain the most from construction and repair to roads, bridges, and buildings, plus cargo hauling and energy transformation on an almost unimaginable scale.
Download FREE: How to Profit from Trillions on Spending for Infrastructure >>
Want the latest recommendations from Zacks Investment Research? Today, you can download 7 Best Stocks for the Next 30 Days.
Click to get this free report
Synovus Financial Corp. (SNV): Free Stock Analysis Report
SLM Corporation (SLM): Free Stock Analysis Report
M&T Bank Corporation (MTB): Free Stock Analysis Report
Northern Trust Corporation (NTRS): Free Stock Analysis Report
To read this article on Zacks.com click here.
Zacks Investment Research