Here's Why You Should Consider Buying Altra Industrial Stock
Altra Industrial Motion Corp. AIMC can currently be considered a smart choice for investors seeking exposure in the manufacturing industry. The pandemic-induced demand for some products, and cost-reduction and deleveraging moves are the major tailwinds for the company.

The Braintree, MA-based company currently sports a Zacks Rank #1 (Strong Buy). It belongs to the Zacks Manufacturing – General Industrial industry, which belongs to the broader Zacks Industrial Products sector.

Below we discussed why it is worth investing in Altra Industrial.

Healthy Performance and Top-Line Tailwinds: The company performed well in the last reported quarter, with earnings and sales surpassing estimates by 47.7% and 5.5%, respectively.

Amid the pandemic environment, healthy demand for products used in ventilators, infusion systems, CT scanners and other products has been proving beneficial for Altra Industrial. Also, growing business in medical equipment and factory automation markets will likely aid the company.

Long-Term Opportunities: An effective supply chain, cost-management actions, technological expertise and e-commerce capabilities might be beneficial for Altra Industrial, going forward.

Also, a well-diversified business structure — with operations in energy, general industrial, material handling, food processing, mining, industrial automation, transportation, turf & garden, and other markets — has been aiding the company over time.

Deleveraging Actions and Liquidity Position: It believes that a healthy liquidity position will help it effectively deal with the difficult environment and also deleverage its balance sheet.

Exiting first-quarter 2020, Altra Industrial had $195 million available under its credit line, and $327 million as cash and cash equivalents. In addition, it believes that the reduction in capital expenditure from $45-$50 million to $40-$45 million for 2020 as well as slashing the quarterly dividend rate by 75% will help boost liquidity.

The company repaid $6 million of its borrowings under its term-loan facility in the first quarter of 2020.

Share Price Performance & Earnings Estimates: We believe that impressive financial results must have helped drive sentiments for the stock. Notably, the company's shares have gained 56.3% in the past three months against the industry's 6.2% growth.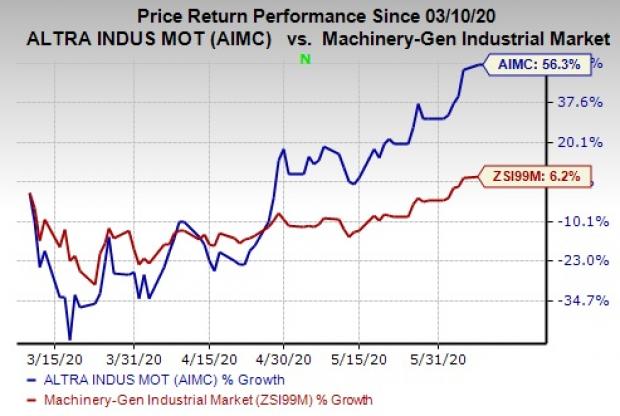 Also, Altra Industrial's earnings estimates have been revised positively in the past 60 days. Currently, the Zacks Consensus Estimate for its earnings is pegged at 31 cents per share for the second quarter and 37 cents for the third quarter, reflecting growth of 181.8% and 12.1% from the 60-day-ago figures. Also, the consensus estimate for 2020 has been increased by 26% to $1.84 in the past 60 days.

Altra Industrial Motion Corp. Price and Consensus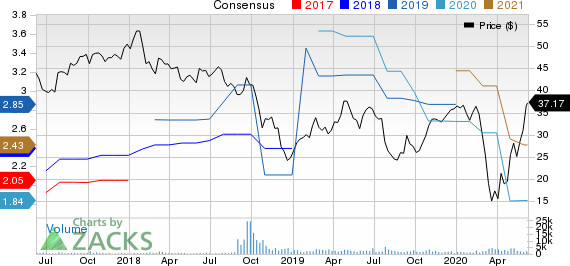 Altra Industrial Motion Corp. price-consensus-chart | Altra Industrial Motion Corp. Quote

Other Key Picks

Three other better-ranked stocks in the industry are Applied Industrial Technologies, Inc. AIT, DXP Enterprises, Inc. DXPE and Parker-Hannifin Corporation PH. While both Applied Industrial and DXP Enterprises sport a Zacks Rank #1, Parker-Hannifin carries a Zacks Rank #2 (Buy). You can see the complete list of today's Zacks #1 Rank stocks here.

In the past 60 days, earnings estimates for the stocks have improved for the current year. Further, positive earnings surprise for the last reported quarter was 2.00% for Applied Industrial, 55% for DXP Enterprises and 29.20% for Parker-Hannifin.

Looking for Stocks with Skyrocketing Upside?

Zacks has just released a Special Report on the booming investment opportunities of legal marijuana.

Ignited by new referendums and legislation, this industry is expected to blast from an already robust $6.7 billion to $20.2 billion in 2021. Early investors stand to make a killing, but you have to be ready to act and know just where to look.

See the pot trades we're targeting>>
Want the latest recommendations from Zacks Investment Research? Today, you can download 7 Best Stocks for the Next 30 Days.
Click to get this free report
Applied Industrial Technologies, Inc. (AIT): Free Stock Analysis Report
ParkerHannifin Corporation (PH): Free Stock Analysis Report
DXP Enterprises, Inc. (DXPE): Free Stock Analysis Report
Altra Industrial Motion Corp. (AIMC): Free Stock Analysis Report
To read this article on Zacks.com click here.
Zacks Investment Research