Biotech Stock Roundup: AMGN's Q2 Earnings, CCXI Acquisition & More Updates
The biotech sector has been in the spotlight in the past week on earnings releases. Acquisitions and collaborations were also in the spotlight. Other pipeline and regulatory updates grabbed focus as well.
Recap of the Week's Most Important Stories:
Amgen's Q2 Earnings, CCXI Deal: Amgen AMGN beat on both counts in the second quarter. It reported revenues of $6.59 billion in the second quarter, which beat the Zacks Consensus Estimate of $6.54 billion and were up 1% year over year, driven by growth in product sales. Earnings of $4.65 per share easily beat the Zacks Consensus Estimate of $4.40 and jumped from $1.77 reported in the year-ago quarter. Lower operating expenses and share count boosted earnings in the quarter.
Concurrently, Amgen announced that it will acquire ChemoCentryx CCXI for $52 per share in cash or approximately $3.7 billion. The acquisition will add ChemoCentryx's newly approved drug, Tavneos (avacopan) to Amgen's inflammation and nephrology portfolio. Tavneos is an orally administered selective complement component 5a receptor inhibitor. It was approved by the FDA in October 2021 as an adjunctive treatment for adult patients with severe active ANCA-associated vasculitis, specifically granulomatosis with polyangiitis (GPA) and microscopic polyangiitis (MPA) (the two main forms of ANCA-associated vasculitis), in combination with standard therapy. Sales of the drug came in at $5.4 million. Shares of ChemoCentryx almost doubled on the same.
The acquisition has been unanimously approved by the board of directors of both companies. It is expected to close in the fourth quarter of 2022, subject to shareholders' approval and other regulatory approvals.
Amgen currently carries a Zacks Rank #3 (Hold). You can see the complete list of today's Zacks #1 Rank (Strong Buy) stocks here.
Mersana Surges on GSK Deal: Shares of clinical-stage biopharmaceutical company Mersana Therapeutics, Inc. MRSN surged after the company announced a collaboration deal with GSK plc GSK. The acquisition provides GSK an exclusive option to co-develop and commercialize XMT-2056, an Immunosynthen ADC that targets a novel epitope of HER2. XMT-2056 is designed to activate the innate immune system through STING signaling in both tumor-resident immune cells and tumor cells. Per the terms, Mersana will receive an upfront option purchase fee of $100 million. Mersana is also eligible to receive up to $1.36 billion in the form of an option exercise payment and development, regulatory and commercial milestone payments if GSK exercises its option.
Mersana has retained options to profit-share and to co-promote in the United States and is entitled to receive tiered royalties on net sales outside of the United States if it exercises this option. If Mersana does not elect to profit-share, it is eligible to receive double-digit tiered royalties on global net sales. Mersana expects to initiate an initial stage study of XMT-2056 to investigate its potential in a range of HER2-expressing tumors such as breast, gastric and non-small-cell lung cancers.
Vertex Q2 Results: Vertex Pharmaceuticals VRTX surpassed revenues and earnings in the second quarter. The company reported earnings per share of $3.60 in the quarter, which beat the Zacks Consensus Estimate of $3.48. Vertex recorded earnings of 17 cents in the year-ago quarter. Strong cystic fibrosis (CF) product revenues and lower acquired in-process research and development expenses boosted the bottom line. Revenues of $2.2 billion, which surpassed the Zacks Consensus Estimate of $2.13 billion, comprised fully of CF product revenues. Total product revenues rose 22% year over year, primarily driven by higher sales of Trikafta (marketed as Kaftrio in Europe). Importantly, the company raised its previously issued product sales guidance for 2022 from $8.4-$8.6 billion to $8.6-$8.8 billion.
The increase was attributable to robust sales of Kaftrio/Trikafta in international markets following new reimbursements recently secured in France, Spain and Italy.
Performance
The Nasdaq Biotechnology Index has gained 5.32% in the past five trading sessions. Among the biotech giants, Vertex has gained 7.54% during the period. Over the past six months, shares of Vertex have surged 25.38%. (See the last biotech stock roundup here: Biotech Stock Roundup: BMY, BIIB's Q2 Earnings, GILD's Updates & More)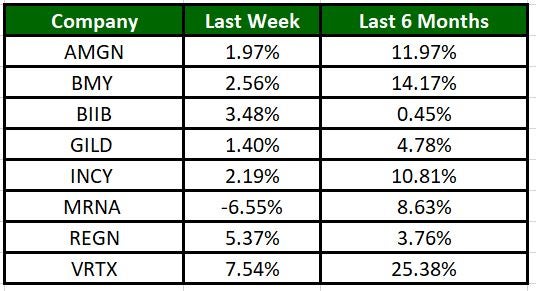 Image Source: Zacks Investment Research
What's Next in Biotech?
Stay tuned for earnings and other updates.



Zacks' Top Picks to Cash in on Electric Vehicles
Big money has already been made in the Electric Vehicle (EV) industry. But, the EV revolution has not hit full throttle yet. There is a lot of money to be made as the next push for future technologies ramps up. Zacks' Special Report reveals 5 picks investors
See 5 EV Stocks With Extreme Upside Potential >>
Want the latest recommendations from Zacks Investment Research? Today, you can download 7 Best Stocks for the Next 30 Days.
Click to get this free report
GSK PLC Sponsored ADR (GSK): Free Stock Analysis Report
Amgen Inc. (AMGN): Free Stock Analysis Report
Vertex Pharmaceuticals Incorporated (VRTX): Free Stock Analysis Report
ChemoCentryx, Inc. (CCXI): Free Stock Analysis Report
Mersana Therapeutics, Inc. (MRSN): Free Stock Analysis Report
To read this article on Zacks.com click here.
Zacks Investment Research