Omnicell (OMCL) Faces Lingering Cost Woes, Fierce Competition
Omnicell, Inc.'s OMCL increasing cost of production continues to hamper the company's margin performance. Weak hospital spending trends and tough competition also pose threats. Currently, Omnicell carries a Zacks Rank #4 (Sell).
The company has adopted several strategies to drive its top line including portfolio expansion, acquisitions and further penetration in the medication adherence market. Thus, the company continues to battle escalating costs. Also, the company continues to expect higher costs in the upcoming quarters, stemming from the integration of new acquisitions and the expenses related to the XT series and IV workflow.

In the first quarter, total cost of revenues increased 7.9% year over year. Selling, general, and administrative expenses too rose 9.9% in the quarter. Further, the company's second-quarter 2021 guidance includes additional freight costs, given pandemic-induced difficult global market conditions. This might impact margins in the second quarter.
Further, hospital purchases continue to remain a challenge for the small community hospitals compared with the bigger ones owing to financial constraints. This is reflected in the data provided by the company, which suggests that 70% of small hospitals in the United States deploy automated dispensing cabinets versus 96% and 99% for medium and large hospitals, respectively.
Intense competition in the medication management and supply chain solutions market is another major downside.
Omnicell, Inc. Price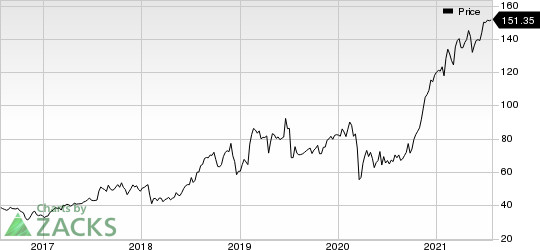 On a positive note, over the past six months, Omnicell's shares have outperformed the industry it belongs to. The stock has gained 19.5% against the industry's 34.3% decline.
Omnicell exited the first quarter with better-than-expected revenues and earnings. The top line rose year over year on growth across both the operating segments. In the quarter, there has beenarecord increase in the number of long-term sole-source contracts with the addition of top 300 U.S. health systems. One of the new wins is the largest single sole-source agreement in Omnicell's history. A top 10 U.S. health system has chosen Omnicell to help them design and implement complex pharmacy workload.
Overall, the company's optimism about the gradual resumption of elective surgeries is encouraging. The company is advancing autonomous pharmacy by expanding portfolio and investing in the digital cloud-based platform. The raised adjusted EPS guidance also buoys optimism.
Key Picks
A few better-ranked stocks from the Medical-Products industry include Envista Holdings Corporation NVST, HillRom Holdings, Inc. HRC and BellRing Brands, Inc. BRBR, each carrying a Zacks Rank #2 (Buy). You can see the complete list of today's Zacks #1 Rank (Strong Buy) stocks here.
Envista Holdings has a long-term earnings growth rate of 26.4%.
HillRom Holdings has a long-term earnings growth rate of 7.9%.
BellRing Brands has a long-term earnings growth rate of 25.3%.
Time to Invest in Legal Marijuana
If you're looking for big gains, there couldn't be a better time to get in on a young industry primed to skyrocket from $17.7 billion back in 2019 to an expected $73.6 billion by 2027.
After a clean sweep of 6 election referendums in 5 states, pot is now legal in 36 states plus D.C. Federal legalization is expected soon and that could be a still greater bonanza for investors. Even before the latest wave of legalization, Zacks Investment Research has recommended pot stocks that have shot up as high as +285.9%.
You're invited to check out Zacks' Marijuana Moneymakers: An Investor's Guide. It features a timely Watch List of pot stocks and ETFs with exceptional growth potential.
Today, Download Marijuana Moneymakers FREE >>
Want the latest recommendations from Zacks Investment Research? Today, you can download 7 Best Stocks for the Next 30 Days.
Click to get this free report
Omnicell, Inc. (OMCL): Free Stock Analysis Report
HillRom Holdings, Inc. (HRC): Free Stock Analysis Report
Envista Holdings Corporation (NVST): Free Stock Analysis Report
BellRing Brands, Inc. (BRBR): Free Stock Analysis Report
To read this article on Zacks.com click here.
Zacks Investment Research