The ODP Corporation (ODP) Q2 Earnings Miss Estimates, Sales Up
The ODP Corporation ODP posted second-quarter 2021 results, with the top and the bottom line improving year on year. Sales surpassed the Zacks Consensus Estimate, while earnings missed the same.

Performance during the quarter gained from sales growth across all segments. Management highlighted that the company witnessed strong demand for its core products and services as businesses began operating normally and schools returned to in-class learning. Such upsides favored the company's Retail and Business Solutions Division operations. Also, the company's low-cost model approach contributed to revenues.

As the company enters into the second half of 2021, it is on track with boosting digital business platform. Also, management made modifications in its plans for splitting the business. The company will now be spinning off its consumer business, while retaining the B2B operations.
Let's Introspect
This provider of business services and supplies, products and digital workplace technology solutions posted adjusted earnings of 51 cents per share, which missed the Zacks Consensus Estimate of 54 cents. In the prior-year quarter, the company incurred a loss of 7 cents.

The ODP Corporation's total sales of $2,286 million surpassed the consensus mark of $2,272 million and increased 6% year over year. The upside was driven by improved business activity as the public sector returned to work and schools reopened.

Product sales during the quarter were up 6% year on year to $1,961 million owing to higher demand for core supply product categories, workspaces and technology. Service revenues increased 8% to $325 million, backed by higher demand for managed print and fulfillment as well as copy and print services in both Business Solutions Division and Retail Division.

Adjusted operating income amounted to $44 million, up from $10 million reported in the year-ago quarter. Adjusted EBITDA came in at $93 million, up from $59 million in the prior-year quarter.
The ODP Corporation Price, Consensus and EPS Surprise

The ODP Corporation price-consensus-eps-surprise-chart | The ODP Corporation Quote
Segment Performance
Sales in the Business Solutions Division (BSD) improved 12% year over year to $1,146 million. The segment gained from stronger demand from B2B customers especially in the public and education sectors as they continued to recover from conditions related to the pandemic. The unit also gained from sales through the B2B contract channel, partially offset by lower sales in its e-commerce channel. The BSD segment witnessed higher demand for core supply products and services. Adjacency categories contributed 44% to overall BSD sales.

Segment operating income came in at $31 million, up from $13 million reported in the year-ago period. Operating margin expanded 140 basis points (bps) to 2.7%.

In the reported quarter, the Retail Division's sales came is at $914 million, up 0.2% from $912 million reported in the prior-year quarter. Management informed that the retail segment had 169 fewer retail outlets in the reported quarter compared with the prior-year quarter's levels, due to the planned shutdown of underperforming outlets. The segment witnessed strong demand growth in core supply categories, workspaces and technology products. Higher store traffic, sales per shopper, and conversion rates also aided the unit's performance.

The company closed 55 retail stores during the second quarter, ending the same with 1,091 stores.

Segment operating income of $44 million surged 144% from the prior-year quarter's number, while operating margin expanded 290 bps to 4.8%.

The CompuCom Division generated sales of $222 million in the quarter, up 4% year over year. The segment gained from stronger product sales.

Operating income in the division amounted to $3 million, down 25% year on year.
Plans to Split Business Operations
The company is progressing with its plans to split itself into two independent publicly-traded companies. Management has made modifications to the separation plans. The company will now be spinning off its consumer business, while it will retain B2B related operations. This reflects a change from the company's earlier plans to separate from its B2B businesses. Management believes that the modified approach will be more efficient based on the expectation that majority of the company's current management team and directors will remain with the B2B business. The separation will be a structured as a tax-free spin-off.

The retained B2B business will continue to operate under the name "The ODP Corporation" and will include the contract sales channel of the Business Solutions Division. It will also own the newly-formed B2B digital platform technology business, including BuyerQuest, as well as the global sourcing office and its other sourcing, supply chain and logistics assets

According to the spin-off plans, Office Depot ("New Co") will be separated into an independent entity. It will consist of retail consumer as well as small business products and services. Distribution will be carried out through nearly 1,100 Office Depot and OfficeMax retail locations as well as the e-commerce platform, officedepot.com.

The separation is expected to be completed during the first half of 2022. Management believes that the separation is likely to improve strategic focus and boost the long-term value of its shareholders.
Other Efforts
The ODP Corporation has been progressing well with its digital transformation initiatives. The company continues to integrate its leading P2P (procure-to-pay) software platform, BuyerQuest, and is advancing its technology development with collaboration partners. The company is also boosting its collaboration with Microsoft and is on track to bring BuyerQuest's value proposition to Microsoft's Business Central customers. Apart from these, management informed that the sale proceeds for CompuCom is on track.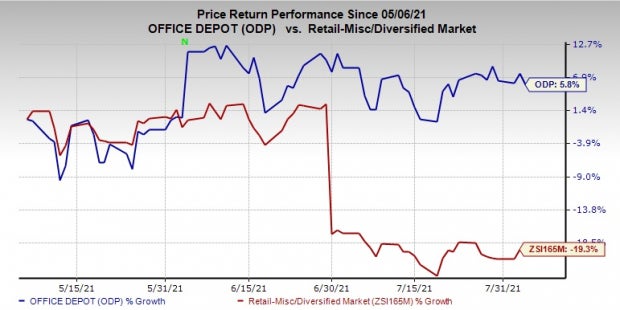 Image Source: Zacks Investment Research
Key Financial Details
The ODP Corporation ended the quarter with total available liquidity of about $1.7 billion, comprising $691 million in cash and cash equivalents as well as $997 million of available credit under the Third Amended Credit Agreement. As of Jun 26, 2021, total debt was $359 million. Long-term debt (net of current maturities) amounted to $337 million and total shareholders' equity were $1,841 million.

For the quarter, cash used in operating activities was $11 million. Also, management incurred capital expenditures of $16 million in the quarter.

The company repurchased 1 million shares worth nearly $46 million in the reported quarter. It also repurchased 490,000 additional shares for approximately $23 million. It now has approximately $230 million left under its share repurchase authorization plan worth $300 million.

Shares of this Zacks Rank #3 (Hold) company have moved up 5.8% in the past three month against the industry's decline of 19.3%.
Here are 3 Key Stocks for You
Target Corporation TGT has a long-term earnings-growth rate of 13.3% and a Zacks Rank #2 (Buy). You can see the complete list of today's Zacks #1 Rank (Strong Buy) stocks here.

Five Below, Inc. FIVE, also a Zacks Rank #2 stock, has a long-term earnings-growth rate of 32.5%.

Dollar General Corporation DG has a long-term earnings-growth rate of 11.3%. Currently, it carries a Zacks Rank #2.
Bitcoin, Like the Internet Itself, Could Change Everything
Blockchain and cryptocurrency has sparked one of the most exciting discussion topics of a generation. Some call it the "Internet of Money" and predict it could change the way money works forever. If true, it could do to banks what Netflix did to Blockbuster and Amazon did to Sears. Experts agree we're still in the early stages of this technology, and as it grows, it will create several investing opportunities.
Zacks' has just revealed 3 companies that can help investors capitalize on the explosive profit potential of Bitcoin and the other cryptocurrencies with significantly less volatility than buying them directly.
See 3 crypto-related stocks now >>
Want the latest recommendations from Zacks Investment Research? Today, you can download 7 Best Stocks for the Next 30 Days.
Click to get this free report
Target Corporation (TGT): Free Stock Analysis Report
Dollar General Corporation (DG): Free Stock Analysis Report
The ODP Corporation (ODP): Free Stock Analysis Report
Five Below, Inc. (FIVE): Free Stock Analysis Report
To read this article on Zacks.com click here.
Zacks Investment Research