Progressive's (PGR) Reports Loss in August, Revenues Rise Y/Y
The Progressive Corporation PGR reported loss per share of 2 cents for August 2021, comparing unfavorably with earnings of 83 cents in the year-ago comparable period. Increase in expenses offset rise in revenues, inducing loss in the month.

Progressive's shares have lost 6.3% year to date, compared with the industry's growth of 15.7%.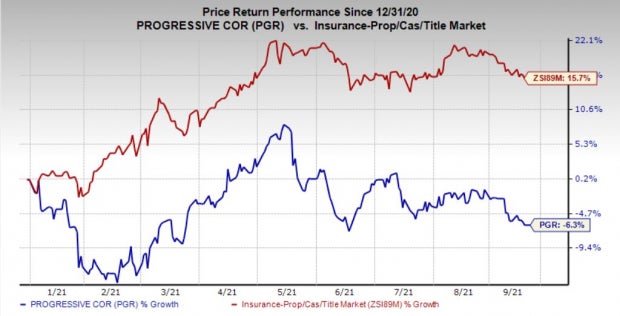 Image Source: Zacks Investment Research
August Numbers in Detail
Progressive recorded net premiums written of $3.9 billion, up 13% from $3.4 billion in the year-ago month. Net premiums earned were $3.5 billion, up 14% from about $3.1 billion reported in the year-ago month.

Net realized gain on securities of $131.5 million declined 60% year over year.

Combined ratio — percentage of premiums paid out as claims and expenses — deteriorated 1270 basis points (bps) year over year to 105.3.

Total operating revenues were $3.7 billion, improving 13.1% year over year, owing to a 13.8% increase in premiums, 13.6% higher fee income and a 23.6% jump in service revenues. However, investment income, which was down 15.7%, acted as a drag.

Total expenses rose 28.9% to $3.8 billion, primarily on account of 37.8 higher losses and loss adjustment expenses, and 13.7% rise in other underwriting expenses.

In August, policies in force were impressive for both Vehicle and Property businesses. In its Vehicle business, the Personal Auto segment improved 9% year over year to 22.9 million. Special Lines increased 8% from the year-earlier month to 5.3 million policies.

In Progressive's Personal Auto segment, Agency Auto expanded 7% to 8 million, while Direct Auto increased 11% to 9.6 million.

Progressive's Commercial Auto segment rose 18% year over year to 0.9 million. The Property business had 2.7 million policies in force in the reported month, up 13% year over year.

The company's book value per share was $31.47 as of Aug 31, 2021, up 5.7% from $29.76 on Aug 31, 2020.

Return on equity in the trailing 12 months was 22.3%, down 1510 bps from 37.4% in August 2020. Debt-to-total-capital ratio improved 250 bps year over year to 20.6 as of Aug 31, 2021.

Progressive currently carries a Zacks Rank #3 (Hold).
Stocks to Consider
Some top-ranked stocks in the same space include American Financial Group AFG, Cincinnati FinancialCorporation CINF, and Everest Re Group RE, all sporting a Zacks Rank #1 (Strong Buy). You can see the complete list of today's Zacks #1 Rank stocks here.

American Financial Group delivered an earnings surprise of 45.73% in the last reported quarter.

Cincinnati Financial delivered an earnings surprise of 80.81% in the last reported quarter.

Everest Re Group delivered an earnings surprise of 62.56% in the last reported quarter.
Breakout Biotech Stocks with Triple-Digit Profit Potential
The biotech sector is projected to surge beyond $2.4 trillion by 2028 as scientists develop treatments for thousands of diseases. They're also finding ways to edit the human genome to literally erase our vulnerability to these diseases.
Zacks has just released Century of Biology: 7 Biotech Stocks to Buy Right Now to help investors profit from 7 stocks poised for outperformance. Recommendations from previous editions of this report have produced gains of +205%, +258% and +477%. The stocks in this report could perform even better.
See these 7 breakthrough stocks now>>
Want the latest recommendations from Zacks Investment Research? Today, you can download 7 Best Stocks for the Next 30 Days.
Click to get this free report
Cincinnati Financial Corporation (CINF): Free Stock Analysis Report
Everest Re Group, Ltd. (RE): Free Stock Analysis Report
The Progressive Corporation (PGR): Free Stock Analysis Report
American Financial Group, Inc. (AFG): Free Stock Analysis Report
To read this article on Zacks.com click here.
Zacks Investment Research