Watsco (WSO) Q2 Earnings & Sales Beat, Margins Rise Y/Y
Watsco, Inc.'s WSO shares jumped 2.3% on Jul 22, after it reported stellar second-quarter 2021 results. Both earnings and sales not only topped the Zacks Consensus Estimate but also grew impressively on a year-over-year basis. The solid results were mainly backed by strong sales growth, a richer sales mix of high-efficiency systems, improved margins and operating efficiencies as well as acquisitions.

Solid second-quarter results reflect industry-leading, customer-focused technologies, and solid organic growth as well as innovation throughout the business.
Inside the Numbers
Watsco reported quarterly earnings of $3.71 per share, which surpassed the consensus estimate of $3.15 by 17.8% and improved 64% from the year-ago figure of $2.26.
Watsco, Inc. Price, Consensus and EPS Surprise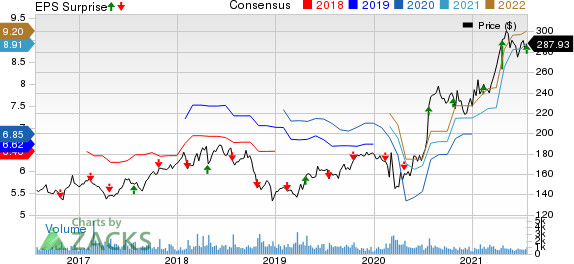 Watsco, Inc. price-consensus-eps-surprise-chart | Watsco, Inc. Quote
Total sales of $1.85 billion topped the consensus mark of $1.69 billion by 9.6% and increased 36% from the year-ago period. On a same-store basis, the metric grew 29% year over year. The upside stemmed from strong HVAC equipment business. Persistent investment in technologies designed to revolutionize customer experience added to the positives.

E-commerce sales grew 28% year over year on 22% increased e-commerce transactions.

Sales of HVAC equipment (heating, ventilating and air conditioning; comprising 71% of sales) were up 29% year over year, including 28% growth in U.S. residential markets and 32% in commercial products. Sales of other HVAC products (26% of sales) increased 25% from the prior-year quarter. Sales from commercial refrigeration products (3% of sales) rose 45% year over year.
Operating Highlights
Gross margin expanded 220 basis points (bps) to 25.8%. SG&A expenses, however, increased 37% year over year. Nonetheless, SG&A expenses — as a percentage of sales — reduced 10 bps year over year. Operating margin expanded 220 bps year over year to 11.7%.
Financial Operations
As of Jun 30, 2021, cash and cash equivalents were $96.8 million compared with $146.1 million at 2020-end. Cash provided by operations were $81.9 million for the first six months of 2021 compared with $261.3 million in the comparable year-ago period.
Acquisitions
On Apr 9, Watsco completed the acquisition of Chicago-based Temperature Equipment Corporation (TEC). TEC serves approximately 10,000 HVAC customers from 32 locations in Illinois, Indiana, Kansas, Michigan, Minnesota, Missouri and Wisconsin. Watsco holds an 80% stake in TEC and Carrier Global Corporation owns the remaining.

On May 7, Watsco acquired Acme Refrigeration of Baton Rouge, which serves approximately 4,000 HVAC customers from 18 locations in Louisiana and Mississippi. These buyouts help the company tap growth opportunities and expand its industry-leading position.
Zacks Rank
Watsco — which shares space with AAON, Inc. AAON, Comfort Systems USA, Inc. FIX and Lennox International Inc. LII in the Zacks Building Products - Air Conditioner and Heating industry — currently carries a Zacks Rank #2 (Buy). You can see the complete list of today's Zacks #1 Rank (Strong Buy) stocks here.
Infrastructure Stock Boom to Sweep America
A massive push to rebuild the crumbling U.S. infrastructure will soon be underway. It's bipartisan, urgent, and inevitable. Trillions will be spent. Fortunes will be made.
The only question is "Will you get into the right stocks early when their growth potential is greatest?"
Zacks has released a Special Report to help you do just that, and today it's free. Discover 7 special companies that look to gain the most from construction and repair to roads, bridges, and buildings, plus cargo hauling and energy transformation on an almost unimaginable scale.
Download FREE: How to Profit from Trillions on Spending for Infrastructure >>
Want the latest recommendations from Zacks Investment Research? Today, you can download 7 Best Stocks for the Next 30 Days.
Click to get this free report
Watsco, Inc. (WSO): Free Stock Analysis Report
Lennox International, Inc. (LII): Free Stock Analysis Report
AAON, Inc. (AAON): Free Stock Analysis Report
Comfort Systems USA, Inc. (FIX): Free Stock Analysis Report
To read this article on Zacks.com click here.