Pure Storage (PSTG) Q4 Earnings Beat Estimates, Stock Up
Pure Storage Inc. PSTG reported non-GAAP earnings of 13 cents per share in fourth-quarter fiscal 2021, outpacing the Zacks Consensus Estimate by 44.44%. However, the bottom line of 13 cents per share declined 43.5% from the year-ago quarter.

Total revenues improved 2.2% from the year-ago quarter's level to $502.7 million. Moreover, the top line surpassed the Zacks Consensus Estimate by 4.63%.

Year-over-year improvement in revenues can be attributed to growth in subscription services, led by momentum in Pure as-a-Service, Cloud Block Store, and Evergreen offerings. However, decline in Product revenues limited growth.

Following the results, shares of Pure Storage were up more than 3.5% in the pre-market trading on Feb 25.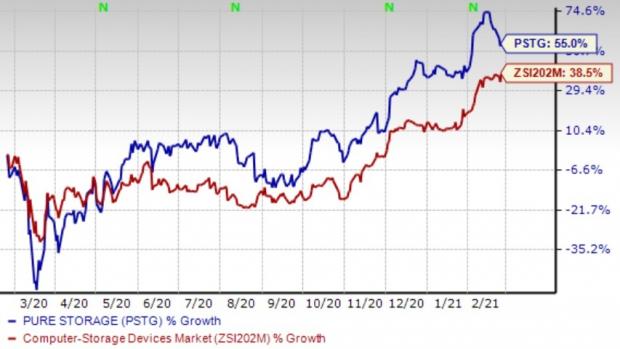 Notably, the stock has gained 55% in the past year, compared with the industry's rally of 38.5%.
Quarter Details
In the fiscal fourth quarter, Product revenues (contributed 70% to total revenues) amounted to $350.4 million, reflecting a decline of 6.9% on a year-over-year basis.

Subscription services revenues (30%) of $152.3 million surged 31.9% on a year-over-year basis, driven by the company's ongoing support contracts and robust adoption of Evergreen subscription services and Pure as-a-Service subscription, which includes Cloud Block Store.

Management noted that total revenues both in the United States and International saw slight growth compared to a strong fiscal fourth quarter.
Business Highlights
Pure Storage is gaining from growing clout of its latest second generation FlashArray//C, cost effective storage array solution to provide customers with higher performance capabilities and enable them to run complex cloud workloads onto a single platform.

The company is also poised to gain from uptick in its latest offering, Pure FlashRecover, which provides all-flash data backup and recovery in case of a ransomware attack. Also, solid pipeline and synergies from Portworx acquisition, which strengthened capabilities for containerized and cloud-native applications, favored performance.

During the fiscal fourth quarter, Pure as-a-Service customer base, which includes CDK Global CDK and Cadence CDNS, witnessed expansion. The service has been adopted by U.S.-based Cloud at Work, Australia-based MACA mining services and Germany-based telecom provider Wob-Com GmbH, among other notable organizations.

Management noted strength in FlashBlade and FlashArray business segments primarily courtesy of existing customers and continued expansion of enterprise customer base. During the reported quarter, Pure Storage added more than 471 customers, bringing the total count to more than 8,800 organizations.

The company closed several deals above $10 million and accomplished record sales during the reported quarter to Fortune 500 customers.
Margin Highlights
Non-GAAP gross margin contracted 270 basis points (bps) from the year-ago quarter's level to 69.4%. The contraction in gross margin can be attributed to margin contraction of Product revenues.

Non-GAAP Product gross margin shrunk 420 bps from the year-ago quarter's level to 69.1%.
Pure Storage, Inc. Price, Consensus and EPS Surprise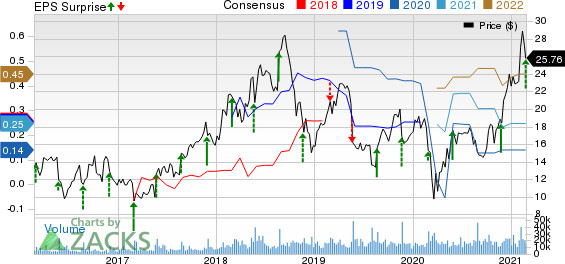 Pure Storage, Inc. price-consensus-eps-surprise-chart | Pure Storage, Inc. Quote
Non-GAAP Subscription gross margin came in at 70.2%, which expanded 210 bps on a year-over-year basis.

Non-GAAP operating expenses as a percentage of total revenues, came in at 62.1%, which expanded 240 bps on a year-over-year basis.

Pure Storage reported a non-GAAP operating income of $36.7 million in the fiscal fourth quarter, down 39.7% from the prior-year quarter. Non-GAAP operating margin contracted 510 bps year over year to 7.3%.
Balance Sheet & Cash Flow
Pure Storage exited the quarter ended Jan 31, 2021, with cash, cash equivalents and marketable securities of $1.254 billion, compared with $1.201 billion as of Nov 1, 2020.

Cash flow from operations during the reported quarter was $69 million compared with $32.8 million in the fiscal third quarter. Free cash flow was $47.7 million compared with $7.9 million in the prior quarter.

During the fiscal fourth quarter, the company returned $23.6 million to shareholders via share repurchases of over 1 million shares completing the planned share repurchase authorization of $150 million.

On Feb 24, Pure Storage's board of directors approved incremental share buybacks of up to an additional $200 million under its stock repurchase program.

Total deferred revenues in the fiscal fourth quarter were $843.7 million, compared with $763 million at the end of the prior quarter.

Remaining performance obligations (RPO) at the end of fiscal fourth quarter were $1.1 billion, up 24% on a year-over-year basis. The metric represents total committed non-cancelable future revenues.
Guidance
Pure Storage expects first-quarter fiscal 2022 revenues to be $405 million. The Zacks Consensus Estimate is pegged at $394.9 million, suggesting year-over-year growth of 7.6%.

Moreover, the company estimates fiscal 2022 revenues to improve 14-15% on a year-over-year basis. The Zacks Consensus Estimate stands at $1.92 billion indicating year-over-year growth of 15.3%.
Conclusion
Pure Storage delivered stellar fiscal fourth-quarter results. The company is banking on robust adoption of cloud storage solutions, including Cloud Block Store, ObjectEngine Cloud, and CloudSnap.

Furthermore, the company is well-poised to benefit from incremental adoption of latest subscription-based Evergreen, and Pure as-a-Service solutions, with a vision to deliver Modern Data Experience to customers. The robust adoption of latest subscription services is expected to drive profitability in the days ahead.

Nevertheless, coronavirus crisis-led business uncertainty and sluggish enterprise IT spending are likely to dampen growth. Further, growing expenses on product development and acquisitions amid stiff competition NetApp NTAP and Dell remains a headwind.

Pure Storage currently carries a Zacks Rank #3 (Hold).

You can see the complete list of today's Zacks #1 Rank (Strong Buy) stocks here.
More Stock News: This Is Bigger than the iPhone!
It could become the mother of all technological revolutions. Apple sold a mere 1 billion iPhones in 10 years but a new breakthrough is expected to generate more than 77 billion devices by 2025, creating a $1.3 trillion market.

Zacks has just released a Special Report that spotlights this fast-emerging phenomenon and 4 tickers for taking advantage of it. If you don't buy now, you may kick yourself in 2022.

Click here for the 4 trades >>
Want the latest recommendations from Zacks Investment Research? Today, you can download 7 Best Stocks for the Next 30 Days.
Click to get this free report
NetApp, Inc. (NTAP): Free Stock Analysis Report
Cadence Design Systems, Inc. (CDNS): Free Stock Analysis Report
CDK Global, Inc. (CDK): Free Stock Analysis Report
Pure Storage, Inc. (PSTG): Get Free Report
To read this article on Zacks.com click here.
Zacks Investment Research