Agilent's (A) Q2 Earnings Beat Estimates, Revenues Down Y/Y
Agilent Technologies' A reported second-quarter fiscal 2020 earnings of 71 cents per share that beat the Zacks Consensus Estimate by 22.4% but remained flat on a year-over-year basis.

Core revenues decreased 3.3% year over year (down 2% including forex effect) to $1.20 billion.

Americas, Asia-Pacific and Europe accounted for 37%, 36% and 27% of revenues in the reported quarter. Moreover, 60% of revenues were generated from Consumer Services Informatics. Instruments contributed the remaining 40% of revenues.

In terms of major markets, Analytical Laboratory generated 84% of second-quarter top line. Dx & Clinical accounted for the remaining 16%.

Segment Top-line Details

Agilent has three reporting segments — Life Sciences & Applied Markets Group (LSAG), Agilent Cross Lab Group (ACG), and Diagnostics and Genomics Group (DGG).

Agilent Technologies, Inc. Price, Consensus and EPS Surprise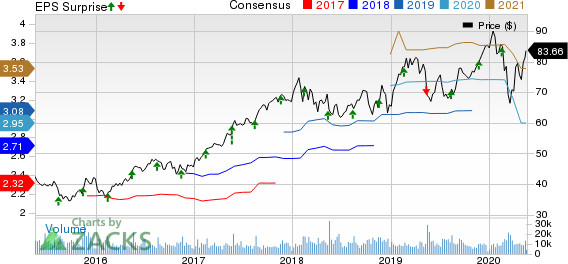 Agilent Technologies, Inc. price-consensus-eps-surprise-chart | Agilent Technologies, Inc. Quote
In the reported quarter, LSAG was the largest contributor to total revenues. The segment accounted for $485 million or 40.5% of its total revenues, down 8.3% year over year negatively impacted by the coronavirus outbreak.

Revenues from ACG came in at $449 million, accounting for 37.5% of total revenues. However, the top line declined 1.3% year over year. Except Pharma and Environmental & Forensics all other markets declined due to coronavirus-related headwinds.

ACG grew in the high-single-digit range in China as customers began to return to more normal operations post coronavirus relaxations.

DGG revenues increased 3.5% year over year to $263 million, accounting for the remaining 22% of total revenues. The segment benefited from continued strong Pharma results.

Notably, the U.S. FDA approved use of Agilent's Dako Omnis platform to deliver PD-L1 IHC 22C3 pharmDx as a companion diagnostic to identify patients with non-small cell lung cancer, who are appropriate for first-line monotherapy with Merck's KEYTRUDA.

Operating Results

In the quarter under review, LSAG gross margin contracted 250 basis points (bps) on a year-over-year basis to 58.1% due to lower volumes.

DGG gross margin expanded 30 bps on a year-over-year basis to 55.1%. ACG gross margin also expanded 120 bps to 52.5%.

GAAP gross margin was 53.1%, down 100 bps year over year.

Operating expenses (research & development as well as selling, general & administrative) were $555 million, up 22.5% year over year.

As a result, GAAP operating income declined 52.8% year over year to $102 million.

LSAG segment operating income declined 8.4% year over year to $98 million.

DGG segment operating income increased 16.3 on a year-over-year basis to $57 million. ACG operating income was $122 million, up 6.1% year over year.

Balance Sheet

As of Apr 30, 2020, Agilent's cash and cash equivalents were $1.32 billion, while total debt was $2.49 billion.

Operating cash flow was $313 million in the reported quarter. Agilent paid $55 million in dividends and repurchased 1.66 million shares for $126 million.

Outlook

Agilent withdrew its fiscal 2020 guidance in mid-April due to uncertainty surrounding the duration and severity of the coronavirus pandemic and its negative impact on economy. The company didn't provide third-quarter guidance due to lack of visibility.

Nevertheless, Agilent anticipates China's economic recovery will be much faster compared with rest of the world. The company also expects Pharma and contracted services to remain resilient.

Agilent expects revenues to decline between 5% and 15% on a core basis.

Zacks Rank & Upcoming Releases

Agilent currently carries a Zacks Rank #3 (Hold).

Coupa Software COUP, Workday WDAY and Okta OKTA are some better-ranked stocks in the broader computer and technology sector. All three stocks carry a Zacks Rank #2 (Buy). You can see the complete list of today's Zacks #1 Rank (Strong Buy) stocks here.

Workday, Okta and Coupa Software are set to report quarterly results on May 27, May 28 and Jun 8, respectively.

Today's Best Stocks from Zacks

Would you like to see the updated picks from our best market-beating strategies? From 2017 through 2019, while the S&P 500 gained and impressive +53.6%, five of our strategies returned +65.8%, +97.1%, +118.0%, +175.7% and even +186.7%.

This outperformance has not just been a recent phenomenon. From 2000 – 2019, while the S&P averaged +6.0% per year, our top strategies averaged up to +54.7% per year.

See their latest picks free >>
Want the latest recommendations from Zacks Investment Research? Today, you can download 7 Best Stocks for the Next 30 Days.
Click to get this free report
Agilent Technologies, Inc. (A): Free Stock Analysis Report
Workday, Inc. (WDAY): Free Stock Analysis Report
Coupa Software, Inc. (COUP): Free Stock Analysis Report
Okta, Inc. (OKTA): Free Stock Analysis Report
To read this article on Zacks.com click here.
Zacks Investment Research