Signet (SIG) Focuses on Boosting Portfolio, Strong on Outlook
Well-known diamond retailer, Signet Jewelers Limited SIG, continues to offer distinct and quality products and thereby develop lasting customer relations. The company has been focused on enhancing revenue opportunities by expanding and revamping its portfolio to meet customers' needs. Progressing on such lines, last week, the company inked an agreement to acquire Diamonds Direct USA Inc., in an all-cash transaction valued at $490 million.

Along with this move, Signet also raised its view for the third quarter as well as for fiscal 2022. The elevated outlook reflects on management's confidence in the underlying business conditions including positive customer response toward assortments.
Well-Chalked Growth Endeavors
When it comes to high-end products, including jewelry items, retailers are seen to frequently revamp their collections to match consumers' tastes and preferences. Signet, which prides on being the largest diamond jewelry retailer, boasts a strong portfolio of well-known brands such as Zales, Kay and Jared. The company's move to buy Diamonds Direct is likely to further bolster its portfolio.

Diamonds Direct is an off-mall destination jeweler based in the United States. It is known for unique bridal-focused collections and shopping experience. The buyout of Diamonds Direct, with its high-touch shopping experience and strong value proposition, will help attract younger, luxury-oriented bridal shoppers.

Signet's move to add Diamonds Direct to its portfolio is likely to take the company a step forward in its long-term goal of achieving $9 billion in revenues as well as building strong customer relationships. Signet expects the acquisition to close in the fourth quarter of fiscal 2022, subject to customary closing norms and other required regulatory approvals. Upon closing the deal, Diamonds Direct will invest a portion of their transaction proceeds in Signet's shares. Management will unveil more details regarding the buyout following its completion.

The buyout reflects on Signet's focus on investing in its business to drive shareholders' value. As part of the Inspiring Brilliance growth strategy, the company has been expanding brand banners, boosting service revenues, broadening the Accessible Luxury and Value segments as well as accelerating digital commerce, among others. It has also been boosting customization services as well as focusing on inventory turnover and rationalizing SKU's.

Speaking of efforts in the digital wing, the company has been integrating its physical stores with advanced digital capabilities through data-driven in-store consultations as well as buy online pickup in-store and curbside options. The company has been introducing technology tools like conversational messaging, improved text search, virtual try-on and checkout features. Such efforts form a part of the company's connected commerce strategy.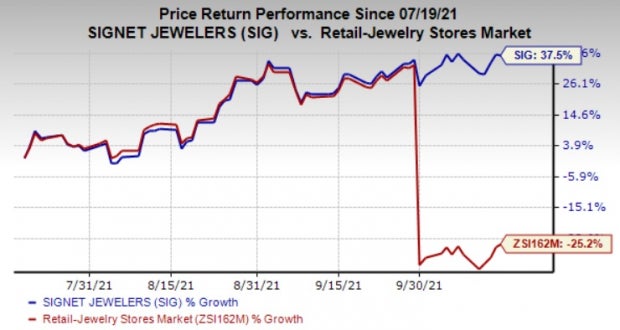 Image Source: Zacks Investment Research
Encouraging View
Signet expects to keep gaining from its prudent growth efforts and consumers' favorable response toward its assortments. Management stated that amid easing of pandemic-led restrictions and consumers' shift in spending toward areas like travel and entertainment are making a lower adverse impact on Signet's business than previously anticipated. The company does not expect any material supply chain disruptions for the rest of the year. Its strong supply chain operations and vendors relations have been aiding toward the early receipt of holiday products. Moreover, Signet uses air freight for the transit of merchandise, helping it avoid the ongoing ocean freight congestion issue.

Backed by such upsides, the company raised its guidance. For third-quarter fiscal 2022, management now expects revenues in the range of $1.42-$1.45 billion, up from the prior guidance of $1.26-$1.31 billion. In the year-ago quarter, the company's revenues were $1.3 billion. The Zacks Consensus Estimate for third-quarter revenues is currently pegged at $1.45 billion. The company expects same-store sales to rise 10-12% compared with the prior view of down 3% to up 1%. Adjusted operating income is expected to be $53-$63 million compared with the previous view of $10-$25 million.

For the fourth quarter, the company expects same store sales in the range of negative low-single digits to positive low-single digits.

For fiscal 2022, the company now expects revenues in the bracket of $7.04-$7.19 billion compared with the prior projection of $6.80-$6.95 billion. During fiscal 2021, the company generated revenues of $5.23 billion. The Zacks Consensus Estimate for fiscal-year revenues is currently pegged at $7.16 billion. It expects same-store sales in the range of 35-38%, up from the earlier view of 30-33%. Further, adjusted operating income is anticipated in the range of $680-$735 million, suggesting a rise from the prior projection of $618-$673 million.

The company anticipates gross cost savings in the range of $85-$105 million for fiscal 2022. It also continues to plan for increased marketing expenses and promotional flexibility. Capital expenditures for the fiscal year are expected in the range of $190-$200 million. In fiscal 2022, the company expects to close more than 100 stores, while opening up to 100 stores primarily in highly-efficient Banter by Piercing Pagoda formats.
Shares of this Zacks Rank #1 (Strong Buy) company have gained 37.5% in the past three months against the industry's decline of 25.2%.

You can see the complete list of today's Zacks #1 Rank stocks here.
3 Retail Picks You Can't Miss Out On
Abercrombie & Fitch Company ANF, flaunting a Zacks Rank #1, has a long-term earnings growth rate of 18%.

Tapestry, Inc. TPR, also sporting a Zacks Rank #1, has a long-term earnings growth rate of 12.3%.

Costco Wholesale Corporation COST with a Zacks Rank #2 (Buy), has a long-term earnings growth rate of 8.6%.
Time to Invest in Legal Marijuana
If you're looking for big gains, there couldn't be a better time to get in on a young industry primed to skyrocket from $17.7 billion back in 2019 to an expected $73.6 billion by 2027.
After a clean sweep of 6 election referendums in 5 states, pot is now legal in 36 states plus D.C. Federal legalization is expected soon and that could be a still greater bonanza for investors. Even before the latest wave of legalization, Zacks Investment Research has recommended pot stocks that have shot up as high as +285.9%.
You're invited to check out Zacks' Marijuana Moneymakers: An Investor's Guide. It features a timely Watch List of pot stocks and ETFs with exceptional growth potential.
Today, Download Marijuana Moneymakers FREE >>
Want the latest recommendations from Zacks Investment Research? Today, you can download 7 Best Stocks for the Next 30 Days.
Click to get this free report
Abercrombie & Fitch Company (ANF): Free Stock Analysis Report
Costco Wholesale Corporation (COST): Free Stock Analysis Report
Signet Jewelers Limited (SIG): Free Stock Analysis Report
Tapestry, Inc. (TPR): Free Stock Analysis Report
To read this article on Zacks.com click here.